Sep. 06 - Sep. 30, 2018
Thursdays-Sundays
SIGNIFICANT OTHER follows four friends in their late 20's and their search for relationships in present day New York City. For Jordan and his three gal-pals, finding Mr. Right is much easier said than done! Critics proclaim this comedy "makes you slap your knees until you notice they're bruised," and call it "a tenderly unromantic romantic comedy, as richly funny as it is ultimately heart-stirring."
The cast includes Will Douglas, Susan Myburg, Kelsey Mazak, Natalie Garcia, Tanner Smith, Sam Howard, and Janelle Buchanan. SIGNIFICANT OTHER is directed by David R. Jarrott, with scene design by Michael Krauss, lighting design by Mercedes McCleary, costume design by Colleen PowerGriffin, and sound design by Craig Brock. The Production Manager is Lisa Goering; Production Stage Manager: Jennifer Anderson; Assistant Director/Dramaturg: Zoe Riemer; and Technical Director Chaz Sanders.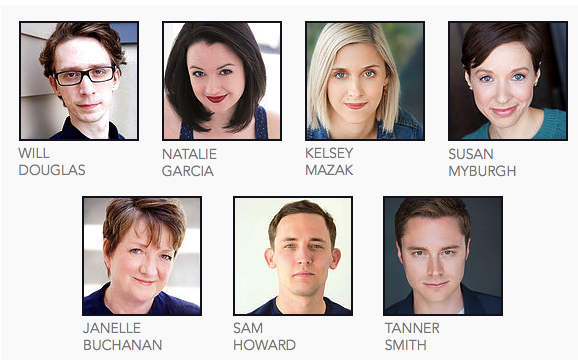 A breezy, spirited comedy, SIGNIFICANT OTHER enjoyed an off-Broadway run in 2015 and transferred to Broadway in the spring of 2017. Harmon explains the premise of the play: "How do you make life work for yourself when you feel that you're not living the life you're supposed to be living or want to be living?" The New York Times included SIGNIFICANT OTHER in its Top Ten Productions of 2015, and called it "a tenderly unromantic romantic comedy, as richly funny as it is ultimately heart-stirring."
---
Significant Other
by Joshua Harmon
Jarrott Productions
Thursdays-Sundays,
September 06 - September 30, 2018
Trinity Street Players
Black Box Theatre, 4th floor, First Baptist Church
901 Trinity Street
Austin, TX, 78701
SIGNIFICANT OTHER plays Thursday-Saturday evenings at 7:30 pm with Sunday matinees at 2:30 pm, September 6-30, 2018 at the Trinity Street Playhouse, located in the First Austin Church at 901 Trinity in downtown Austin.
Tickets range from $23-$30 and may be reserved online at www.jarrottproductions.com. Discounts available for students, seniors, teachers and former teachers. Tickets go on sale August 1st.
More details at www.jarrottproductions.com.