Aug. 10 - Sep. 02, 2018
Thursdays-Sundays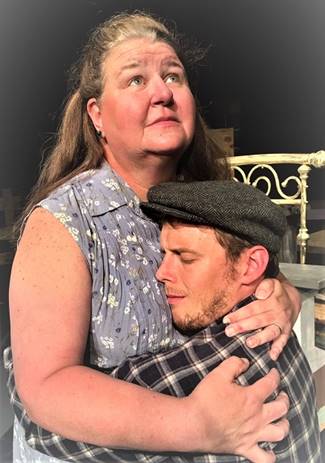 City Theatre Austin's sizzlin' summer season heats up with the critically acclaimed theatre production The Grapes of Wrath, Frank Galati's groundbreaking adaptation of John Steinbeck's masterpiece of American literature. Winner of the Tony Award and Outer Critics Circle Award for Best Play and is directed by Artistic Director Andy Berkovsky
"Ever'thing we do – seems to me is aimed right at goin' on. Jus' try to live the day, jus' the day." – Ma Joad
The Grapes of Wrath is most known to all of us, the powerful story of the Joad family and their flight from the dust bowl of Oklahoma as they travel west in search of the American dream. Desperately proud, but reduced to poverty, the Joads head west for California, hoping to find a better life. Led by the indomitable Ma Joad, determined to keep the family together, and the young Tom, an ex-convict who grows weary with the intolerance that they encounter, the family deals with terrible deprivation before reaching the hope they long for. And yet, despite the suffering that it depicts, the play becomes a soaring and deeply moving affirmation of the power of the human spirit, of family, community, endurance, sacrifice, and of the essential goodness and strength that—then as now—reside in the hearts and minds of men and women.
"…majestic…leaves one feeling that the generosity of spirit he saw in a brutal country is not so much lost as waiting once more to be found." - NY Times.
"A thrilling theatrical achievement that gets its power from the still sharp relevance of its human message…" - NY Post.
"A lesson in history, stagecraft, and truth that we cannot afford not to learn." - NY Magazine.
"Up ahead they's a thousan' lives we might live, but when it comes it'll on'y be one." - John Steinbeck
Author John Steinbeck was born in 1902 in California's Salinas Valley, a region in which he would set many of his novels. He studied literature at Stanford but left without a degree to work as a laborer and journalist. He became a relentless and dedicated writer and his masterpiece The Grapes of Wrath, written in 1939, won him the Pulitzer Prize. Steinbeck experimented with many forms, writing plays, novels, short stories, and movies. He wrote about many topics, but his hallmark was a compassionate understanding of the disinherited written with a beautiful, unpretentious lyricism. And with his Naturalist style, Of Mice and Men, East of Eden, The Pearl, Cannery Row and The Winter of our Discontent are especially accessible with themes just as relevant today as when they were first written. Steinbeck was awarded the Nobel Prize for Literature in 1962 in celebration of his literary career.
Writer Frank Galati won two Tony Awards for his adaptation and direction of Steppenwolf's production of The Grapes of Wrath on Broadway and was nominated for a Tony Award in 1998 for directing the musical Ragtime. Although he is known primarily as a director of plays and musicals, he is an equally adept writer (Academy Award nomination for Best Screenplay for The Accidental Tourist.) His productions at the Goodman Theatre, where he was an associate director from 1986-2008, include She Always Said Pablo, The Winter's Tale, The Good Person of Setzuan and Cry the Beloved Country. Mr. Galati is a professor emeritus in the department of performance studies at Northwestern University. He has been a member of the Steppenwolf ensemble since 1985 and now makes his home in Sarasota Florida.
"Folks are saying the story is full of such tragedy and sadness. We look beyond that. It's about our hopes and dreams, and the desire to find a better life for our family and ourselves. So, we go in search of it. And it ain't will ya', it's have ta'." – Director, Andy Berkovsky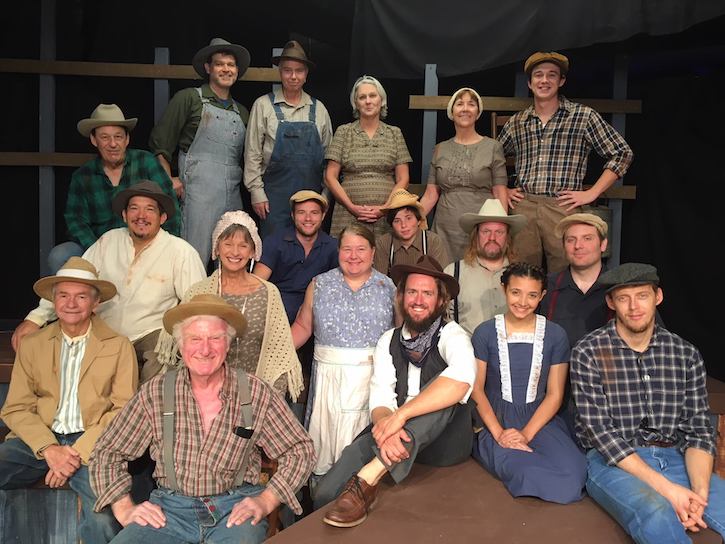 Director Andy Berkovsky celebrates his 38th year in theatre with The Grapes of Wrath and his 12th year as Artistic Director of City Theatre in which he founded in 2006. He has directed the CTC productions August: Osage County, Three Tall Women, Frozen, Reckless, Rumors, Death of a Salesman, Parallel Lives, Cabaret, Into the Woods, and the Austin B. Iden Payne Theatre Award nominated Agnes of God, Glengarry Glen Ross, The Boys Next Door, and Love Alone. In 2015, he was honored as Outstanding Director by the Central Texas Excellence in Live Theatre Awards.
The Ensemble. Grapes of Wrath features one of the largest and most talented companies on the CTC stage including Robyn Gammill, Ty Wiley, Robyn Conner, Zach DeSutter, Stewart McGregor, Judith Laird, John Meadows, Heath Thompson, Laurel Toupal, Justin Heller, Lucas McCutchen, Andrew Goldberg, Chuck Winkler, Lance Barnett, Laura King, Freddy Karnes, and Mike Dellens.
The City Theatre Company is excited to be celebrating its 12th anniversary season of live theatre entertainment in Austin. CTC is an Austin-based, not-for-profit arts organization and is sponsored in part by the Austin Creative Alliance and the Austin Cultural Arts Division. Founded in 2006, the company has been recognized by the Austin Critics Table Awards, the B. Iden Payne Awards, the Central Texas Excellence in Theatre Awards, Austin Live Theatre, and has twice been voted "Best Theatre Company" by Austin American-Statesman's Austin 360. CTC is dedicated in providing quality theatrical experiences and entertainment for Austin artists and its community and continues the commitment to making productions accessible for everyone. CTC offers its discount ticket program with $10 Thursday seats and $12 student seats for any show. The ticket discount is available throughout the 2017 - 2018 season.
---
The Grapes of Wrath
by Frank Galati from John Steinbeck's novel
City Theatre Company
Thursdays-Sundays,
August 10 - September 02, 2018
August 10 – September 2. Thursdays - Saturdays 8:00 pm. Sundays 3:00 pm.
The City Theatre. 3823 Airport Blvd. Austin 78722.
General Seating $15. Center Row Reserved $20-25. Thursday all seats $10.
Tickets at the door $20. Group and student discounts.
Tickets 512-524-2870 or info@citytheatreaustin.org. www.citytheatreaustin.org