May. 17 - Jun. 16, 2018
Thursdays-Saturdays
Silence can be golden, but it can also be VERY FUNNY,vfrustrating, erotic, comforting, and profoundly passive-agressive.
On a weeklong silent retreat in the woods, six wildly disparate urbanites looking for life balance find that staying quiet doesn't necessarily bring inner peace. An acclaimed new comedy from Drama Desk Award–winning playwright Bess Wohl, Small Mouth Sounds is a wickedly sharp look at mindfulness and the wellness industry.
Under the eye of an unseen guru, six people have gathered to get away from it all. But as they listen to their leader's ruminations they learn that silence can indeed be golden. It can also be VERY FUNNY, frustrating, erotic, comforting, and profoundly passive-aggressive.
Small Mouth Sounds features an all-star cast including Rebecca Robinson (Hand to God), Theresa Baldwin (Hand to God), Delanté Keys (Brothers Size), Jason Phelps (Detroit), Ellie McBride (Fixing Timon), Zac Thomas (John), and featuring the talents of Katherine Catmull (Song About Himself).
"It leaves you moved, refreshed and even enlightened" – The New York Times
"a play like no other" – Huffington Post
WARNING: Small Mouth Sounds Contains Nudity
Running Time: 1 Hour 40 Minutes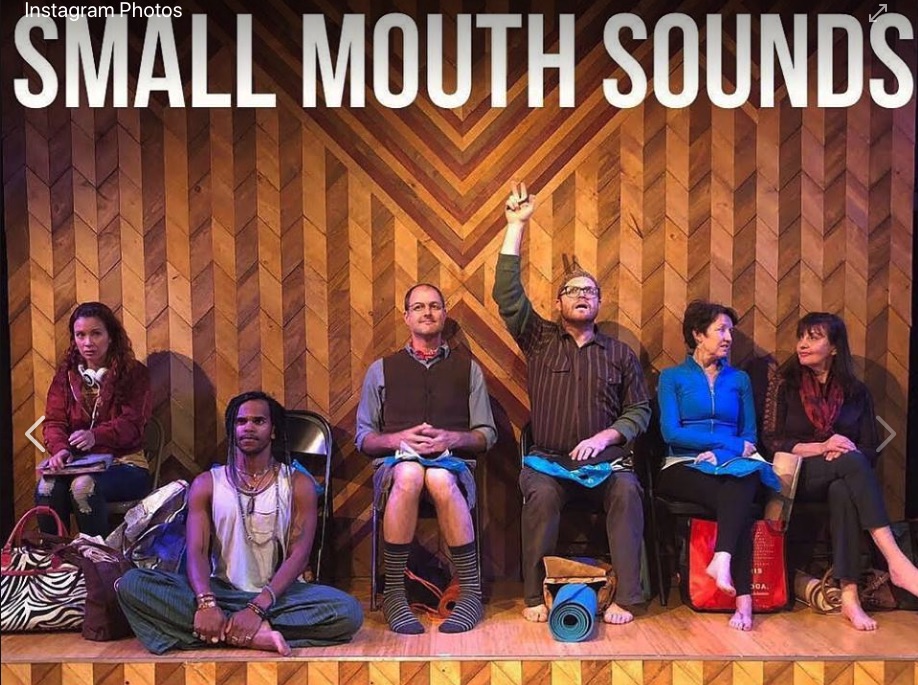 Cast
Rebecca Robinson
Ellie McBride
Jason Phelps
Zac Thomas
Delanté Keys
Theresa Baldwin
Katherine Catmull
Bess Wohl – Playwright
Bess Wohl's plays include SMALL MOUTH SOUNDS, AMERICAN HERO, BARCELONA and TOUCHED. They have been produced or developed at theaters in New York and around the country, including Second Stage, Ars Nova, The Williamstown Theatre Festival, People's Light and Theatre Company, Center Theatre Group, The Contemporary American Theater Festival, Vineyard Arts Project, The Pioneer Theatre, The Pittsburgh Public Theater, The Northlight Theater, TheaterWorks New Works Fesitval, The Geffen Playhouse, The Vineyard Arts Project, Ojai Playwright's Conference, the Cape Cod Theatre Project and the New York International Fringe Festival (award for Best Overall Production).
The world premiere of her play, SMALL MOUTH SOUNDS, is enjoyed a sold-out run at Ars Nova, directed by Obie-award winner Rachel Chavkin. Her original musical about the adult entertainment industry, PRETTY FILTHY, in collaboration with the composer/lyricist Michael Friedman and The Civilians, also premiered this season off-Broadway, and was recently nominated for the Lucille Lortel award for Outstanding Musical. Her play, BARCELONA, will have its west coast premiere at LA's Geffen Playhouse in early 2016.
She also writes for film and television. She is currently in post-production on Broad Squad, an original pilot for ABC. She is also at work on a new feature for Disney, and has written two features for Paramount Pictures: THE LUXE (based on the book) and VIRGINIA (the true story of mob queen Virginia Hill). Her screenplay adaptation of her play, IN, was included on Hollywood's Black List of best scripts. She has also developed original television pilots for HBO, USA, FOX and the CW.
Her work has been supported by a MacDowell Fellowship, PlayPenn, the Sewanee Writer's Conference and Ars Nova. She has been the recipient of new play commissions from Manhattan Theatre Club, Hartford Stage and Center Theatre Group.
In her previous life as an actress, Bess appeared onstage in New York and regionally, and in numerous films and TV shows where she has given birth, solved crimes, committed crimes, been wrongly accused, and come back from the dead.
She is a graduate of Harvard, Magna Cum Laude, where she studied with Seamus Heaney and Jamaica Kincaid and was awarded the Rona Jaffe Writing Prize and the Tennessee Williams Scholarship. She earned her MFA from the Yale School of Drama, where she was a recipient of the Rebecca West Scholarship. She is originally from Brooklyn, New York, and divides her time between New York and Los Angeles.

Bonus: Amazing cast including Rebecca Robinson, Ellie McBride, Delante Keys, Theresa Baldwin, Zac Thomas, Jason Phelps and features the talents of Katherine Catmull

Extra Bonus: Amazing design by Cheryl Painter, Zac Thomas, Patrick W Anthony, and Lowell Bartholomee.
---
Small Mouth Sounds
by Beth Wohl
Capital T Theatre
Thursdays-Saturdays,
May 17 - June 16, 2018
Tickets are on sale now for SMALL MOUTH SOUNDS by Bess Wohl.
General admission $25, VIP supporters $35

Get your tix at capitalT.org