Apr. 26 - May. 13, 2018
Thursdays-Sundays
This riotously funny comedy follows three cousins as they attempt to throw a family reunion. Things spin hilariously out of control when a neighbor's pet devours everything edible, a one- eyed suitor shows up to declare his love, and a shocking, high-stakes wager is made on who can bake the best red velvet cake. As this fast-paced uproarious romp barrels toward its surprising climax, you'll wish your own family reunion was this much fun!
"We have a great cast," said Hill Country Community Theatre executive director Mike Rademaekers in reference to the theatre's upcoming production of "The Red Velvet Cake War". "This is going to be a great comedy! We're already laughing and having a lot of fun!"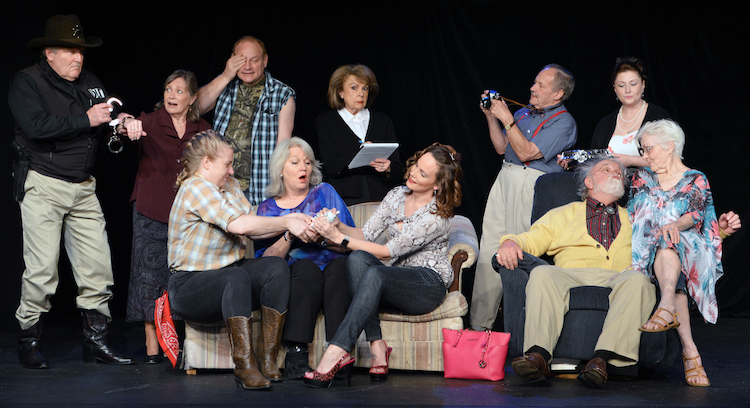 The play will be performed April 26 through May 13, 2018. It is written by playwrights Jessie Jones, Nicholas Hope, and Jamie Wooten, who are the most produced playwrights by community theatres in the nation. Several of their plays including "The Hallelujah Girls" and "The Dixie Swim Club" have been previous hits at HCCT.
"It is a madcap Southern comedy at its best," Rademaekers said.
Directed by Wendy Ferrell, the play centers on Gaynelle Verdeen Bodeen (Risë Morris), who may soon be declared insane due to a recent escapade in which she "accidentally" crashed her car into her husband's mistress' double-wide trailer. When the family matriarch, Aunt LaMerle (Sharon Penny), cancels the upcoming annual Verdeen family reunion, cousins Peaches Verdeen Belrose (Christina Munoz) and Jimmy Wyvette Verdeen (Bess Gershowitz) see an opportunity. If Aunt LaMerle won't host the family reunion, Gaynelle will, proving her sanity in the process. The plot thickens when La Merle and Gaynelle enter into a high-stakes bet regarding who bakes the best red velvet cake. The play creates nonstop laughter from beginning to end.
---
The Red Velvet Cake War
by Jones, Hope and Wooten
Hill Country Community Theatre (HCCT)
Thursdays-Sundays,
April 26 - May 13, 2018
Thursdays - Saturdays at 7:30 p.m., Sundays at 2:15 p.m.
Admission is $20 for adults and $10 for students with a valid ID. Reservations can be made by calling (830) 798-8944, online at www.theHCCT.org, or at the box office, beginning April 19 for the general public, April 16 for HCCT season subscribers.
Tickets will be available on-line (click HERE)
[poster image: Kay Baker, Risë Morris, photo via HCCT)