Apr. 13 - May. 05, 2018
Fridays-Sundays
Set in the 1960's, this stage play is the basis for the popular TV series Columbo. A brilliant psychiatrist, Ray, is having a passionate affair with one of his patients. His wife, Claire, suspects he is having an affair and threatens to divorce him and leave him penniless if she ever catches him. He and his mistress devise a plot to kill her and make it seem like she was killed by an intruder. The execution of their plan and the creation of their perfect alibi depends on a bizarre impersonation, which they pull off beautifully. After Ray returns from vacation and "finds" his wife, he encounters the rumpled Lieutenant Columbo – whose seemingly random bouts of rambling inattention and meandering questioning mask a devilishly skilled investigator, who soon recognizes that the murder of Claire is the work of her husband. Columbo then engages the psychiatrist in a duel of wits as he works diligently to find the proof needed, But, it is the mistress who proves to be the weak link which leads to a trap and a surprising climax. Bumbling, meandering -- is the Lt. a flake? or a devilishly skilled investigator Will Columbo put the pieces together? Or will Roy Fleming get away with MURDER?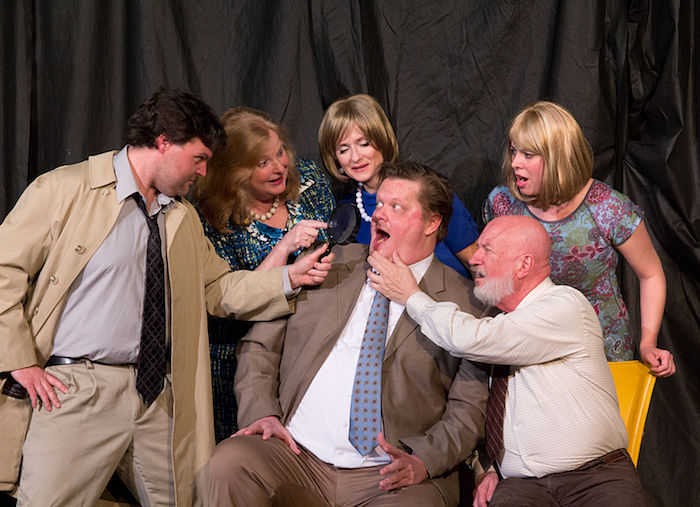 The show is
directed by Bethany Watkin, assisted by Lisa Doughty.
The Cast
Includes:

The Crew includes:
| | | | |
| --- | --- | --- | --- |
| | | | |
| | | | |
| | | | |
| | | | |
| | | | |
| | | | Linda Marks, Gretchen Westbrook, Yahva Westbrook, David Marsh, Gio |
---
Prescription: Murder, a Colombo mystery
by William Link, Richard L. Levinson
Way Off Broadway Community Players
Fridays-Sundays,
April 13 - May 05, 2018
If you prefer, you may make a reservation by phone by calling 512-259-5878
Opening night is Friday, April 13, 2018, with performances April 13, 14, 20, 21, 27, and 28 and May 4 and 5 at 8 pm, with our Sunday Matinee, April 22 at 3 pm.
Tickets are $20 for adults, $15 for students (with ID), seniors (60 Plus), Military & First Responders (with ID), and $10 for children (10 and younger). Tickets will be sold at the door. Reservations are encouraged: call (512) 259-5878 or visit
http://www.wobcp.org
.
We are located at
11880 Hero Way West
, Bldg 4,
Leander
,
TX
78641
(behind
Smokey
Mo
's).

Same place, just new address!