Apr. 13 - May. 06, 2018
Fridays-Sundays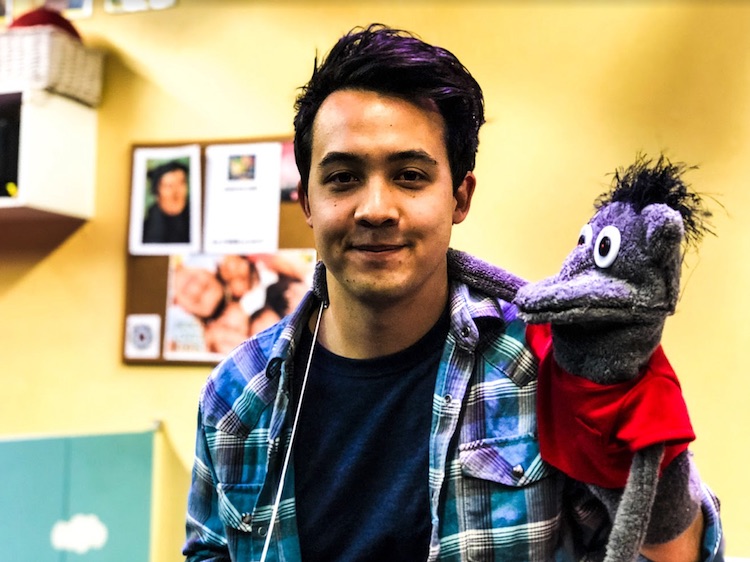 This ridiculously raunchy, irreverent, and funny show is bound to leave you sore from laughing. When Jason's puppet takes on a shocking personality all its own, we begin to contemplate the startlingly fragile nature of faith, morality, and the ties that bind us.
* Contains themes and content not suitable for all audience members
"Directors don't often get to do to work plays that employ as many familiar cultural memes as Hand To God. The list of characters includes puppets, but these are not the cute cuddly Sesame Street lovies with whom we are all familiar. These come out of the workshop of someone like Wes Craven, not Jim Henson. At the same time, we are dealing with a fairly traditional coming-of-age story in which a young man who has recently lost his father, is trying desperately to figure out who he has become and how to meet his mother's needs while striving to forge his own identity. The comfortably familiar setting of the Sunday School room that most of us frequented as children, also reinforces our sense of comfort and familiarity. But this play, with its irreverent bad taste reminiscent of The Book of Mormon, achieves one of Bertolt Brecht's stated goals: it makes the familiar strange, and, hopefully, extremely funny."
-David Rinear, Director
Cast
Jason/Tyrone - Nicholas Ponting
Jessica - Kimberlyn Kacie
Pastor Greg - Doug Dawson
Margery - Renee Garvens
Timothy - Michael Roberts
Director- David Rinear
Stage Manager- Shane Vickers
_______________________________________
The Public Theater of San Antonio was founded as San Antonio Little Theater in 1912, as part of the growing Little Theatre movement sweeping the nation. Now housed in the first city-owned, city-built theater in the U.S., The Public Theater holds a place of pride in San Antonio history. In its time, The Public has produced hundreds of plays and reached an audience of millions, including residents and visitors from all over the world. Each year, the Public's staff, with the help of nearly 500 volunteers, produces a series of plays in its two theaters. The Public Theater is San Antonio's first Small Professional Theater.
The Russell Hill Rogers Theater is home to larger musicals while the Cellar Theater houses a variety of dramas, comedies, and experimental works. Both stages host original works by local playwrights as well as classic and recent Broadway hits. Each season, The Public contracts hundreds of local artists, showcasing some of San Antonio's greatest talents.
---
Hand to God
by Robert Askins
The Public Theater
Fridays-Sundays,
April 13 - May 06, 2018
Hand to God runs April 13 - May 6, 2018 in the Cellar Theater. For tickets and more information, visit our website at thepublicsa.org.
BOX OFFICE:
210.733.7258 or thepublicsa.org
TICKETS:
$15 to $35
Season Packages:
Season packages are on sale now for the 18-19 season. Choose from Full Season, 6 shows or more, Opening Weekend only, or the Newsies/Matilda Package. Packages can be purchased here or contact the box office at 210-733-7258 to purchase over the phone.
Gift Cards:
You can select either the $35 amount for an adult ticket or pick your own denomination. These cards are good for any of the remaining shows in our 2017-18 Season.
They can be purchased online HERE!
TICKET PRICES:
Adults may purchase tickets at $35.
Military members (W/ID) may purchase tickets for $25.
Seniors age 60 and older may purchase tickets for $25.
Students (w/ID) may purchase tickets for $20
Group Rates 10 or more are available. Contact the Box Office at 210.733.7258 or visit our website at thepublicsa.org.
Additional Ticket Service fees may apply
[poster image by Jeremy Whittington]