Feb. 14 - Feb. 19, 2018
Wednesday-Monday
Lydia Languish is determined to marry for love and her favorite suitor is Ensign Beverley, an impoverished officer. Her aunt, Mrs. Malaprop, will not permit her to wed a mere ensign, and Lydia will lose half her fortune if she marries without her aunt's permission. The ensign is actually Jack Absolute, son of a wealthy baronet, who is pretending to be an impoverished officer to woo Lydia. When Jack's father arrives and announces that he's arranged a marriage for him to Lydia Languish, Jack is delighted. How will Lydia react when she learns the truth about him?
1775: a 'selfie' society not so different from our own, in which the wealthy and their servants alike are passionate about appearance and style.
Captain Jack Absolute (aka Ensign Beverley), Lydia Languish, Mrs Malaprop, Sir Lucius O'Trigger… in this fast-moving comedy everybody becomes tangled in the web of schemes and deceits they have themselves created.
Texas State University's Department of Theatre and Dance proudly presents The Rivals by Richard Brinsley Sheridan. The show is under the direction of Michael Costello.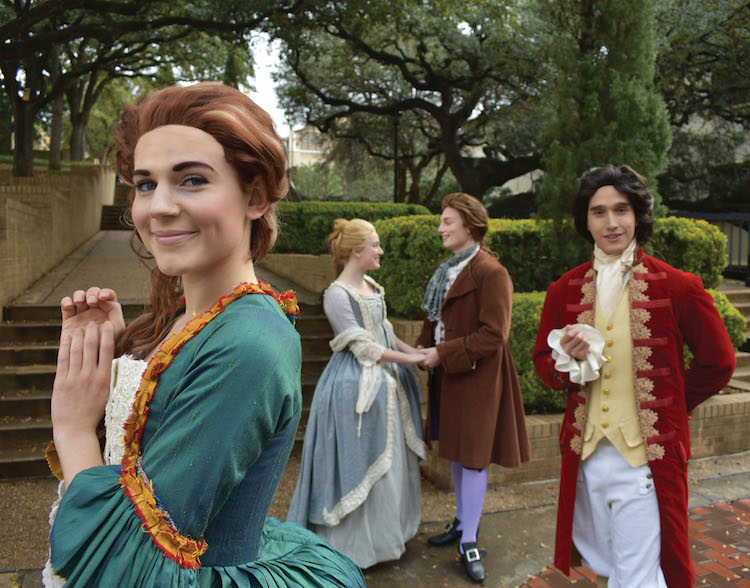 ---
The Rivals
by Richard Brinsley Sheridan
Texas State University
Wednesday-Monday,
February 14 - February 19, 2018
The opening night for The Rivals will be Tuesday, November 14 at 7:30 p.m., and the production runs through Sunday's matinee performance at 2 p.m. on November 19. All performances will be in the Patti Strickel Harrison Theatre. Individual tickets start at $15 for adults and $8 for students and may be purchased by phone at 512-245-6500 or online at txstatepresents.com.
Six Performances: Tuesday, February 13 – Sunday, February 18, 2018.
Tuesday, February 13 at 7:30 p.m.
Wednesday, February 14 at 7:30 p.m.
Thursday, February 15 at 7:30 p.m.
Friday, February 16 at 7:30 p.m.
Saturday, February 17 at 7:30 p.m.
Sunday, February 18 at 2:00 p.m.
Cost: Tuesday – Thursday: $15 adults, $8 students;
Friday – Sunday: $18 adults, $8 students
Where: Patti Strickel Harrison Theatre
405 Moon Street, San Marcos, TX
Parking: Special Event Parking for all fine arts events occurring is now only available in the Edward Gary Street Garage, 405 N. Edward Gary Street. The garage is located on the corner of University Drive and Edward Gary Street for a flat fee of $5 per event. Please Note: The garage attendant will only be accepting cash. Credit/debit card transactions will not be accepted for special event parking.
[image via York Settlement Community Players, www.yscp.co.uk]