Jan. 23 - Jan. 27, 2018
Tuesday-Saturday
The Living Room Storytime for Grownups, in association with Dillo Arts and Associates, present . . . STRIP THE MUSICAL. Strip takes the true stories of Candy Barr, Lenny Bruce, and Josephine Baker and tells the "naked truth" of their historic tales as one in this "Best Little Whorehouse Meets Godspell at Our Town."

Recommended for mature audiences. If teens attend, they should be accompanied by a parent.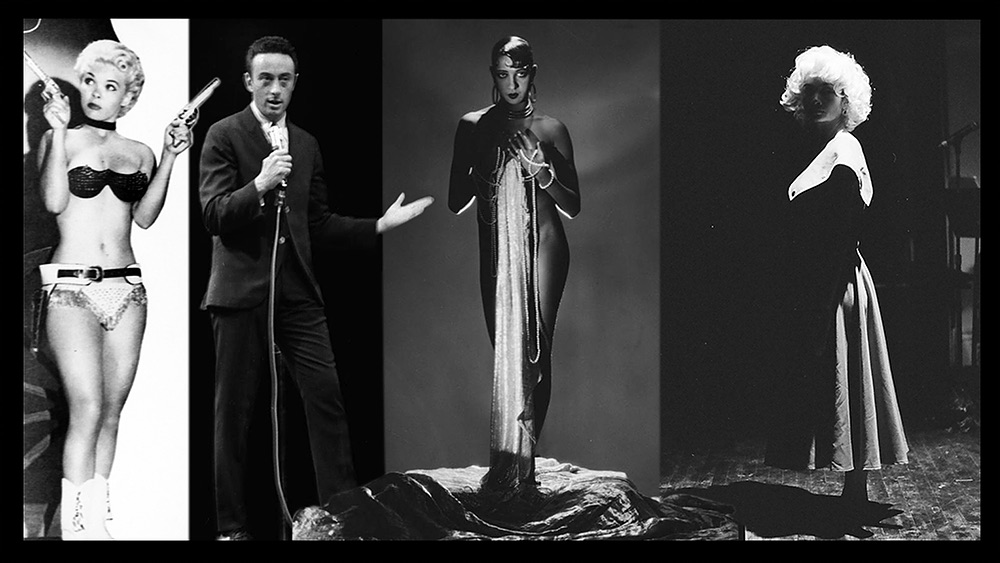 A note from Amparo Garcia-Crow –
STRIP is a new musical that I began developing as an artist in residence with Mabou Mines eight years ago which I have only this year completed with longtime collaborator/composer Arthur Shane from Los Angeles. The musical takes three historical iconic figures: Lenny Bruce, Candy Barr, and Josephine Baker and tells each of their stories as one tale in the style of Our Town meets Godspell at the Best Little Whorehouse in Texas. A cautionary tale about the cost of "telling the truth," the setting is a diner counter with a nightclub stage with dining tables and chairs that represent various cities, sometimes countries in which a show within a show unfolds.
Loosely borrowing from the old 1950s television show To Tell the Truth, a TV announcer presents the biographical affidavits for each of the main characters. In the same way that Lenny Bruce could portray various people all in one monologue in which he went from commentator to the specific characters themselves, nine performers portray all of the roles in broad, burlesque style. What each of the three main characters have in common is the burlesque world. It is the place where each originated their famous acts. In Lenny Bruce's case, his mother Sally Marr was a comedienne in burlesque houses. For Candy Barr, the burlesque world gave her an opportunity to break out of the "Capture," a very sinister syndicate in Texas that kidnapped her as a runaway teen and forced her into sex slavery at the age of 14. And for Josephine Baker, migrating to France (to escape the racial prejudice of her time) where she danced with nothing on her body but a feather, is what made her the most famous entertainer in the world in her lifetime which made it possible for her to "fight" segregation in significant ways. How Lenny, Candy and Josephine intertwine and 'bear it all"—is STRIP.
---
Strip, The Musical
by Amparo Garcia-Crow
FronteraFest
Tuesday-Saturday,
January 23 - January 27, 2018
Marchesa Theater
Austin Film Society Events Hall
6226 Middle Fiskville Road
Austin, TX, 78752
Marchesa Theatre, Austin Film Society Event Hall
6226 Middle Fiskville Road, Austin 78752

Tickets: $30 or $100 (VIP), plus fees

January 23 (Sneak Preview), 24, 25, and 26, 2018 at 8:00 pm; January 27 at 3:00 pm and 8:00 pm