Nov. 30 - Dec. 17, 2017
Thursdays-Sundays
A familiar cast of characters returns to the Hill Country Community Theatre. After last year's smash hit show, "Don't Hug Me", the inhabitants of Bunyan Bay, Minnesota, will appear once more in the sequel, "A Don't Hug Me Christmas Carol", book and lyrics by playwright Phil Olson, music by Paul Olson.
Cantankerous bar owner Gunner Johnson gets in an argument with his wife, Clara, tells her he's skipping Christmas, storms out, goes snowmobiling across the lake, falls through the ice on his skidoo and goes into a coma. He then comes back in his dream where he's visited by the folk legend, Sven Yorgensen, who plays the ghost of Christmas past, present, and future. Sven takes Gunner (Scrooge) on a Dickensian journey... only very different. Will Gunner come out of his coma and find redemption with Clara at The Bunyan?
Opening November 30 and running through December 17, the show includes 17 original songs, including "The Christmas Cheese Polka," "The Wheel is Turnin' but the Hamster is Dead," "I Love You More Than Football," "Gunner Fell into an Ice Hole," and "I'm so Hosed."
Mike Rademaekers will direct "A Don't Hug Me Christmas Carol," which features a great comic cast. Guy Gober will appear as Gunner, while Kay Baker will play Gunner's long-suffering wife, Clara. Kyle Hirning will play the mooching Kanute. Singer/waitress Bernice will be played by Mandi Whittlesey, and the suave Sven will be played by Cody Petty. The vocal director will be Mandi Whittlesey, Laura Gisi will be the choreographer, and the stage manager will be Finnigan Fischer.
The Cast: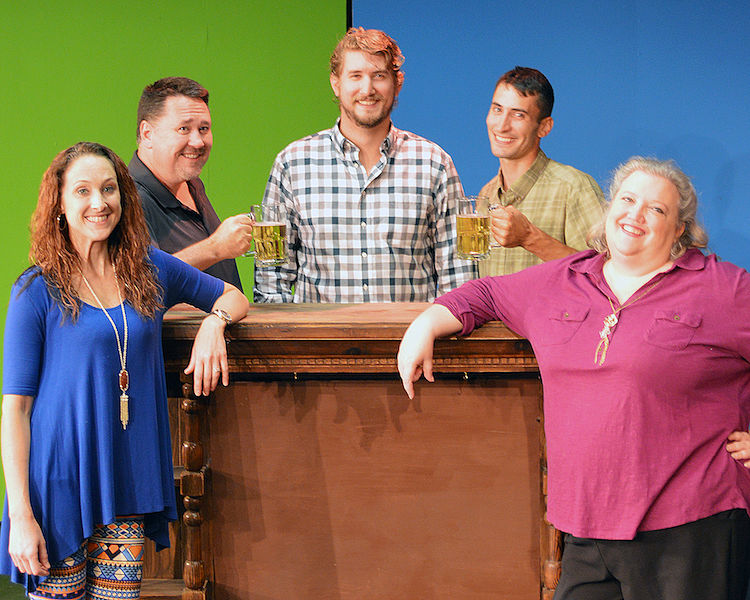 ---
A Don't Hug Me Christmas Carol
by Phil Olson and Paul Olson
Hill Country Community Theatre (HCCT)
Thursdays-Sundays,
November 30 - December 17, 2017
Thursdays - Saturdays at 7:30 p.m., Sundays at 2:15
Ticket will be available on-line HERE
Tickets will go on sale November 24 for the general public. Season subscribers may make reservations beginning November 20.