Nov. 14 - Nov. 19, 2017
Tuesday-Sunday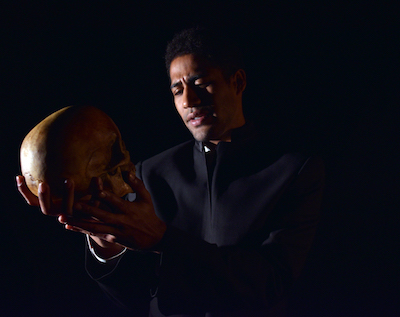 Texas State University's Department of Theatre and Dance proudly presents Hamlet by William Shakespeare. The show is under the direction of Liz Fisher. Performances begin November 14-19, in the Patti Strickel Harrison Theatre.
Featuring Anthony Hinderman as Hamlet.
In Denmark Prince Hamlet returns home to mourn the death of his father. Hamlet discovers his newly widowed mother married to his uncle and the ghost of his father haunts Hamlet, telling him that he was murdered. Hamlet decides to create a cunning plan to avenge his father, dragging his country, friends, and family to a bloody end.
Fisher's production of Hamlet is an edgy a modern interpretation of Shakespeare's original text, and stars Anthony Hinderman and features Texas State Faculty member Eugene Lee as Polonius. The rest of the cast includes Grayson Samuels, Elizabeth Rees, Riley Wesson, Danielle Grisko, Nick Eibler, Lucas Matteson, Cambria Denim, Jacqueline Knight, John Michael Hoke, Michael Julliard, Kaycee Swierc, Stephen Steele, Michael Connally, Hanna Patterson, Jeremiah Porter, Bella Coppola, Shane Satterfield, Jackson Pounds, Daniel Aguilar, and Andres Regalado.
---
Hamlet
by William Shakespeare
Texas State University
Tuesday-Sunday,
November 14 - November 19, 2017
Six Performances: Tuesday, November 14 – Sunday, November 19, 2017.
Tuesday, November 14 at 7:30 p.m.
Wednesday, November 15 at 7:30 p.m.
Thursday, November 16 at 7:30 p.m.
Friday, November 17 at 7:30 p.m.
Saturday, November 18 at 7:30 p.m.
Sunday, November 19 at 2:00 p.m.
All performances will be in the Patti Strickel Harrison Theatre. Individual tickets start at $15 for adults and $8 for students and may be purchased by phone at 512-245-6500 or online at txstatepresents.com plus $2 Texas State Presents processing fee for tickets online or at the window.
Special Event Parking for all fine arts events occurring is now only available in the Edward Gary Street Garage, 405 N. Edward Gary Street. The garage is located on the corner of University Drive and Edward Gary Street for a flat fee of $5 per event. Please Note: The garage attendant will only be accepting cash. Credit/debit card transactions will not be accepted for special event parking.