Oct. 27 - Nov. 19, 2017
Fridays-Sundays
A romantic journey that begins with a simple encounter between a man and a woman becomes an exploration of parallel universes. This sophisticated play will have you contemplating what truly binds two people together as well as the differences between choice and destiny.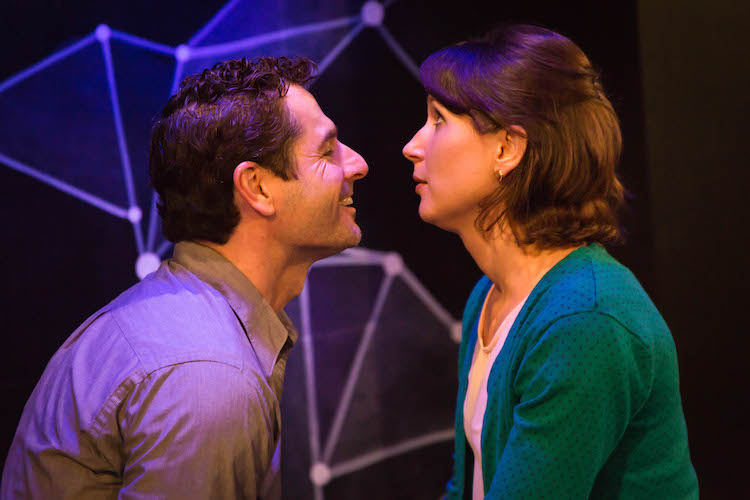 "When your brain works like mine does, a line like "every decision you've ever and never made exists in an unimaginably vast ensemble of parallel universes" can send you into a spiral of infinite possibility overwhelmtion. It can also, as is the case with this production, provide an opportunity to think of time and relationships differently. It plays out in the every day "what if…" moments – the things said and not said; the actions done and not done. The story of Marianne and Roland shows what could have been, what is (maybe), and what never became. It is infinite endings and a myriad of beginnings. It also allows for you, as an audience member, to draw your own conclusions."
-Molly Cox, Director
Cast
Roland-
Director-Molly Cox
Stage Manager-Carrie Daniels
Constellations runs October 27th-November 19th in the Cellar Theater. For tickets and more information, visit the Constellations page on The Playhouse News at theplayhousesanews.org.
---
Constellations
by Nick Payne
Playhouse San Antonio
Fridays-Sundays,
October 27 - November 19, 2017
BOX OFFICE:
210.733.7258 or ThePlayhouseSA.org
TICKETS:
$15 to $35
Gift Cards:
You can select either the $35 amount for an adult ticket or pick your own denomination. These cards are good for any of the remaining shows in our 2017-18 Season.
They can be purchased online HERE!

DISCOUNTS:
General admission may purchase tickets for $35
Military members (W/ID) may purchase tickets for $25.
Seniors age 60 and older may purchase tickets for $25.
Students (w/ID) may purchase tickets for $20
Group Rates 10 or more are available. Contact the Box Office at 210.733.7258
Additional Ticket Service fees may apply
_______________________________________

The Playhouse was founded as San Antonio Little Theater in 1912, as part of the growing Little Theatre movement sweeping the nation. Now housed in the first city-owned, city-built theater in the U.S., The Playhouse holds a place of pride in San Antonio history. In its time, The Playhouse has produced hundreds of plays and reached an audience of millions, including residents and visitors from all over the world. Each year, The Playhouse's staff, with the help of nearly 500 volunteers, produces a series of plays in its two theaters.


The Russell Hill Rogers Theater is home to larger musicals while the Cellar Theater houses a variety of dramas, comedies, and experimental works. Both stages host original works by local playwrights as well as classic and recent Broadway hits. Each season, The Playhouse contracts hundreds of local artists, showcasing some of San Antonio's greatest talents.