Oct. 26 - Nov. 11, 2017
Thursdays-Saturdays
Salvage Vanguard Theater Announces
Three Headed Festival
three weekends, three solo performances, three curators
Curated by co-producing artistic directors Florinda Bryant, Jenny Larson, and Diana Lynn Small.
Salvage Vanguard announces The Three-Headed Festival of New Plays, including three weekends of solo performances that examine the fears and beasts ruling U.S. American life. Where do these pressures come from? What can be sourced to inspire hope, justice and reconciliation?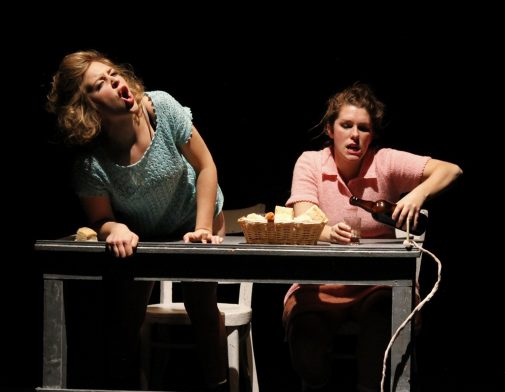 Oct 26 - 28 Mad and a Goat by Diana Lynn Small
MAD & A GOAT is a two-woman show about one woman who, to free herself from college debt, joins a Wyoming goat farm she inherits from her occult-leader birth parents. Seduction. Biscuits. Goats. Money.
[click for CTXLT review of 2014 production at 2014 FronteraFest]
Written and Directed by Diana Lynn Small
Featuring Marie Ponce and Paige Tautz
Nov 2 - 4 You Never Can Always Sometimes Tell (work-in-progress) by Stacey Karen Robinson
"Y'all thought it was the end of the world, but we know different.
Hyeah in this shaking…
Hear in this shaking…
As it begins~"
Stacey Karen Robinson performs her new solo exploration. Mixing song, movement and her distinctive storytelling style.
Written and Performed by Stacey Karen Robinson
Nov 9 – 11 It's a Travesty! One Night with Jazzie Mercado! by Travis Tate
It's a Travesty! One Night with Jazzie Mercado! is a glitter-bombed elegy for the distances working to separate us from ourselves. Using song & spell, the show confesses & confounds our own personal histories, bodies, & loves, not so we may leave those things behind, but so we may carry those things with us, & so we may call this healing.
Written and Performed by Travis Tate
ABOUT DIANA LYNN SMALL: Diana Lynn Small writes, acts and directs for the stage. She has an MFA in playwriting from the Michener Center for Writers at the University of Texas at Austin. Her two-woman show Mad & a Goat has toured to 6 cities since it was developed in 2013. Her play Good Day was selected for the 2015 Great Plains Conference PlayLabs, and Kitchen Dog Theatre's New Works Festival and she's been an artist in residence at Tofte Lake Center in Ely, MN. Diana has worked with paper chairs theatre company in Austin, TX premiering her play Hot Belly and directing Elizabeth Doss's play Mast and performing/dramaturging Doss's play Poor Herman. This summer Diana will develop a new show, HOUSE PLAY, at Berkeley Rep's Ground Floor. Diana is pursuing a Masters of Divinity at Austin Presbyterian Theological Seminary.
ABOUT STACEY KAREN ROBINSON: Stacey Karen Robinson is an interdisciplinary theatre artist. She received a 2017 Process Space Residency from the Lower Manhattan Cultural Council to develop You Never Can Always Sometimes Tell, which will have its New York premiere at JACK in 2018. Her previous one woman show, Quiet Frenzy, is published in solo / black / woman: scripts, interviews, and essays, Editors E. Patrick Johnson and Ramón Rivera-Servera, Northwestern University Press, 2014. Performances of Quiet Frenzy included: JACK, the John L. Warfield Center for African & African American Studies at University of Texas at Austin, the Department of Performance Studies at Northwestern University and the Wild Project. Stacey earned a BA in Africana Studies from Brown University. A Bronx native, she is a proud recipient of the BRIO, Bronx Recognizes Its Own Award for Playwriting, 2009. Stacey has appeared as an actress in many productions, including Daniel Alexander Jones' DUAT (Soho Rep.), Toshiki Okada's Quiet Comfort (Hoi Polloi), Khadijah Queen's Non-Sequitur (The Relationship) and Erik Ehn's Her Speech (Planet Connections - Playwrights for a Cause). She has collaborated with video artist Alix Pearlstein (The Kitchen, On Stellar Rays) and appeared in a video featured in Anohni's HOPELESSNESS World Tour. She will appear in upcoming productions of Kaneza Schaal's JACK & JILL.
ABOUT TRAVIS TATE: Travis Tate is a queer witch who writes plays & poems & performs. They are a MFA candidate at the Michener Center for Writers. Other works include ghost play, Phineas Gage: The American Crowbar Case and Butter
ABOUT SALVAGE VANGUARD THEATER
Salvage Vanguard Theater (SVT) based in Austin TX, is a nonprofit organization that provides accessible, affordable, artistic exchange between a diverse, inclusive community of artists and audiences through high quality experiences that foster experimentation and generate conversation.
Visit www.salvagevanguard.org or contact Jenny Larson for more information: 512-474 7886 or jenny@salvagevanguard.org
Mad and a Goat was developed with support from ScriptWorks' Seed Support Fund. For more information about ScriptWorks, visit www.scriptworks.org.
This project is funded and supported in part by a grant from the Drama League, the Texas Commission on the Arts, the National Endowment for the Arts. Art Works, and in part by the City of Austin Economic Development Department/Cultural Arts Division believing an investment in the Arts is an investment in Austin's future. This project is produced in coordination with the City of Austin's Brush Square Museums and Parks and Recreation Department. Visit Austin at NowPlayingAustin.com.
---
Three-Headed Festival
by various
Vortex Repertory Theatre
Thursdays-Saturdays,
October 26 - November 11, 2017
October 26- November 11, 2017
Thursday through Saturday nights at 8 pm
TICKETS: Online or at the door, $10 for one show or $25 for all three.
All tickets to SVT shows are Pay-What-You-Can at the door EVERY NIGHT. Box office opens at 7pm. Reservations for each performance can be made at salvagevanguard.org/tickets/
Dougherty Arts Center
1110 Barton Springs Rd.
Austin, TX 78704
(512) 974-4000