Oct. 14 - Nov. 04, 2017
Fridays-Sundays
The quiet, magical life of witch sisters Rowan and Holly is changed forever when they take the forbidden step of transforming a toad into a man. This one illicit act leads to another ill-advised spell and eventually a deadly confrontation with their fairy godmother. This romantic comedy with a supernatural twist is a perfect way to celebrate the spookiest season. From the writer/director of Creatures of the Night comes a lighter story of things better left to the dark.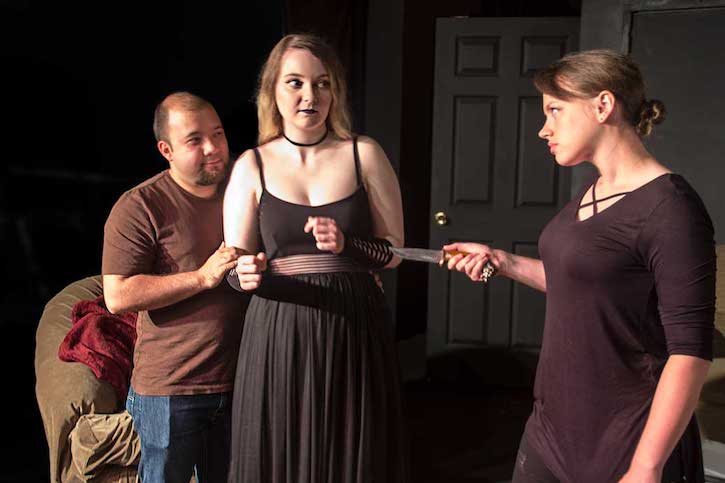 HEX is Emily Fitzgerald's first foray into writing supernatural fiction, long a passion for her, possibly stemming from exposure to Bram Stoker at an impressionable age. Her attraction to the monstrous has led to many favorite authors, from Anne Rice to Kim Harrison, and most recently to her consumption of all Jim Butcher's Dresden Files. Other fans of the series about P.I. wizard Harry Dresden may recognize such references as the ingredients of a potion and an homage to Harry's evil fairy godmother.
Featuring: Erika Johnson, Myles Martinez, Bridget Kathleen, Jay Overton, William M. Razavi, and Abbey Storch.
In spring 2013 Emily Fitzgerald had a sudden idea driving home from Boerne, like ya do, and that idea became The Southwest Association of Literary and Dramatic Artists (SWALDA) of which she is the Executive Director. Emily was one of the directors of the latest iteration of SATCO's Theatre ASAP, in 2012, and has directed the original productions of Julie (PASA 2014); The Professionals (The Overtime 2014); A Number's Game (The Overtime 2015); Creatures of the Night (The Overtime 2016); and William M. Razavi's Macbeth (NVC 2017) under the aegis of SWALDA. Also at the Overtime she directed Murder at the Chateaux le Shadow (2014) and Drive Me Crazy (2015). A modified version of her play A Number's Game, Someone Gets Shocked, was accepted into the 2016 Midtown International Theatre Festival and in October 2016 she received an Original Script Globe Award from the Alamo Theatre Arts Coalition for Creatures of the Night. Recently she advanced to the second round in the Austin Film Festival's Playwriting competition with her play Ties That Bind.
A volume including the scripts for Creatures of the Night and Someone Gets Shocked is available in print and ebook format on Amazon.
The cast of HEX:
Rowan - Bridget Melley
Holly - Erika Johnson
Teddy - Myles Martinez
Barry - Jay Overton
Leah - Abbey Storch
---
Hex
by Emily Fitzgerald
Overtime Theater
Fridays-Sundays,
October 14 - November 04, 2017
Show Dates
Friday, October 13 at 8 pm
Saturday, October 14 at 8 pm
Friday, October 20 at 8 pm
Saturday, October 21 at 8 pm
Sunday, October 22 at 3 pm
Friday, October 27 at 8 pm
Saturday, October 28 at 8 pm
Sunday, October 29 at 7pm
Friday, November 3 at 8 pm
Saturday, November 4 at 8 pm
Ticket Prices: $15 regular admission, $12 for senior citizens, $10 for students/ teachers/ military
*Due to strong language and physical contact between romantic partners this show is rated PG-13.