Disco Deewane - A Bollywood musical
by Agni Entertainment
Sep. 16, 2017
Saturday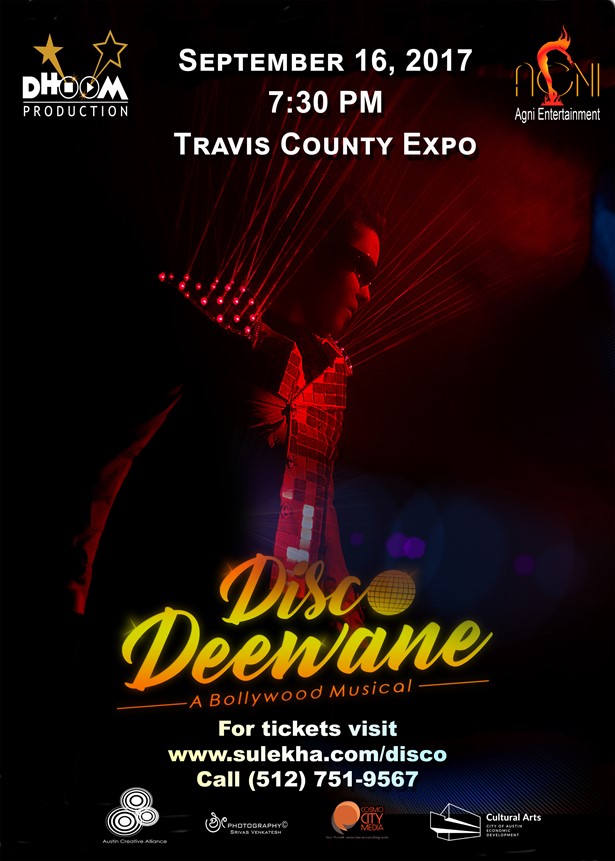 Dhoom Productions presents Agni Entertainment's "Disco Deewane" - a Broadway-style Bollywood musical in English!

Brought to you by the same team that created 2013's groundbreaking Om Shanti - Once Upon A time in Bollywood, Disco Deewane is an EPIC production that will take you through some of the greatest moments in American Musical Theater History mixed with Bollywood Pop Culture, narrated by an amazing combination of song, dance & theater.


Told in English, Disco Deewane features 200 diverse performers who have appeared all over the world, creating a feast for the eyes with their grand costumes and scintillating lighting effects.


The project is a sponsored project of the Austin Creative Alliance and funded in part by the Cultural Arts Division of the city of Austin.
Omar Gallaga of the Austin Statesman interviews Prakash Mohandas about the production, September 8, 2017
---
Disco Deewane - A Bollywood musical
by Prakash Mohandas
Agni Entertainment
Saturday,
September 16, 2017
7:30 p.m., Saturday, September 16, 2017
Tickets $25 - $175, available online via Sulekha