Sep. 08 - Sep. 30, 2017
Wednesdays-Sundays
The VORTEX proudly presents the world premiere of Gabrielle Reisman's Storm Still this September outside on our outdoor stage. Three daughters gather in the backyard at dusk following the death of their father. As they divide up his belongings, they remember a game they used to play-- a game about an old king who broke his kingdom apart while he was still alive, who lost his mind to age, grief and recrimination, and whose daughters turned against one another. As the three sisters transform into the cast of one of Shakespeare's most famous tragedies, they confront their own guilt, anger and loss with backyard beers, toasts with the audience, and making fun of how annoying Edgar is, when you think about him.
Starring VORTEX resident artists Jennifer Coy Jennings as Regan, Andreá Smith as Goneril, and Amelia Turner as Cordelia. Directed by VORTEX Associate Artistic Director Rudy Ramirez, who first brought these three women together in his production of LEAR in 2011. Designed by Ann Marie Gordon (Scenic), Patrick Anthony (Lighting), David DeMaris (Sound), and Indigo Rael (Props/Costumes).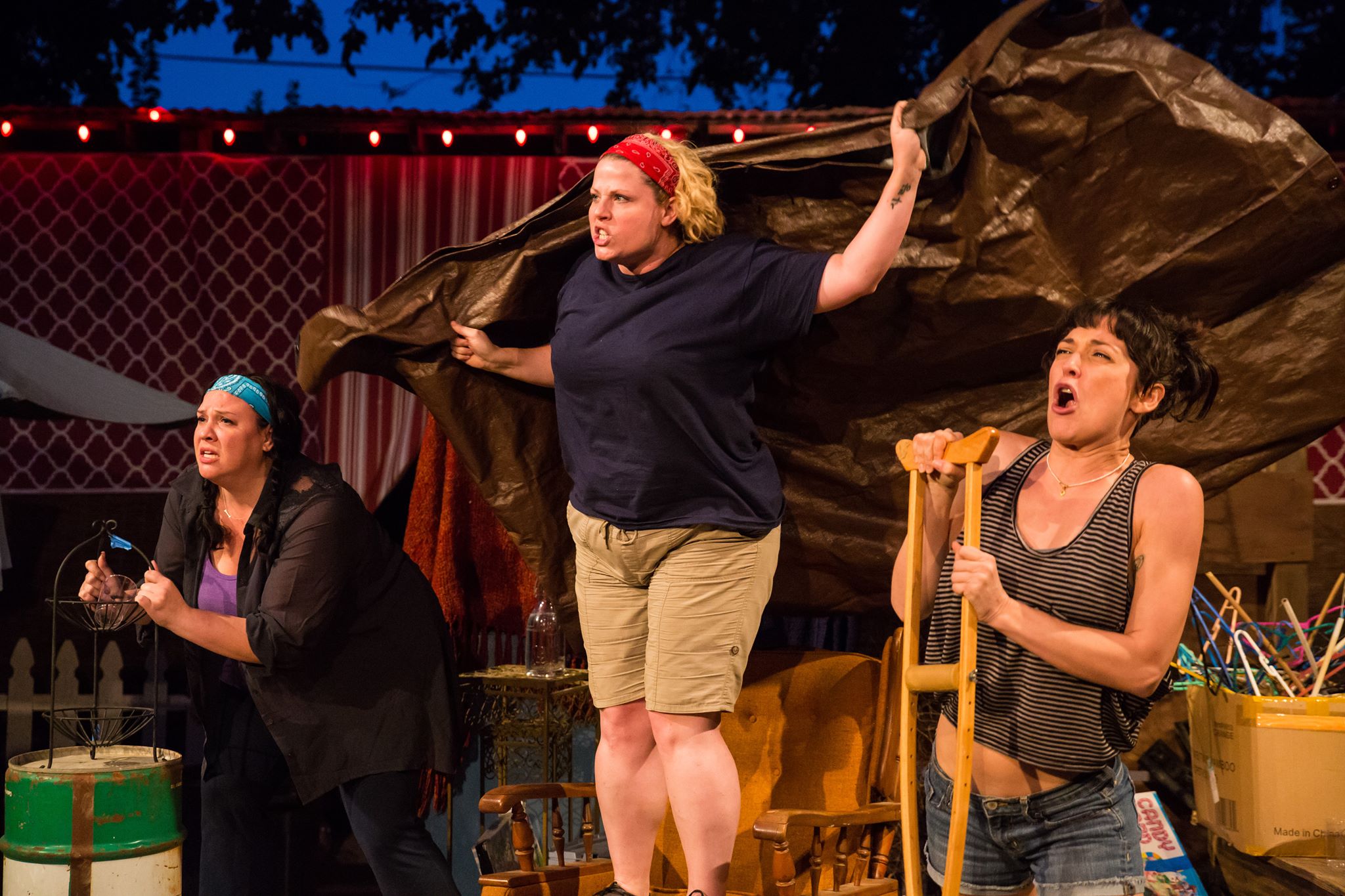 ABOUT THE PLAYWRIGHT: Gabrielle Reisman is a playwright and director based in New York and New Orleans. She is a founding member of Underbelly, a theatre collaborative that stages immersive journey-plays in forgotten spaces, and is the director of Brooklyn Yard. Gabrielle's plays have been produced in train stations, storefronts and warehouses across the country and have been translated into German. She's taught playwriting and theatre-making at Playwrights Horizons Theatre School, UT Austin, The Kenyon Playwrights Conference, and in New Orleans's public schools. Gabrielle is a Sundance Theatre Lab and MacDowell Colony Fellow. She was an NNPN Playwright in Residence at Southern Rep and is a resident playwright for The NOLA Project. Gabrielle's plays have received a Rosa Parks Award from The Kennedy Center, the Holland New Voices Award, and Austin Critics Table Awards and appeared on the inaugural Kilroys List. She has developed and presented plays with Clubbed Thumb/Playwrights Horizons, The Orchard Project, GPTC, Tulane University, Page 73 and The Lark among others. Gabrielle is an affiliated artist with New Georges and a Core Writer at the Playwrights Center. She received a BA from The University of New Orleans and MFA from The University of Texas at Austin. Her first four full length plays are published in the anthology More Pepper by Hot Lead Press. Gabrielle is currently developing an EST/Sloan commission about coastal land loss and pirate booze cruises. She is inspired daily by liminality, language, and resistance.
Storm Still is funded and supported in part by VORTEX Repertory Company, a grant from the Texas Commission on the Arts, and by the Cultural Arts Division of the City of Austin Economic Development Department.
The VORTEX Mission: We conjure and navigate the storm of imagination with urgent, unashamed art that dares to dream the world in which we want to live. This magic emanates from our cultural harbor, embraces diverse communities, breaks down barriers, and opens channels for vital exchange.
---
Storm Still
by Gabriel Riesman
Vortex Repertory Theatre
Wednesdays-Sundays,
September 08 - September 30, 2017
September 8-30, 2017
HELD OVER for September 27 - 30, 2017, 8:30 p.m.
Visit vortexrep.org for tickets
Outdoor Stage @The VORTEX, 2307 Manor Rd. Austin, TX 78722
Free Parking. Bus Route.
The Butterfly Bar @ The VORTEX opens nightly at 5pm with full bar, hand-crafted cocktails, and snacks.
Patrizi's @ The VORTEX opens nightly at 5pm with delicious homemade Italian food.
Tickets: $35-$15
$35 Priority Seating
$25 General Admission
$15 Discount/Child/Artist/Student/Senior
Radical Rush Free Tickets: Limited free tickets for each performance in the spirit of sustainability, accessibility, and the gift economy. Radical Rush tickets released at 7pm each night-in-person only.
2-for-1 admission Thursday and Sunday with donation of 2 cans for SafePlace
Advanced Reservations Recommended. Limited seating.
www.vortexrep.org or 512-478-5282