Jul. 13 - Jul. 29, 2017
Thursdays-Sundays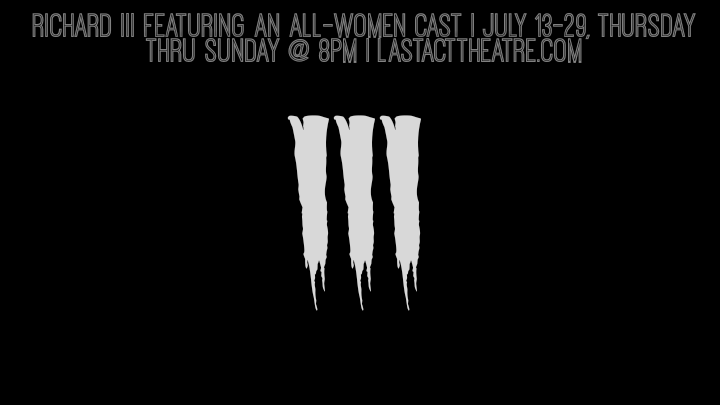 Last Act Theatre Company proudly presents its all-female production of Richard III! In an era of political uncertainty, a charismatic villain takes over the throne through nefarious manipulation of the the public. Chaos, murder, and war ensue.

Come see a showcase of some of the greatest female actors, artists, and designers in this timely reimagining of one of Shakespeare's classic histories! Starring Amelia Turner as Richard III and Emily Rankin as Buckingham with direction by Deb Streusand.
Audio feature by Michael Lee at KUT-FM, July 17, 2017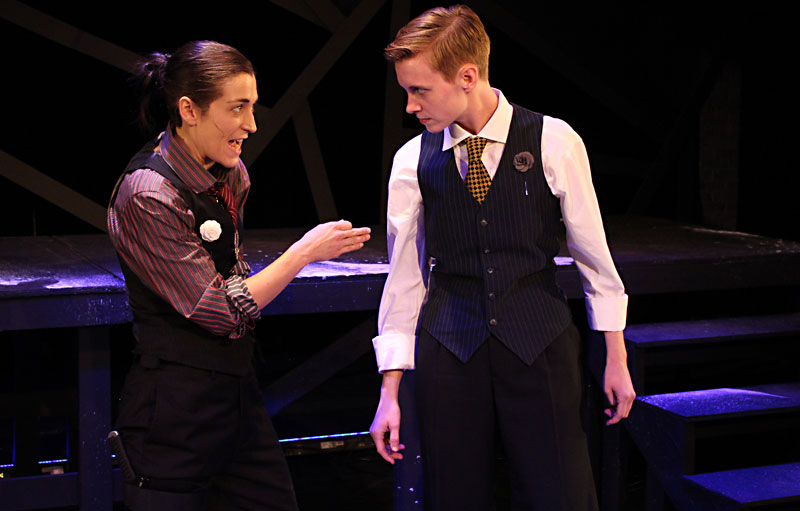 Cast:
Amelia Turner: Richard
Callie Hacker: Hastings, Tyrrel, Murderer 1
Chelsea Beth: Anne, Grey, Norfolk
Chelsea Manasseri: Richmond, Rivers, Mayor,
Corinna Browning: Edward IV, Catesby, Ely
Emily Rankin: Buckingham, Brakenbury, Sheriff,
Kate Clark: Clarence, Dorset, Scrivener,
Leanna Holmquist: Elizabeth, Oxford
Lindsay McKenna: Stanley, Ghost of Henry VI, Murderer 2
Lori Navarrete: Blunt, Scales, Sir Christopher,
Maggie Thompson: Prince Edward, Clarence's Son,
Martinique Duchene: Duchess of York, Keeper, Vaughan
Regan Goins: Margaret, Woodeville, Lovell
Samantha Smith: Ratcliffe, Ghost of Prince Edward
Victoria Barton: Duke of York, Clarence's Daughter
Director: Deb Streusand
Stage Manager: Mindy Griffin Klein
Costume Designer: Lindsay McKenna
Dramaturg: Mary Beyer
Fight Choreographer: Becca Musser
Light and Projection Designer: Courtney DeGinder
Producer: Rachel Steed
Set Designer: Corinna Browning
---
Richard III (an all female staging)
by William Shakespeare, adapted by Last Act Theatre Company
Last Act Theater Company
Thursdays-Sundays,
July 13 - July 29, 2017
Trinity Street Players
Black Box Theatre, 4th floor, First Baptist Church
901 Trinity Street
Austin, TX, 78701
The show runs 8 pm July 13-16, 20-23, and 27-29 at the Trinity Street Players Black Box, 4th floor of First Austin, 901 Trinity St, Austin TX, 78701.
No Matinees Available.

Tickets are $15/$12 for students plus service fees and are available at BuyPlayTix (CLICK HERE).
You can visit https://www.lastacttheatre.com/ or email info@lastacttheatre.com for more details.