Lady Day at Emerson's Bar and Grill
by Zach Theatre
Apr. 05 - Apr. 30, 2017
Wednesdays-Sundays
Pull up a chair, order a delicious cocktail, and turn back the hands of time in our swanky nightclub for an intimate evening with legendary jazz songstress Billie Holiday. "God Bless The Child", "Strange Fruit", "Don't Explain" and "My Man" are among the unforgettable hits you will savor from the lady who sings the blues. She's got a life to sing.
Starring Chanel
"The richest jazz singing in town just now is at this subtle absorbing dramatic performance … by the end, one is filled with an unexpected joy. Robertson's play is a shrewdly constructed piece. Mesmerizing."
— The New York Times
"An experience you will never forget." — New York Observer
"Stunning." — The Huffington Post
Recommendation: High school and above. Adult language and situations.
Run Time: Approximately 2 hours including one intermission.
Feature at www.SoulCiti.com, April 11, 2017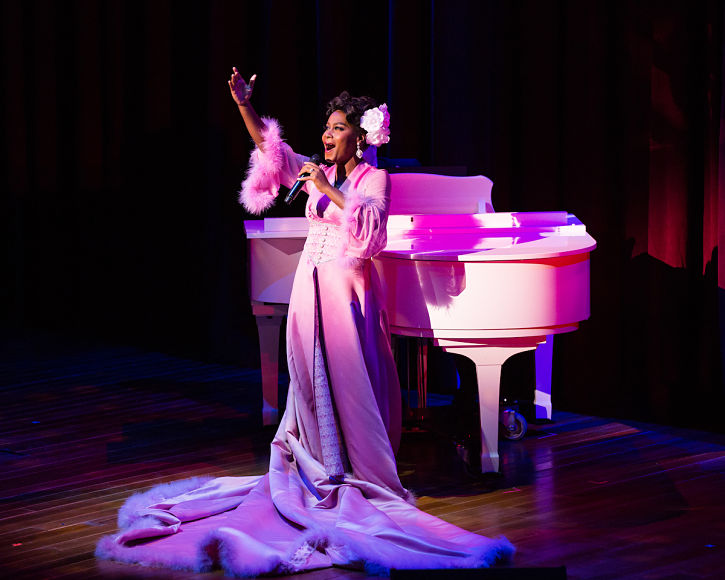 ---
Lady Day at Emerson's Bar and Grill
by Lanie Robertson
Zach Theatre
Wednesdays-Sundays,
April 05 - April 30, 2017
April 5 – April 30, 2017 Topfer Theatre
Wednesdays - Saturdays at 7:30 p.m., Sundays at 2:30 p.m.
Tickets $29 - $89 plus handling fees.
For show tickets visit zachtheatre.org or call 512-476-0594 x1