Review: Lady Day at Emerson's Bar and Grill by Zach Theatre
by Brian Paul Scipione
Hey, Lady Day!
NOTE: Zach Theatre is extending the production May 18 - June 11, 2017, and moving it to the Kleberg Stage.
There is no question that her presence is regal if not refined. Chanel playing the titular role of Lady Day enters the stage via the audience. Her presence is so bold, sassy and commanding that spotlights are rendered redundant. She sweeps over the crowd with her gaze and the sterling luminosity of her voice. We are welcomed into the world of Lady Day, and what a world it has become. A world built of memories both joyful and deeply tragic, culminating in a present not too unlike the prison she fears she may suddenly be whisked back into. Lady Day is surrounded by ghosts, adoring fans, beautiful music, a supportive band and the shadowy pull of drug addiction. Whether the stage is her queendom or her penitentiary, she owns every square inch of it, shamelessly sharing it with all who would dare to join her.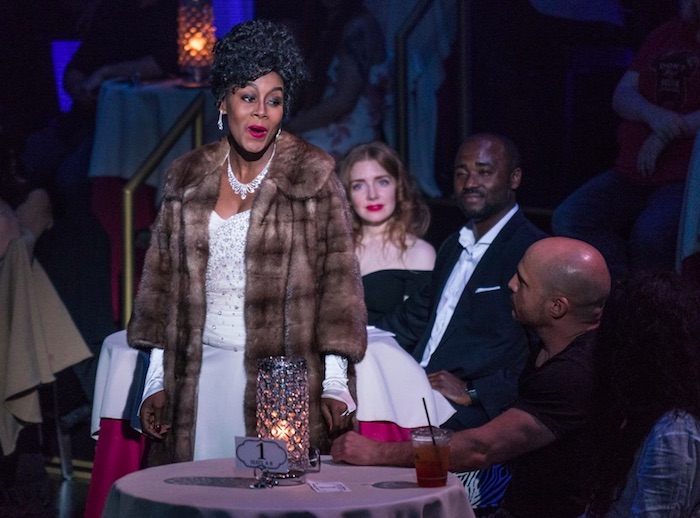 The events of Lady Day at Emerson's Bar Grille take place during the twilight of the star's career. The year is 1959. Though she was immensely popular and had sold thousands of records, Billy Holiday's struggles with drugs and alcohol have kept her without means. She is forced to make a living singing cabaret shows. The city is Philadelphia, a place that holds a host of bad memories for her. We are left with the impression that this could be any of the nighttime gigs she performed during her final years, and yet it is hard to imagine that she indulged in such boundless intimacy with every audience. Perhaps this one is special. Perhaps it makes her feel safe while revealing the stories of her life between the hits they've come to hear. And so this musical structured around Billie Holiday slowly reveals her life story just like a rambling elder in a rocking chair can't help herself when there's a willing ear.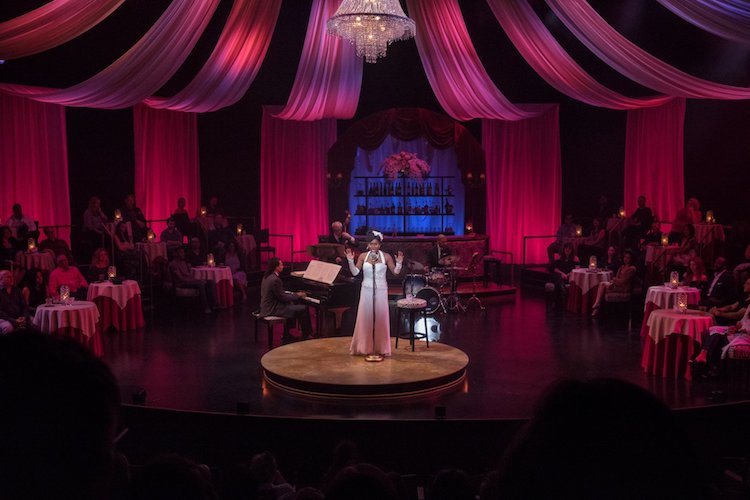 Music director Allen Robertson partners with Chanel's exuberant yet exquisite voice and makes this production a runaway hit. Each song achieves its own amazing tonal mood. They run the emotional gamut from rollicking and joyous to morbid and dejected. The band, a basic trio of drum, bass and piano, is fantastic. They start and stop on a dime, reacting quickly to the whims of their personal diva. Lady Day jokes with the audience. She recognizes they're here for the hits, because that's what she's paid to play, but she allows the set list to meander along with whatever story she's regaling them with at the moment. Nonetheless, this musical does feature all her giant numbers incuding "God Bless the Child" and "Strange Fruit."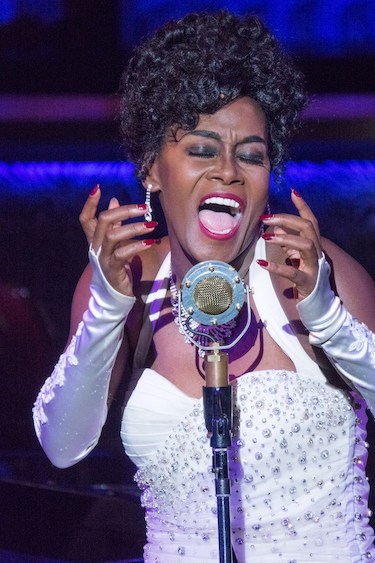 It's hard to believe that this is only Chanel's fourth stage role. Especially considering that for all intents and purposes this is a one-person show. The audience hangs on her every word as she creates a collective chill with sad tales of her past. Lady Day spent her life breaking boundaries as well as breaking free from a terrible childhood. She tells the story of how her dad died because staff at a white hospital wouldn't admit him even though there were no colored hospitals around. The tragic irony was that he was ailing from the aftereffects of chemical weapons he inhaled in World War I.
Lady Day as raconteur is impassioned and giddy, yet removed from her own story. Her life has been so shaped by entrenched racism and injustice that she speaks of it as a given. She refers to herself as "this black bitch." She is unfortunate not even to be able to imagine a different world.
And so Chanel spins out the tale of Lady Day through an evening of hauntingly beautiful melodies. Her performance offers whimsy and laughs as well as goose-bump-raising songs. The audience doesn't need to know the history of this seminal American chanteuse ahead of time. They'll enjoy the night and they'll know it by the end. The wisdom of this gem of performance will deepen anyone's appreciation of Holiday's legendary music.
Highly recommended.
---
Lady Day at Emerson's Bar and Grill
by Lanie Robertson
Zach Theatre
Wednesdays-Sundays,
April 05 - April 30, 2017
April 5 – April 30, 2017 Topfer Theatre
Wednesdays - Saturdays at 7:30 p.m., Sundays at 2:30 p.m.
Tickets $29 - $89 plus handling fees.
For show tickets visit zachtheatre.org or call 512-476-0594 x1