Mar. 30 - Apr. 09, 2017
Thursdays-Sundays
Perverse Results, Episode 1: Not Every Mountain is a work-in-progress performance designed by Thomas Graves, with text written by Kirk Lynn, and original compositions by Peter Stopschinski.
As the text is spoken, eight performers use pulleys, cranks, magnets and technology inspired by pop-up books to gradually build a mountain range with cardboard, string, cloth, wax and other simple, cheap packaging materials. As we watch, parts of the earth's crust shift, collide, and mountains form. As the mountain range grows and grows, the seasons change, the sun rises and sets. It is a performance of the life cycle of mountains and the processes by which they are born and eventually laid to rest. It is an invocation of geological time. It's a meditation on change and permanence. And a prayer for our home The Off Center.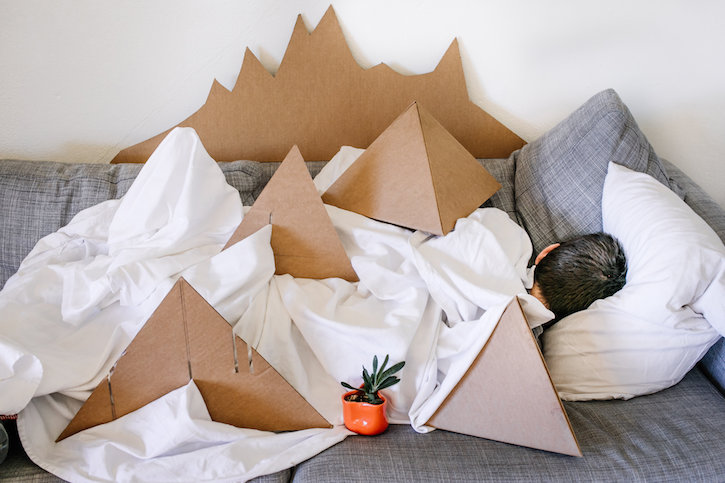 Perverse Results, Episode 1: Not Every Mountain
created by Rude Mechs
written by Kirk Lynn
designed by Thomas Graves
original music composed by Peter Stopschinski
featuring Eva Claycomb, Pete Dahlberg, Thomas Graves, Kevin Jacaman, Sadé Jones, Jennifer Kidwell, Derek Kolluri, Kirk Lynn, and Kelsey Oliver
costume design by Aaron Flynn, lighting design by Brian H Scott, scenic design by Pete Dahlberg
ABOUT PERVERSE RESULTS
The Content
Perverse Results is a new performance for the stage investigating unintended consequences – those outcomes that are not foreseen or expected when we undertake an action. We're excited to focus specifically on the perverse results (outcomes which are diametrically opposed to our intentions) that we have on the various environments we inhabit or migrate through. We'll be interrogating themes of displacement, containment, home, neighborhood, and agency in the inherited built environment.
The Process
Rather than congregating to make one cohesive piece over time, we are splitting up into smaller creation teams and building Perverse Results in episodes that will eventually be used to create one evening of theater, or we might destroy collaboration. We don't know.
The next episode of Perverse Results, Episode 2, is Gregariart – a noise and music excavation of the Ikea catalogue by Peter Stopschinski and Lana Lesley. The first draft will be shared in August 2017.
---
Perverse Results
by Rude Mechs ensemble
Rude Mechs
Thursdays-Sundays,
March 30 - April 09, 2017
Off Center
2211-A Hidalgo Street
near Robert Martinez and E. 7th Street, behind Joe's Bakery
Austin, TX, 78702
March 30 - April 9, 2017, Thursdays through Sundays at 8 pm


Click for tickets ($10 - $25 plus fees) via Fractured Atlas.