Mar. 10 - Apr. 16, 2017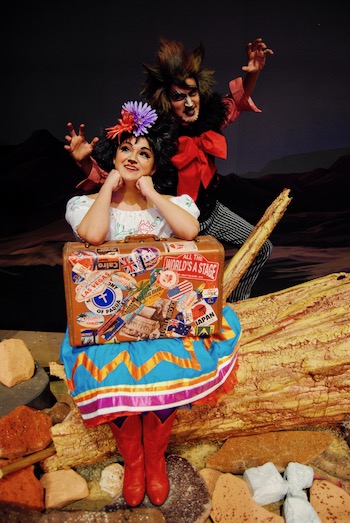 The Magik Theatre presents The Three Javelinas, based on the popular books by Susan Lowell, illustrated by Jim Harris, and published by Rising Moon Publishers, adapted from The Three Little Javelinas and Josefina Javelina with book and lyrics by Jenny Millinger and music by Todd Hulet. Magik is the first theatre company to produce this family musical since its premiere in 2015 at Childsplay in Tempe, Arizona.
This take on "The Three Little Pigs" is set in the southwest among the tumbleweeds and ocotillo, as brother and sister javelinas try to outwit a coyote and end up learning what it means to be a family. This production is recommended for ages five and up and runs approximately one hour and ten minutes with no intermission.
"The Javelina Band plays at their local cantina, but Josefina has her heart set on becoming a star in Hoggywood," says director Greg Hinojosa. "The siblings fight, as siblings do, but when they face adversity in the form of a hungry Coyote, they pull together as a family."
"I included this show in our season because the books are wonderful and because the live band onstage really makes for incredibly fun experience," says Magik's Managing Artistic Director Frances Limoncelli. Actors on guitar, bass, ukulele, and percussion play most of the music in the show live onstage.
Cast and Production Team:
The cast and production team for The Three Javelinas includes: Cody Lyle Asher (The Boy Who Announces the News and other roles), Louis Canales (Juan Javelina), Carlos Medina Maldonado (Jose Javelina), Jovi Lee (Josefina Javelina), Travis Trevino (Culver Coyote), Venny Mortimer (Male Understudy), and Josey Porras (Female Understudy). Direction and costume design by Greg Hinojosa, scenic design by Christopher Boneta and Joe Cooley, lighting design by Meg
---
The Three Javelinas
by Jenny Millinger and Todd Hulet, after Susan Howell's book
Magik Theatre
March 10 - April 16, 2017
The Three Javelinas runs Friday, March 3, 2017 to Sunday, April 9 at The Magik Theatre, 420 S. Alamo, San Antonio, Texas 78205. Opening is Saturday, March 4 at 2:00 p.m. (Previews are Friday, March 3 at 9:45 a.m. and 11:30 a.m.) Regular performance times are Saturdays at 2:00 p.m. and 7:00 p.m. and Sundays at 2 p.m. as well as Tuesdays, Wednesdays, Thursdays, and Fridays at 9:45 a.m. and 11:30 a.m. when school is in session (see website).
Tickets are $15 for adults, $12 for children ages 2 to 17, lap children under 2 are free. $12 tickets are available for active-duty or retired military, educators, and seniors 60+ with ID. Groups of 15 or more are $10 per ticket. Tickets may be purchased at The Magik Theatre Box Office, 210.227.2751, or by visitingwww.magiktheatre.org.
A party room is available for full-service birthday parties. Parking is available at one of Hemisfair Park's parking lots, hemisfair.org. The Magik Theatre is accessible by VIA Viva bus, viainfo.net.
Special events
The 2016-2017 Magik season is the first where every production will offer a Sensory-Friendly performance. For The Three Javelinas it will take place Saturday, March 25 at 2:00 p.m. Sensory-Friendly performances are slightly adjusted for people on the autism spectrum, those with cognitive disabilities, or anyone who might enjoy a more relaxed atmosphere, such as very young children. Lights and sound effects are softened, theatre etiquette is relaxed, and all are accepted and welcomed.
Active or retired members of the military will receive $5 tickets for their entire party for the Military Night performance on March 4 at 7:00 p.m. Call to reserve tickets.
Educators with school I.D. will receive one free admission to the Educator Night performance on April 1 at 7:00 p.m. The first 35 educators to RSVP will take part in a dinner at 5:00 p.m. that will include a one-hour Q&A and a gift bag for each participant. RSVP at info@magiktheatre.org.