Mar. 03 - Mar. 25, 2017
Fridays-Sundays
COMEDY: A newly married couple buys a house in historic Salem, Massachusetts. Which has the annoying feature of being visited each year by a slightly destructive witch named Agatha Forbes. Things go along smoothly, so they decide to make a farewell party out of Agatha's next visit. A crazy aunt, nice looking doctor and his mother, a self-proclaimed medium and the local newspaper's star reporter are all invited. But all gaiety vanishes when the witch arrives in a cloud of smoke and bad temper. Impatient from the outset, Agatha makes no bones about the fact that she wants everyone out of the house. As no one will cooperate, she then exercises her special powers and casts a spell which, to every one's dismay, makes them actually become, temporarily, as they secretly wish themselves to be. The results are uproarious. Fortunately, they discover (in the nick of time) how to free Agatha from her house-haunting obligation.
Directed by Ed Trujillo.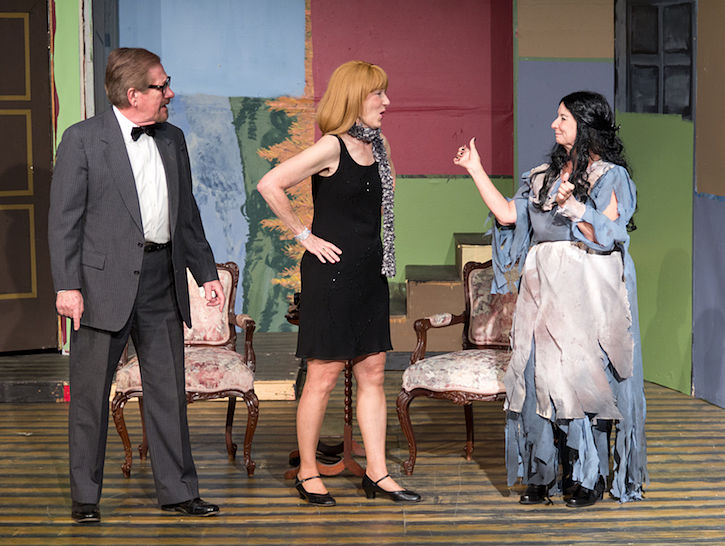 | | |
| --- | --- |
| The Cast | The Crew |
| Duff O'Hara – Louis Zertuche | |
| Joan O'Hara – Lisa Doughty | Asst Director – Geoff Gates |
| Mrs. Van Buren – Sarah Jackson | Lights – Nona Whittington |
| Mrs. Boggs – Shelly Kelly | |
| | |
| Dr. Randolph – John Milford | |
| Thelma Breckenridge – Jo Rake | |
| Flip Cannon – Nathan Doughty | |
| Madam La Solda – Suzanne Redfield | |
| Agatha Forbes – Peg Sampson | |
---
All Because of Agatha
by Jonathan Troy
Way Off Broadway Community Players
Fridays-Sundays,
March 03 - March 25, 2017
Evening Performances at 8 pm: March 3, 4, 10, 11, 17, 18, 24, 25, 2017
Sunday Matinee: March 12 at 3 pm
If you prefer, you may make a reservation by phone by calling 512-259-5878
Ticket Prices
Adult -> $20
Child -> $10 (ages 10 and under)
Discount Tickets -> $15 (Available to Seniors (60+), Students(11-18), College (with ID), and Military/First Responders (Current or Ret., with ID))