The Marvelous Wonderettes
by Tex-Arts
Feb. 17 - Feb. 26, 2017
Fridays-Sundays
The TexARTS Professional Series closes its 2016-17 season with Austin premier of Roger Bean's Off-Broadway hit musical The Marvelous Wonderettes, which will be presented February 17 – 26 at the Kam & James Morris Theatre in Lakeway.
The Marvelous Wonderettes is a musical comedy that uses pop songs from the '50s and '60s as a vehicle to tell its story, paying homage to the high school Songleader squads of the 1950s. When called upon to perform at their senior prom as a last minute replacement, Springfield High Songleaders Betty Jean, Cindy Lou, Missy and Suzy rally together to entertain their classmates in four-part harmony.
The songs they sing during the course of the musical include: "Lollipop"; "Dream Lover"; "Stupid Cupid"; "Lipstick on Your Collar"; "Hold Me, Thrill Me, Kiss Me"; "It's My Party"; and "It's In His Kiss (The Shoop Shoop Song)".
The cast features Lauren DeFilippo (Riverside Theatre's Crazy for You) as Suzy, Leslie Ann Leal (Zach's Evita) as Cindy Lou, Lilly Lane Stafford (UT Theatre and Dance's Little Women) as Betty Jean, and Christina Stroup (Stages Repertory Theatre's The Marvelous Wonderettes: Dream On) as Missy. The company includes Toni Baker, Emily McIntyre and Devin Medley.
PERFORMANCE PHOTOS
by Karla Ent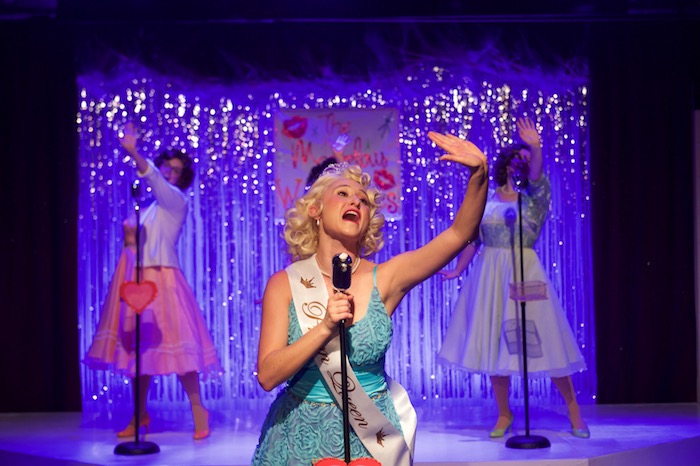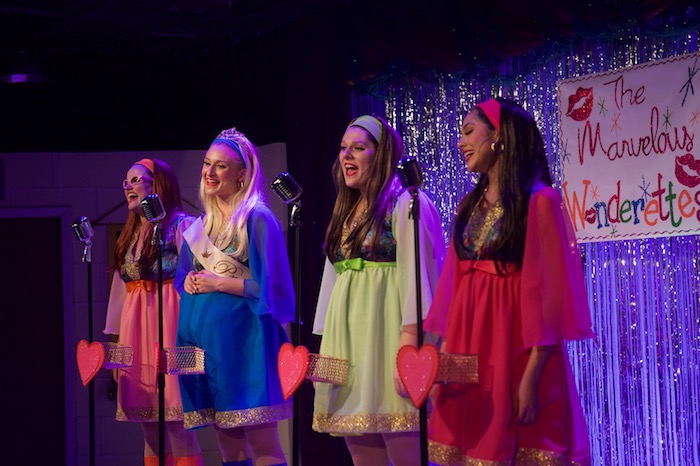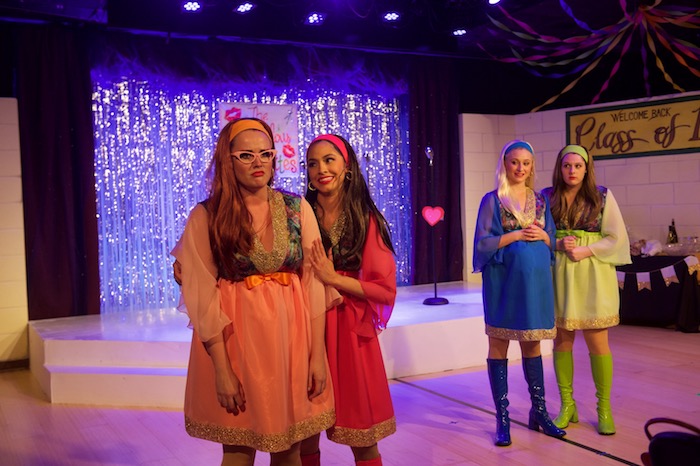 The show is directed and choreographed by New York-based director, Kimberly Schafer. Ms. Schafer returns to TexARTS having previously choreographed the TexARTS summer hit, All Shook Up. Award-winning music director, Lyn Koenning serves as the production's musical director.
The creative team features Donna Coughlin (scenic design), Chris Arthur (costume design), and Reilly Cox (properties design).
In act two, the Wonderettes reunite to take the stage and perform at their ten-year reunion. We learn about the highs and lows the girls have experienced in the past decade and are charmed to find that no matter what life throws their way, they will conquer it together. Featuring more than 30 classic '50s and '60s hits, The Marvelous Wonderettes will keep you smiling in this must-take musical trip down memory lane! The production was called "One irresistible musical! An utter charm bomb!" by The New York Times.
TexARTS
TexARTS, the Lake Travis nonprofit for the visual and performing arts, offers completely staged professional productions and is a performing and visual arts educational academy. TexARTS is proud to employ hundreds of professional regional actors, musicians and artistic staff living here in Austin.
---
The Marvelous Wonderettes
by Roger Bean
Tex-Arts
Fridays-Sundays,
February 17 - February 26, 2017
February 17, 18, 23, 24 and 25 at 7:30 pm, February 19 and 26 at 2:00 pm. A special student preview performance will be held February 16 at 7:30 pm.
Single tickets start at $40. Single tickets are available by calling TexARTS Box Office at 512-852-9079 x101 or at www.tex-arts.org. All ages are welcome and parking is free. Group rates are available.
All performances will be held at the intimate Kam & James Morris Theatre at TexARTS' Erin Doherty Studios, 2300 Lohman's Spur, Suite #160, Lakeway, TX. The lounge opens one hour prior to curtain and offers beer, wine and light snacks. Parking is free.