Feb. 16 - Mar. 05, 2017
Thursdays-Sundays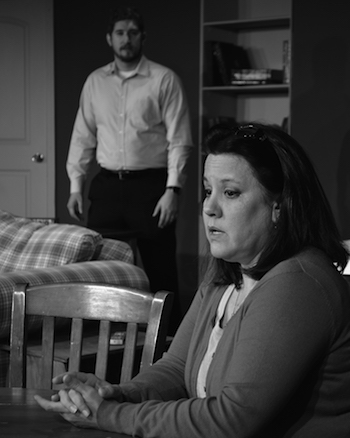 The Corbetts had everything a family could want, until a life-shattering accident turned their world upside down. Drifting perilously apart, this play charts their bittersweet search for a path that will lead them back into the light of day.
The script is wise and witty, as it takes you through a family's journey through heartbreak, grief, and forgiveness. The five-character play focuses on Becca and Howie, an upwardly mobile couple, and their marital struggles as they cope with the death of their only child, four-year old Danny, killed in an auto accident. Becca's well-meaning mom and trashy sister attempt to lift their spirits, each in her own off-kilter way. Becca and Howie's lives are further complicated when the young driver who killed their son contacts them seeking his own closure.
The cast includes Stephanie Ellis as Becca, Dee Sens as Izzy, Cody Petty as Howie, Mary Beth Madsen as Nat, and Charles McLean as Jason.
This poignant drama contains mature language.
"It's sad, but there's beauty in this play as well," said HCCT's executive director Mike Rademaekers. "The playwright has made the relationships, the dialogue and the situations real. You watch a scene and you think, 'That's spot on. That's honestly how a husband and wife would grieve the loss of a child.'"
---
Rabbit Hole
by David Lindsay-Abaire
Hill Country Community Theatre (HCCT)
Thursdays-Sundays,
February 16 - March 05, 2017
"Rabbit Hole" will be presented at the Hill Country Community Theatre, 4003 W FM 2147, Cottonwood Shores, TX 78657. The show will open on February 16 and run through March 5. Performances will be on Thursdays, Fridays, and Saturdays at 7:30 PM and Sunday matinees at 2:15 PM. This poignant drama contains mature language.
Admission is $20 for adults and $10 for students with a valid ID. Reservations can be made beginning February 6 for HCCT season subscribers and February 9 for the general public by calling (830) 798-8944, online at
www.theHCCT.org
, or at the box office (12:00 noon to 4:00 PM, Monday through Friday) .
For more information, please call the theatre at (830) 693-2474 or send an email to
director@theHCCT.org
.