Jan. 13 - Feb. 04, 2017
Fridays-Sundays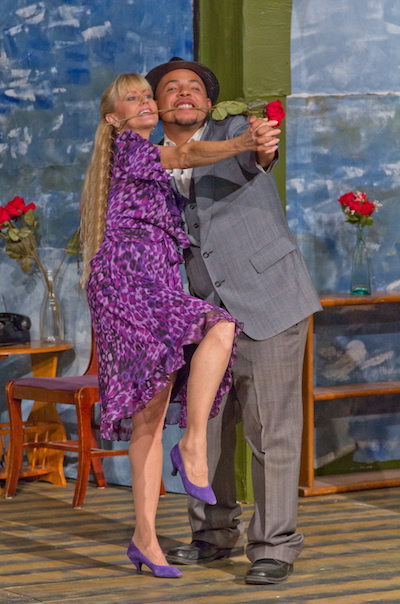 George's favorite hobby is hypochondria. At one of his many doctor visits, he overhears his doctor discussing another patient with heart trouble, and mistakes the dying man's diagnosis for his own. He bravely prepares to meet his end, sure that it's 'his time'. Putting his affairs in order, he writes a heartbreaking letter to his wife , Judy, to be read as his eulogy. He tries to arrange a good second husband for his soon-to-be widow. When he finally tells his wife about his impending demise, she quickly finds out that he's not dying at all. She believes it's just a lame excuse to hide an affair, but he's just trying to find a cemetery plot for three: himself, his wife and the new future 'Mister Kimball'.
Doris Day and Rock Hudson starred in the movie version of this show.
Directed by Gary Dean Hamilton.
The Cast Includes:

Bill Craig as George Kimball
Tracy Cathey as Judy Kimball
Russ Jernigan as
Arnold
Nash
Ed Trujillo as Bert Power
Glenn Aichlmayr as Mr. Akins
Erin Priddy as Miss Mason/Floozy


The Crew Includes:
Director: Gary Dean Hamilton
Assistant Director: Suzanne Redfield
Lights and Sound: Jeremy Mielens
Stage Manager: Emily Plaster
Crew: Summer Stinson


---
Send Me No Flowers
by Carroll Moore and Norman Barasch
Way Off Broadway Community Players
Fridays-Sundays,
January 13 - February 04, 2017
Evening Performances at 8 pm: January 13, 14, 20, 21, 27, 28, February 3, 4, 2017
Sunday Matinee: January 22 at 3 pm
Tickets are $20 for adults, $15 for students (with ID), seniors (60 Plus) Military (with ID), and $10 for children (10 and younger). While tickets will be sold at the door, reservations are encouraged.

To reserve tickets, call (512) 259-5878 or visit http://www.wobcp.org.