SILENCE! the Musical Adds 1 p.m. Performance for September 4 Closing (Industry Discount Code Provided)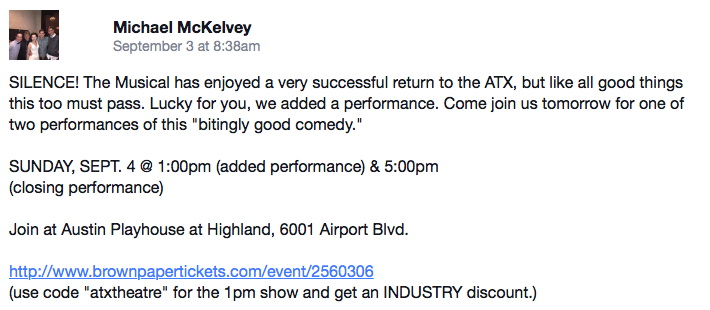 ---
Silence!
by Kaplans and Bell
Doctuh Mistuh Productions
Thursdays-Sundays,
August 18 - September 04, 2016
Thursdays - Saturdays at 7:30 p.m., Sundays at Austin Playhouse, Highland Mall.
There will be an added performance on Wednesday, Aug. 31st at 7:30 pm.
Closing performances Sunday, September 4 at 1 p.m. AND 4 p.m.
General admission $25, students and seniors $15, plus service fees via

Austin Playhouse at Highland Mall, 6001 Airport Blvd., Austin, TX.
TICKETS: $15-30. Brown Paper Tickets, http://www.brownpapertickets.com, (800) 838-3006