Profile: Breaking String's Vodka, Fucking and Television by Maksym Kurochkin, November 29 - December 18, 2012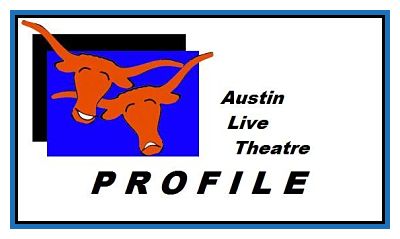 It's a long way from Chekhov's elegiac The Seagull to Maksym Kurochkin's Vodka, Fucking and Television. If Graham Schmidt, artistic director of Breaking String Theatre, were teaching courses on modern Russian drama -- which he is not, having decided for the time being to do rather than to teach -- then Chekhov's first major play, staged in 1896, would probably be on the assigned reading list for the first or second week of the fall semester. Not until one of the concluding classes in the spring semester would VF&T appear, as a 2003 piece that helped shape the resurgence of the production of contemporary original drama in Russia.
If the grad students were lucky, they might get to meet Max Kurochkin, the playwright, either in person or via Skype, since over the past couple of years Schmidt has gotten himself involved in a big U.S.-Russia theatre cultural project financed by the U.S. State Department, one that reaches beyond the capitals and the big-money producers to a handful of theatre-rich regional hotspots including Austin.
There are a couple of other ways to draw lines between the Chekhov and the Kurochkin works, and those also involve Austin. Breaking String's The Seagull was staged in October, 2007. Director Graham Schmidt had translated the play. He later worked with many of the same artists in two other Chekhov pieces. Then he turned the company's focus to what's happening now in Russia.

For me, however, these pieces anchor a timeline, a least provisionally. That 2007 Seagull was the first theatre piece that Karen and I attended after relocating to Austin five years ago. It provided our entry point to a creative culture that continues to astonish and delight. It helped prompt the eventual creation of AustinLiveTheatre.com.


Austin actress Liz Fisher and her husband Robert Matney were both in that memorable Seagull and in subsequent Breaking String productions. Last year during the company's second annual New Russian Drama Festival, Fisher and friends got together to do a staged reading of VF&T, presented as lagniappe to the company's full staging of Kurochkin's The Education of Bento Bonchev. She later agreed to direct a fully staged production of Kurochkin's comic and decidedly odd little twenty-first-century morality play. It opens this week at the Hyde Park Theatre for a three-weekend run.
Liz Fisher played key roles in all three of Breaking String's Chekhov stagings and she has appeared in strikingly contemporary pieces as well, working for Capital T Theatre, the Hyde Park Theatre, Shrewd Productions and at Austin Playhouse's Larry L. King stage. Reviewing The Dragon Play by Jenny Connell last April I wrote that Fisher was "one of my favorites on Austin stages." I'd been particularly impressed by her work in intense duo pieces Dying City and Bombs in Your Mouth, the first with Mark Scheibmeier directed by Derek Kolluri and the second with Joey Hood, directed by Ken Webster.
Fisher is a recidivist alumna of UT's Shakespeare in Winedale program, having been directed there in spring, 2001 by founder Professor "Doc" Ayers and that same summer by James Loehlin in his first year of directing the program. She has worked for Loehlin for the past four years, coordinating the Winedale program and the yearly UT residency of the Notre-Dame-based Actors from the London Stage.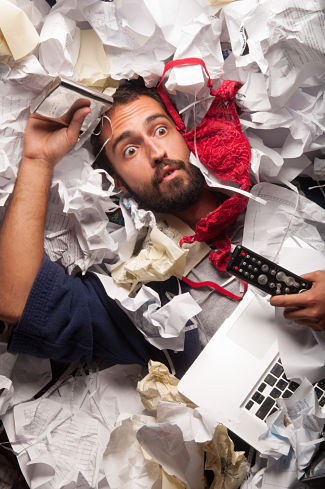 Kurochkin's VF&T is apparently simple -- almost trivial -- in concept and it's a surprisingly short piece, only 42 pages long in the digital compendium of translations of contemporary Russian plays handed out by international promotor Philip Arnoult two years ago at Breaking String's first festival of New Russian Drama.
The protagonist, a writer employed by an urban theatre, has decided that he's been wasting too much time on his favorite vices -- drinking, television and sex -- and he has to get a grip.
Something must go. . . and since those three vices are personified, that means someone must go:
-- Vodka (Joey Hood, a wiry, intense and volatile actor well known to Hyde Park Theatre fans),
-- Television (Jude Hickey, whose 2011-2012 B. Iden Payne award as outstanding lead actor in a drama was for the quirky buddy play The Aliens by Annie Baker, done with Hood), and
-- Fucking (Adriene Mishler, the Salvage Vanguard company member who's worked all over town, particularly memorable at the SVT's close-up fundraisers at the Eponymous Garden; Mishler's stylized choreography gave Breaking String's 2010 premiere of Olga Mukhina's Flying a glamorous kinetic power).
My parenthetical additions can only hint at the dense linkages among these artists, their concentrated energy and their power onstage.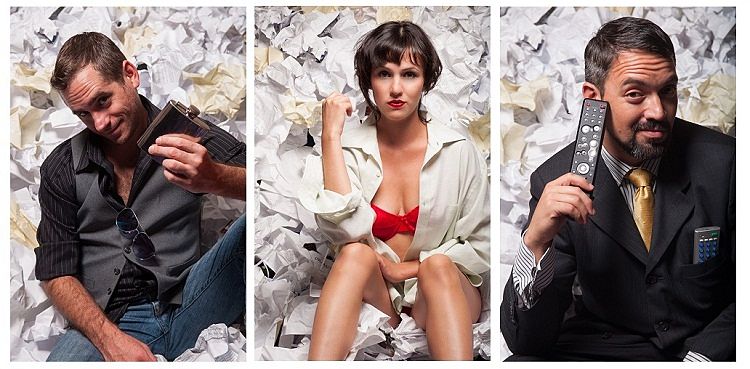 Add to that the fact that those three formidable vices will be tormenting Noel Gaulin as the hapless writer. After witnessing Gaulin's performance in Paper Chairs' Boom for Real last month, AustinLiveTheatre reviewer Dr. Dave Robinson wrote, "Gaulin is becoming a force of nature in Austin theatre, and while he is necessarily out there on the edge given the roles he masters, he is also nuanced, capable of expressing something with the twitch of a finger or the curve of an eyebrow. I am not prone to overstatement, but on this night he looked as though he could have performed every role as a one-man show and played all the band instruments. Yet he never stepped on another actor's line. His performance [. . .] was hysterically funny and indescribable. Go see it."
Theatre is an intensely collaborative art, and under Fisher's coordination the technical aspects of this staging promise to be particularly rich. Fisher and Lowell Bartholomee have produced video that will be used in the production (advice -- be there when the house opens so that you can enjoy all of it). Breaking String put up a particularly clever video on Kickstarter.com on October 24 in which Schmidt and Fisher explained the show and entertained viewers. Will Hollis Snider came to Fisher's home and made vividly comic portraits of Gaulin and the vices in a writer's mess of desperately torn-up paper conceived by Fisher. Derek Kolluri did the graphic design for the posters.
The prolific and gifted Ia Entsterä, certainly one of Austin's busiest set designers, is putting up the set as I write this. It will transform the curious space of the Hyde Park Theatre even more than she did for The Aliens, one of two pieces for which she received nominations for Austin's 2011-2012 B. Iden Payne theatre award. The unnamed writer protagonist of this fable lives in a penthouse apartment with a 120-degree view out over Moscow's rooftops. Robert Moncrieff's short video, below, shows the first hours of load-in at the HPT this past weekend.
Artistic director Graham Schmidt has been pulling all the P.R. strings available to him. He has been burning up ether on Twitter and Facebook and he set up a Skype interview of Fisher by John Freeman, theatre reviewer at the Moscow Times. And to cap it off, Fisher's husband, actor and digital magic-maker Robert Matney, will put this production on-line for one worldwide performance on NewPlayTV, December 8. Matney has done this before: he designed and operated the technical support last year for for Hidden Room's mischievous trans-Atlantic rom-com You Wouldn't Know Him/Her, staged via Skype by actors here in Austin and others in the UK.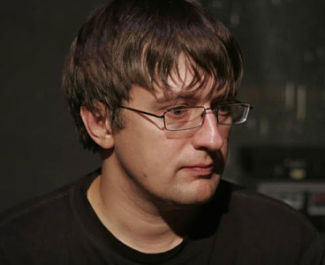 Kurochkin's dialogue in VF&T is sharp. quick and witty. I thought of Tom Stoppard; Fisher likens it to that of David Mamet. The premise is stark but it's universal, for everyone has had to confront the difficult balance between agreeable personal indulgence and purpose-driven activity. (A confession: after decades of abstention, over the past year I both subscribed to cable service an dpurchased a large flat-screen television.)
If any of my vices resembled in the slightest the three that Fisher and her cast are personifying in VF&T, I would be hopelessly lost. It's my ardent desire to be able to assert, truthfully, Kurochkin's brief disclaimer in his preface:
The author considers it necessary to make the following explanation: The author is not represented by the Hero in this play. Cognac and the author's private life have nothing in common with Vodka and Fucking. Television (a Sony) bears only a slight resemblance to the author's television (a Phillips). The hero has no morals, the author does. Several, in fact. [. . . ] The author never experiences artistic crises; he writes with ease and inspiration; he completes all the assignments he accepts on time. When the author hears the phrase 'The Sixties Generation,' he, like many of his peers, wants to puke.
Liz Fisher and Robert Matney will be traveling to Russia in late spring, a visit reciprocating last year's tour of regional theatrical hotspots by Russian playwrights, a State Department cultural exchange. Before that they'll both be performing in Hidden Room's Invisible, Inc., a tale of early twentieth-century illusionists to be staged in early 2013. Matney and Joseph Garlock are currently undergoing 'magician boot camp,' Fisher told me, where they're learning to do close-up magic effects and prestidigitation. She also will be assigned to magic boot camp once VF&T is smoothly underway.
"Will they be sawing you in half?" I asked, with a touch of apprehension.
"No," she said. "But I will be disappearing a lot."
EXTRAS
Click to view Breaking String's Kickstarter video of October 24
Click image to go to John Freeman's Skype interview of Fisher, published in the Moscow Times of November
The Load-In Video by Robert Moncrieff, November 24
Additional Photos by Will Hollis Snider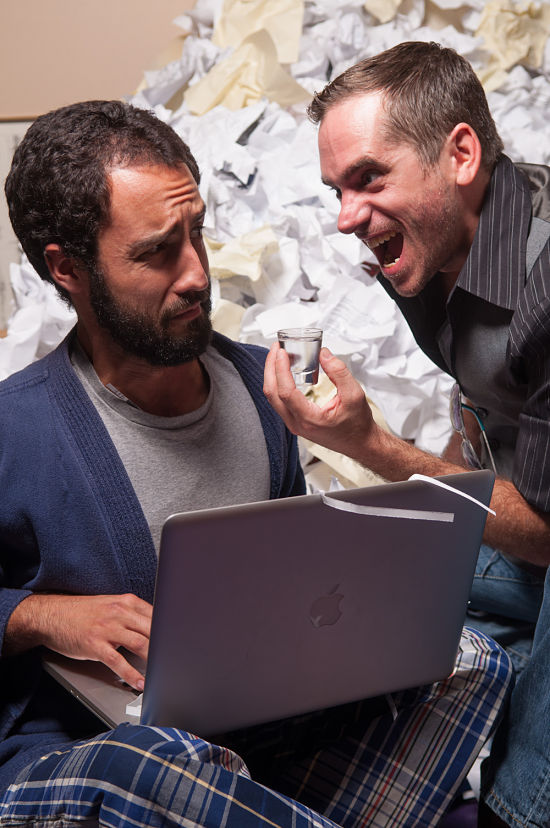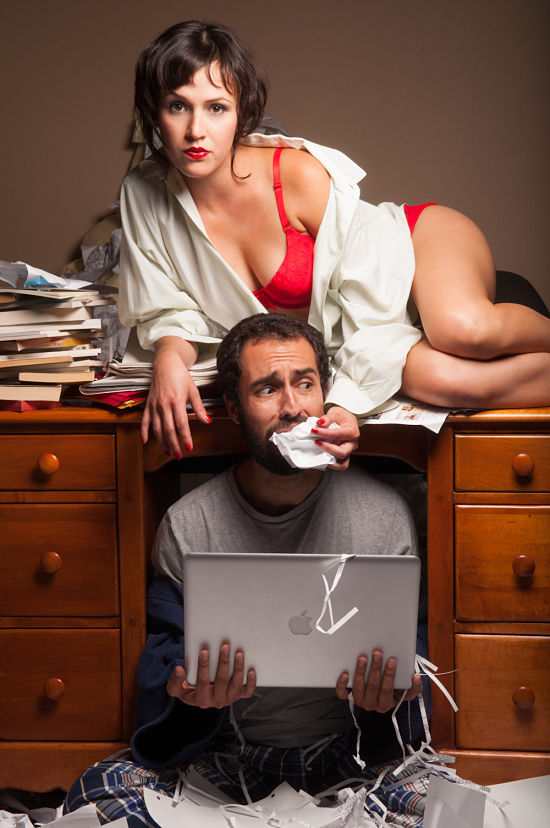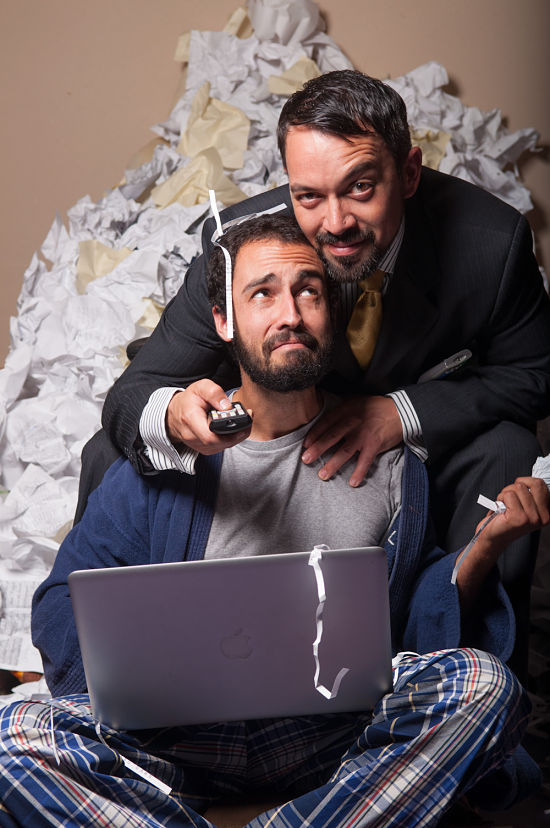 Hits as of 2015 03 01: 1245
---
Vodka, Fucking and Television
by Maksym Kurochkin
Breaking String Theater
November 29 - December 15, 2012