Preparing Shakespeare's 'Original Practices' in the Hidden Room Theatre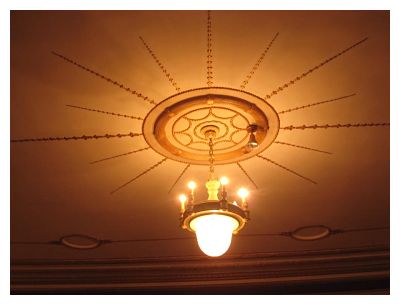 The hidden room of the Hidden Room Theatre is a long, wide hall, very much like the court spaces used by Shakespeare's company when they performed for royalty. Two or three ranks of padded chairs run the length of the hall and a platform with ornate armchairs stands at one end. That space resembles the Rollins Theatre configuration used recently by Austin Shakespeare for Shiller's Mary Stuart.
The "original practices" version of The Taming of the Shrew that opens this coming weekend will have a touch of the conspiratorial and mysterious to it, for you'll receive a password and a rendez-vous point in downtown Austin, rather than a theatre address. If you're there at the right time and the right place, a company member will meet you and guide you to a candle lit trail to the hidden room.
Why the mystery? For fun, in part, and probably also to reinforce the message that you will be stepping back to the theatre practices of another time. "Original practices" means a vigorous player-centered approach to Shakespeare's text, with a minimum of decoration and scenery, and no women in the cast.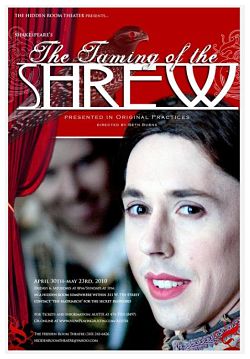 The fact that all female roles will be played by male actors brings a challenge and a mystery for our acutely gender-conscious society. For example, how will Ryan Crowder as Kate handle being romanced by Judd Ferris as Petruccio?
We can expect the audience to laugh even more explosively at the war of the sexes when it's highlighted by cross-dressing and cross-gender mimicry – remember, for example, the drolleries of Austin Shakespeare's all-women staged reading of the same play last month. An additional, unseen delicious touch is that this project is directed by the very womanly Beth Burns, assisted by Stephanie Delk.


I visited the hidden room early in the rehearsal process, welcomed by Burns for an afternoon session of work that began with Act IV, Scene 2, a scene featuring Benjamin Summers playing Lucentio, the wealthy student disguising himself as a tutor, and Ryan Hamilton as Bianca, Kate's younger sister and the object of his ardent affections. In ironic celebration of his transformation, Hamilton had made a video for YouTube of his shaving – sacrificing? – a beard of soldierly aspect, far superior to any I've ever worn on my chin.
In the scene to be prepared, the passionate young are in the first flushes of infatuation, with a mutual discovery interrupted by manservant Tranio (Rommel Sulit), arriving to report Petruccio's mad behavior.
I'd expected to sit silently as an observer, but Beth Burns, in her warmth and enthusiasm, introduced me and included me in the proceedings. I was dispensed from the warm-up exercises, being, literally, the odd man out as two-by-two the actors and director stood nose to nose in a series of exercises and movements designed to build mutual awareness and trust. For the read-through and discussion of the text she brought me into the circle.
Burns was carrying the annotated script, not a playbook with diagrams of blocking. After the read-through, participants walked through the scene, progressively adapting to the space. Hamilton wore an ankle-length plain muslin skirt. The scene developed before my eyes. This was a highly collaborative process, with actors and director finding and developing motivation, gesture, vocal modulation and comedy. Director Burns was talking them through it, more with encouragement and reaction than instruction. Lucentio is still courting and entreating at the outset; Bianca responds playfully and we see her make a decision; she takes initiative, with decisive action; their courting goes forth apace and they're partly hidden from view. Summers and Hamilton improvised and tried out several comic bits – sighs, gasps, noises, limbs appearing unexpectedly from hiding, much to our delight.
Throughout the process, Burns was responding, asking others and even me, the observer, for reactions. She ran the scene several times. She trimmed back some of the more egregious funny-making, but when time came to move along to Tranio's reception of the voyaging ancient (the cheerful Scot Friedman), we had all invested ourselves in the short scene.
Beth Burns was so inclusive that I embarrassed myself at one point by blurting out an observation about position and sightlines. They team continued working, unperturbed, but I realized that I'd overstepped my own bounds as the self-assigned perpetual audience member. At the next convenient break in the process, I slipped across the playing space, quickly thanked her and headed for the exit.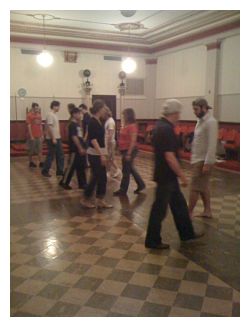 The Hidden Room Theatre has its own Facebook page, with 183 friends. There you can find this photo as a peek into an early walk-through in the hidden room, or a link to a video of Ryan Hamilton getting his chest waxed in order to present some convincing décolletage.
This production uses some of Austin's best and most familiar Shakespearians. In addition to those mentioned above, you'll see Brock England, Nathan Jerkins, Richard Dodwell, Justin Scalise, Todd Kassens, Eric Porter, Robert Deike, Casey Weed, and David Boss, a garland of thespians seen variously with Austin Shakespeare, the Baron's Men, the City Theatre, the EmilyAnn, Penfold Theatre, the Sam Bass Community Theatre, and the Scottish Rite Theatre. Assisting Burns are Master of Music Jennifer Davis of the Baron's Men , Master of Costume Cherie Weed, and Master of Stage Stephanie Delk.
Yes, all the "Masters" are women. But Beth Burns maintains that The Taming of the Shrew is gender-neutral. As she says, "Discuss!"
Opening night is this Friday, April 30, and the production runs in its secret location (I'll never tell!) Fridays and Saturdays at 8 p.m., Sundays at 6 p.m., through May 23.
EXTRA
Susie Gidseg of NowPlayingAustin interviews Beth Burns, Ryan Crowder and David Boss about this production, April 30 (15 min.)
UPDATE: Review by Jeanne Claire van Ryzin for Statesman's Austin 360 "Seeing Things" blog, May 3