LUMEN, a multimedia theatre production: Slideshow by Steve Rogers and Interview of Andrea Ariel by Dr. David Glen Robinson
My interview with Andrea Ariel took place at Tamale House, one of old east Austin's better known but quieter leafy green locales for good food and relaxed chat among artists. Our meeting anticipated Andrea Ariel Dance Theatre's show Lumen, a work sure to have implications for the national dance and performance scene. Ariel creates easily within complex structures, as seen with her multiple performances incorporating Soundpainting™, a formal gesture language. The current fascination is with Minimalism, and not just with Minimalism as an art movement, but with one artist in particular, Dan Flavin, who worked exclusively with light. Most of his works were produced with commercially available fluorescent lighting tubes.As always, Ariel's thoughts keep a grip on art, its meanings, and what's required of one to make it, whether the artist is Dan Flavin, Andrea Ariel, you, or me.
DGR. I am so different after performing on stage. Is that the same way for you? Did it change your life forever? In day-to-day things?
Andrea Ariel. Well, I think performance is such a sacred space, the process just to go to it…getting to it, being in it…because performance is an engagement with people who want to witness it.The audience. I think that performance is a world unto itself for people who go into that life of working as a performer. I mean, it isn't just about performing, it is about that whole creative process leading to the thing being created, the thing that starts with the passionate impetus to be given and shared. There's no huge reason to do it—I mean maybe for some people it's not about that.I knew a visual artist who wanted to make work but was never interested in necessarily showing it and selling it. The person was just interested in doing it for its own sake.
I think that going into the studio every day and dancing all by myself is something that is necessary for me, that I need to do and I have to do. But then there's this other part of the equation that burns in me, pushing me to create, to explore, reflect, and bring all of that into the work to be performed--so that it becomes a vehicle of sharing and inspiring others. Or inviting questions, or inviting perceptions.
The piece that I'm working on right now (Lumen) is very abstract in a lot of ways.But I'm finding it amazing how the questions it asks or the things that it evokes come out of that creative process.
The connection to others, to me, is somehow inherent in the impetus to work alone in the studio. The passion to create and explore things is about creating something to bring back to people.
That's the exchange, that's where the energy feeds itself.
Even the process of creating this show is really particular in the sense that I made the decision not to perform in it. And it's been really hard on some level, I mean, here I am, Andrea, and [beseechingly] "I want to perform in it." But the thing is that when I listened truly in my spirit and heart to what was happening in the beginning stages the answer came back that I needed not to be in it. I started to work with three dancers and three members of line-upon-line percussion [DGR note: They don't capitalize their name], and there was something about what was happening in real time and space in my first investigations of it that made me want to add two more dancers, maybe more.
When I started to play with this concept and the piece started to be born, well, the piece said "no." The piece said "no." This is the piece: these three dancers and those three musicians. You can't push yourself on to that, or push more onto that than what it is. And that was by me truly listening and being true to that spirit when things were first sparking.
I think why I brought that up is that when things first spark there is a necessity of a connection, a sharing with others. That is a part of the entire process from the beginning spark, through the creation of it, to the sharing and the performance of it.
I'm fed, I'm fed by the conversations; I'm fed by the collaborations; and I'm fed by the beginning ideas, through conversations with people. My mind and body will recognize that, wow, I just heard something that person said, and I'm observing this--and all of a sudden there's this alignment of something that just emerges, that says "this is what's important right now."
And that focus brings me into connecting with people. If I stay isolated too long, it's like being in a vacuum, so connecting with others is for me a very energizing thing. And that is so because things start to get realized in that dialog, or in that conversation, or in that investigation in the studio. It is to be able to more fully experience the process. And it is a process that's happened over many, many years.
Because when you start making work, you want it to be yours, and I want it to be mine. And you want to make sure that "I made this." But I've found over the years and have learned that it's not about mine. What's really magical is that although, yeah, I have the sparks, I have the idea, and I invite others in, I then let go, and I let go, and I let go and it's still mine, but it's not just mine it's all of ours. There's something incredibly thrilling about that.
I love that I'm in that kind of place where I don't have to own it. It's a collaboration with others and to me that mirrors life. It mirrors life. Life is a collaboration with other people, it's a conversation, it's creating together, it's loving together, it's making ideas together. My process in making work mirrors what I think life is. But I think that all the people who don't have that—this is coming back full circle to your first question—which is all the people who don't have that in their life, who aren't creators in the traditional sense of what we're talking about—artists with a discipline, creating. Surely everyone is a creator in what they do in life. But knowing what that takes? Very few do if they haven't participated. It's true, complete strangers will walk up to me and ask: "Are you a dancer?" It shows, it definitely shows, but I tell them and everyone around me that I run up against the same walls in life as you do, engage in the same work to live, and work constantly to create my art. But the innate differences between us are not that great.
. . . . . . . .
Dan Flavin (1933-1996) was originally considered an abstract expressionist for his work in sculpture, painting, and drawing. He was drawn into the Minimalist movement because his work naturally matched the philosophy of the Minimalists. He became interested in the sculptural qualities of light, and he created his milestone work "Diagonal of Personal Ecstasy (the Diagonal of May 25, 1963)" and dedicated it to Constantin Brancusi. An edition of it resides in the Fort Worth Art Museum. Thereafter, he worked exclusively with fluorescent lighting tubes to create his installations of light. Texas is home to significant additional pieces of Flavin's work. A permanent installation in the Chinati Foundation in Marfa fills all or parts of six buildings there. The untitled installation inside the Richmond Hall in the Menil Collection in Houston consists of a row of fluorescent tubes sitting at a 45o angle against the wall. That piece, the direct inspiration for Ariel's Lumen, was completed after the artist's death in 1996.
. . . . . . . .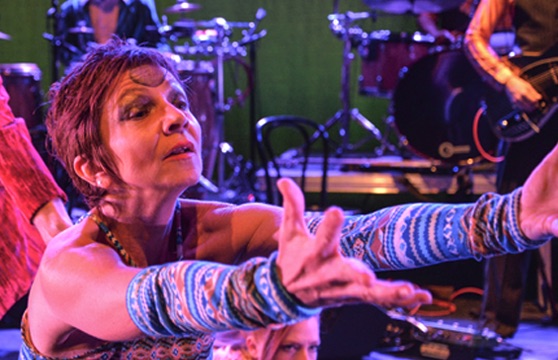 Andrea Ariel. Lumen is a real true collaboration. There is movement I've created. There s movement I've given in scores to the dancers; there is movement they've created; there's movement we've created together, et cetera. The lighting and space design is by Steven Pruitt. And the sound by line upon line percussion is all-important. The musicians and I met a while ago, maybe last spring. We talked about the ideas, and together we talked about my curiosity about the Flavin work.
It all started with the former communication director at the Menil Collection in Houston. He asked me to write a proposal to the Menil about anything in it, to create a dance show. He said, 'Come to Houston'. So I saw the Flavin exhibit at Richmond Hall. I fell in love with it. I thought, oh yes, this is it. The piece made me think a lot about how I'd explore light and space through sound and movement and be all contained with this one idea of exploring perception.So with Flavin's work you have light and space and your experience of it. Imagine adding sound and movement to it. Your idea changes with how you walk through the exhibit; imagine adding sound and movement and still make it about that complete experience.
Now -- how can I apply that? Make it a performance? Work a whole lot, that's how. Well into the process, I wrote a page of notes and sent it to Matt (of line upon line percussion) after he wrote me asking about how I was starting to explore sound and movement. I thought a lot about how I could align our process. And now I think we are pretty well aligned—sound, movement, light, and space. This note page outlines an overview of the different ways I've contemplated the movement of the piece [DGR note: see below].
As an artistic director I'm leading a process for everyone involved.
I'm leading a journey of exploration. I'm very open, how I practice living with an open heart in my life. This is how I practice art making as well. I don't have to own all this. I have these ideas; I have all this stuff. But then it's like, here, what do you think about this? What would you make of all this? It's not all mine. In the end, it will be ours.
We're teetering on the brink of something that's really abstract, but it's also about life too. The musicians and we are not always together, but in using a Google drive and posting videos the musicians get it, really get it, from seeing the movement itself even if I don't send them notes. That's really validating.
. . . . . . . . .
Ariel's musician notes are plain and simple questions and answers about applying living movement to the abstract concept. Here is a rare opportunity to read exactly what the choreographer is thinking while creating her show. The note page recopied here, with Ariel's permission, serves as a roadmap to Lumen. The page is offered to all those who imagine they cannot comprehend the purposes of abstracted movement and nonlinear storytelling -- in short, contemporary dance. Copies of this document taken to the show at the McKean-Eilers Building for the show may help assure anyone of the authentic and accessible offerings by the highly talented artists of Lumen.
. . . . . . . . .
Notes from Andrea
CONCEPTS/IDEAS
The piece is an installation of Light, Sound and Movement and in that sense an interplay between all these elements and space.
The inspiration that sprung from Flavin's work is about how he uses space and light to explore perception. I drew some concepts from things written about his work that lead to how we could explore this through movement and sound.
What is seen/not seen? (Heard/not heard)
Playing with dynamic contrasts between:

Light/Shadow/Color – how do these elements translate to movement/sound? For movement, it becomes an interplay between these elements with movement and space and in relation to sounds as well.
Obvious and mysterious
Serious and humorous
Then there is light itself….
Lumen is defined as one unit of luminous flux, and how we measure light.
To develop movement I have been considering light in all its dimensions:

Particles; pathways (beams/shafts); disturbances; disruptions; changes and variations between light/shadow
Qualities: Sustained (ongoing, constant) and Sudden (disrupted/constantly changing)
Being it – exploring the energetic characteristics of light in movement.
Being in it – movement focus explores the spatial dimension (pathways, etc) and spatial relationships between dancers (and musicians). Large space/intimate space. Light revealing something, experiencing the light on the body through movement and shape.
Relating to it – making space light and using sculpting movement to play with moving space (light) (Phrase A/Canon movement). Relating to space limitations as a specific spatial idea of light (i.e., hallways using sagittal and vertical movement planes only)
What has evolved is also relationships between the dancers (and hopefully between them and the three of you). Not necessarily narrative, but the perception of these relationships is present and changing. The audience will perceive relationships (even if abstract) and relationships to/and in space – which could evoke mysterious/obvious and/or shape perception of space and relationship through sound, movement and light.
Choreographic relationships:
3 together (Trio)
3 apart (3 solos)
2 together (duet); 1 isolated/separate (solo) (and repeating with different pairing)
Unity that gets disrupted/changes leading back to unity and/or leading to isolation/separation.
LUMEN by Andrea Ariel Dance Theatre plays April 21-24, 2016, four shows only, at 323 Congress Avenue, the historic McKean Eilers Building in downtown Austin. Score by line upon line percussion, performed live.
---
Lumen
by Andrea Ariel with Nathan Brumbaugh, Alyson Dolan, and Lisa Del Rosario
Andrea Ariel Dance Theatre
Thursday-Sunday,
April 21 - April 24, 2016
LUMEN
Light. Sound. Movement.
A site-specific performance featuring LIVE music by line upon line percussion
April 21-24, 2016 – Thursday • Friday • Saturday • Sunday at 8:00 pm
323 Congress Avenue in the historic McKean-Eilers building
Tickets start at $15 Get Tickets HERE Now!
Show runs approximately 65 min. Four performances only! Limited seating – advance tickets recommended.
PARKING INFO
The McKean-Eilers Building is located at 323 Congress Avenue between 3rd and 4th Streets.
Parking is available for LUMEN audiences in the 301 Congress Avenue parking garage on Thursday, Friday, and Saturday for only $5! Enter the garage on Brazos between 3rd & 4th Streets. The garage elevator exit is directly behind 323 Congress!
Metered street parking is available on surrounding blocks. In addition to metered parking garage parking is available at the Austin Convention Center (entry on San Jacinto Blvd or Brazos St between Second and Third St). A map of additional downtown parking lots can be seen at: http://www.downtownaustin.com/experience/parking
Capital Metro also provides numerous public transportation options. Options within a four block radius of the exhibit site include the MetroRail at the Downtown Station (Brushy Square / Convention Center) and 29 MetroBus routes (14 Local Routes, 8 Limited / Flyer Routes, 7 Express Routes). Use the "Plan Your Trip" feature on their website for step by step directions: http://www.capmetro.org/