Austin Theatre Profile: EVA McQUADE, by Alex Garza *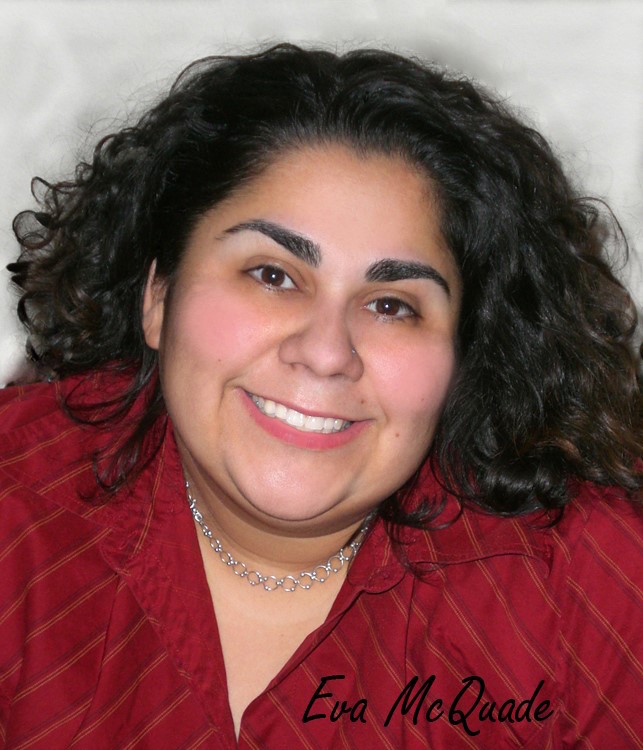 When Eva McQuade was in the second grade, she appeared in the Valentine's Day talent show with the rest of her class. The students displayied their diverse musical talents by playing Coca-Cola bottles.
"I clearly remember the audience having a good time," Eva recalls. "The laughter, the applause, and the wonderful feeling inside my little person."
From that day on, that little second grader was entranced with theatre. Though she took a few detours in her life, it was inevitable that she would find her way home to the world of acting she so dearly loved.
Eva McQuade makes her home in Austin but her roots are in San Antonio. She was raised by her mother, a single parent, and they lived with her grandparents.
"It helped my mom not to worry as much about who would be with me after school," she recalls.
She also remembers that around the time she turned twelve, her mother talked of moving out and getting a place for herself and her daughter. Unfortunately, just about that timeher grandmother's health began to decline very quickly as a result of Alzeheimer's disease.Eva's mother began caring for her grandmotherr, arriving home after long days of teaching.
"My mom taught me to be a good worker bee. It was rough a lot of the time, but lots of love. Always love."
During her sophomore year in college Eva spent a few months in London, England. She also lived in Seattle for a few months. After finding employment in San Antonio, she decided she would continue her education after graduation.
"For my last job in San Antonio I worked for the Sisters of Divine Providence at Providence Prep and High School. One of the nuns asked if I'd ever considered getting my master's degree. So, long story short, I went to graduate school."
Not too long after that the theatre made its way back into her life. A friend of hers began working at San Antonio's Overtime Theatre and invited Eva to come see a show. She had worked with the theatre director on a college production, and he remembered her.
"Hey," John asked her, "What are you working on now?"

By the end of their conversation he invited her to audition for his improvisation troupe. She did and was hired, and she found herself back onstage. The next step in her theatrical journey was to move to Austin, where she has played several roles with theatre companies around the city. Some of her favorite roles she are Shakespearian: Puck, Mercutio, and the Nurse in Austin Shakespeare's Romeo and Juliet. She also appreciated the chance given her by Karen Jambon of Different Stages to do something contemporary in early 2014. Jambon cast her as the wistful and self-sacrificing laboratory assistant Emma in The Language Archive by Julia Cho [click to view the CTXLiveTheatre review]. Her performance was recognized by Austin's B. Iden Payne theatre awards as the Outstanding Featured Actress in a Comedy for the 2014-2015 season.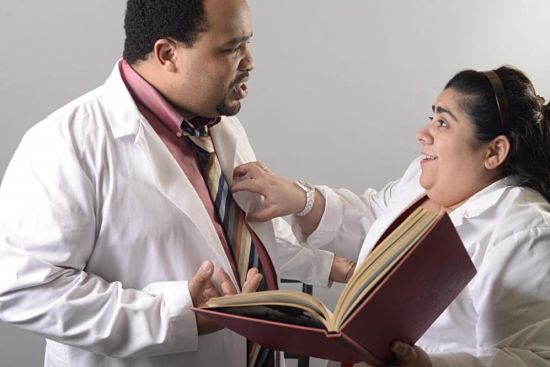 Does she have a dream role? "Any of the ladies from In The Heights for sure." She would also like to play Paulette in Legally Blonde and to havemore opportunities in musicals and contemporary theatre.
Eva has a strong love and respect for theatre, and she is active and visible on Austin stages. It's not easy, and she acknowledges the challenges.
"There are so simply so many of us!" she says. "I go to countless auditions, and the number of folks I am competing against is overwhelming sometimes. Especially when the competitors are really wonderful!"
She's frank in discussing a "real world" challenge: the obstacle of being typecast or stereotyped. As a Latina she wishes that more people in the theatre world, and the world in general, could think outside of the traditional and historical boxes.
"What would happen if you cast a woman in a traditionally-male role? Or if you cast a Latina in a historically-white role?"
Eva herself is evidence of the possibilities, for example, with her performance as Mercutio in the Baron's Men's production of Romeo and Juliet at the Curtain Theatre, a medium-scale replica of Elizabethan stages. She sees the potential for positive change, both on the stage and in American society in general.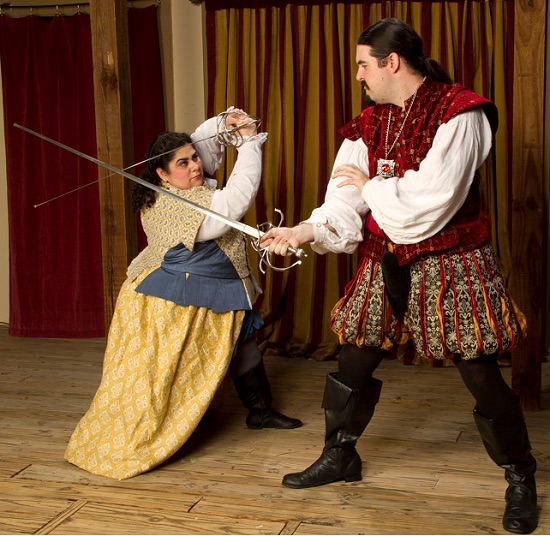 [Cliick to read Eva McQuade's comments about playing Mercutio, published April 1, 2014 on the site of the Baron's Men]
With a proven passion for performance and her concern for the state of today's theatre, Eva McQuade is, taking on challenging new roles. She is currently working on her first production with Last Act Theatre Company. She is very pleased to be appearing in Austin playwright Don Fried's piece Postville, an adaptation of an account by Steven G. Bloom of what happened when a group of orthodox Jews purchased a disused meat packing plant in Postville, Iowa and faced the incomprehension of the local population.
"I'm also getting the opportunity to work in a space that's new for me! " she exclaims excitedly. "We open July 28 and run through August 14."
Performances are Thursdays through Saturdays at 8 p.m. and Sundays at 2 p.m., at the Trinity Street Players' black box theatre downtown on the fourth floor of the First Baptist Church at 901 Trinity Street.
We look forward to seeing Eva McQuade in many more Austin productions. Her love for the art is evident. She has come a long way since Valentine's Day in the second grade, and her love of theatre and vision of its future remain strong.
Alex Garza is an actor and writer living here in Austin, Texas.