Review: The Language Archive by Different Stages
by Michael Meigs
Julia Cho's The Language Archive is a gently sentimental tale built inside a concept, similar to the way nesting birds inhabit a hedge. The theme is the failure of communication, and the metaphor is a collection of recordings and documents describing extinct languages curated by George, a fussy, white-coated linguist who's tongue-tied when it comes to expressing any sentiment.
Cho writes her characters as variations on that theme. The gulf between George and his wife Mary is so unbridgeable that Mary tucks cryptic notes into his belongings and denies having done so. George babbles frantically of what's on his heart -- but he addresses the audience instead of Mary. Alta and Resten are the last speakers of an obscure, apparently Central Asian language, but they're constantly furious with one another and refuse to use that language of intimacy, to the dismay of George the archivist. George's assistant of five years, Emma, loves him beyond reason but also, unfortunately, beyond telling. Esperanto, the completely artificial world language, turns up repeatedly, principally because of its perpetual failure to flourish.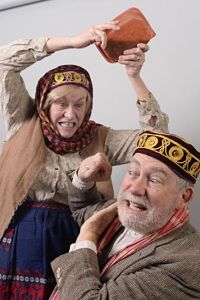 There's a lot of quiet desperation here, confirming the conventional wisdom that effective comedy is really built on pain. How glad we all are -- playwright, actors and audience -- that by the very action of participating in this evening's performance, we're confirming our own attachment to communicating and to receiving the messages of this story.
Comedy there is, too. Different Stages regulars Jennifer Underwood and Norman Blumensaadt as the feisty, querelous and mutually scornful old couple in tribal dress get off one zinger after another, both verbal and mimetic. Their vivid tussles are all the more amusing for those who know that Blumensaadt the company founder has often directed Underwood in her leading roles. Each time she's eloquent and expressive, but her grumpy, silent fury and glowering in this piece remind us that she's a knockabout comedienne, as well.
I've long had a soft spot for two of the women actors in this piece. The regal Underwood is one, of course, and the other is Eva McQuade, who plays the quietly self-sacrificing Emma the archive assistant.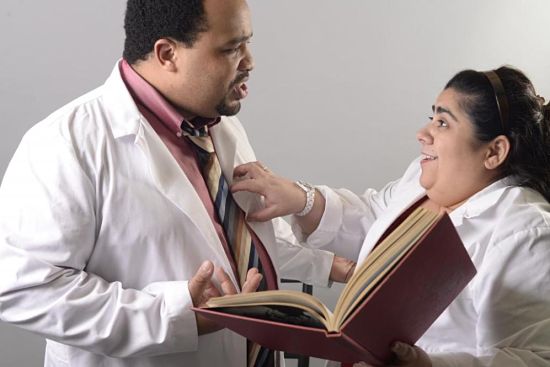 McQuade has often bobbed up on Austin stages in vivid minor comic roles, effectively using her short stature and distinctive appearance. For example, for Austin Shakespeare as the scandalized nurse in Romeo and Juliet, and for the Baron's Men as clown Launcelot Gobbo in The Merchant of Venice, as Snug the rude mechanical in A Midsummer Night's Dream, and as a spear-carrier in The Spanish Tragedy.
McQuade carries the theme in The Language Archive. She strives to master Esperanto, that never-alive language, and she hallucinates encounters with its late inventor the idealistic opthalmologist Zamenhof (Brian Miller). Across the conflicts and squabbles of this plot McQuade carries an appealing wisstfulness and devotion. The playwright gives her lines to speak directly to us, and the ending arc of the story follows Emma's tentative approach to George, whom she idealizes. What a big heart resides in the little body of that character and that actress!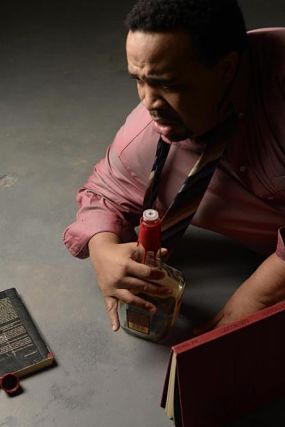 As custodian of all this meticulously documented incommunication, from the opening instant Trevor Bissell as George is the presumed protagonist. We're decoyed for a time into believing that George's marriage or his linguistic work are what this piece is all about, but in fact the question becomes whether he will ever learn or adapt or understand enough to affect his two principal areas of concern. The playwright plays George like a tarpon at the end of a high-test fishing line.
In early scenes on opening night Bissell manifested just that sort of thrashing energy. Director Karen Jambon probably pushed him toward that pace, and perhaps opening-night nerves were also a factor. The words of the script suggested to me that George could have equally well been played as an introvert or even as a cerebral type shaded with Asperger's syndrome. Bissell and Jambon make him a striver and give him a physical intensity throughout that's not entirely consonant with his intellectual quandries. Our sympathies are firmly with him, however, despite or because of the fact that he's decent, dazed and self-defeating throughout.
Ia Ensterä's set is simple and functional, including repeated conversions of the archive cupboards into the walls of the neighborhood bakery that becomes the refuge for Mary (Circe Sturm), George's estranged wife. [A baker's note to the director: the dough mass that Mary so deftly kneads must be taken as purely symbolic, for the volume in her hands would scarcely suffice to produce four dinner rolls.]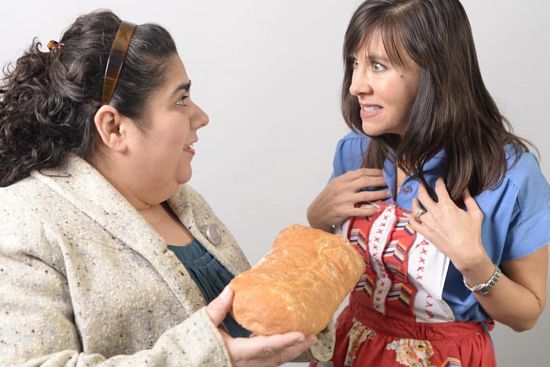 Katherine Schroeder supports the action with Teutonic directness and consistent accent as Emma's Esperanto teacher.
Playwright Cho eventually writes herself into a corner in The Language Archive. To resolve that plotting problem, in the last scene she resorts to bringing back her actors, divested of the characters they've been inhabiting, and giving them epilogues to complete their stories (on the general pattern of ". . . for the next X years he/she . . . ."). That artifice is consistent with Cho's occasional minor suspensions of theatrical convention in the work, but it left a pang of dissatisfaction. After all, we the audience usually expect the playwright to tell us something definite, something conclusive, via the action we've jointly agreed to witness, rather than simply abandoning the effort to communicate.
But that, of course, is exactly Cho's point: language, like theatre, is a medium, We may occasionally glimpse vital, heartfelt messages through it but much of the time those meanings escape us. The fault is dual: the imperfections of the medium and our inability to use it to best advantage.
---
The Language Archive
by Julia Cho
Different Stages
Thursdays-Sundays,
January 10 - February 01, 2014
Thursdays - Saturdays at 8pm
Sunday at 5pm
Pick your price: $15, $20, $25, $30