Video Promo: SAD WOMEN BEING SAD by, based on Sophocles's THE TROJAN WOMEN
SAD WOMEN BEING SAD, based upon Sophocles's THE TROJAN WOMEN
(posted by University of Texas Department of Theatre and Dance)
An offering of UT New Theatre (UTNT)
Written and co-directed by Jenny Krick
Co-directed by Andrea L. Hart
April 1 and 3, 2021
---
sad women being sad
by Jenny Krick
University of Texas New Theatre (UTNT)
April 01 - April 18, 2021
Streaming
via internet
Everywhere, TX, 78700
PERFORMANCES
April 1 at 7:30 p.m. (CST)
April 3 at 7:30 p.m. (CST)
ON-DEMAND ACCESS
SAD WOMEN BEING SAD
will be available on-demand April 5-18, 2021. Tickets purchased for the performance dates on April 1 and 3 will also apply to on-demand performances.
For more information about ticketing for virtual performances, please visit our ticketing page:
here
.
TICKETING
Tickets
for SAD WOMEN BEING SAD
are available at pay-what-you-can pricing, with a minimum cost of $5.00.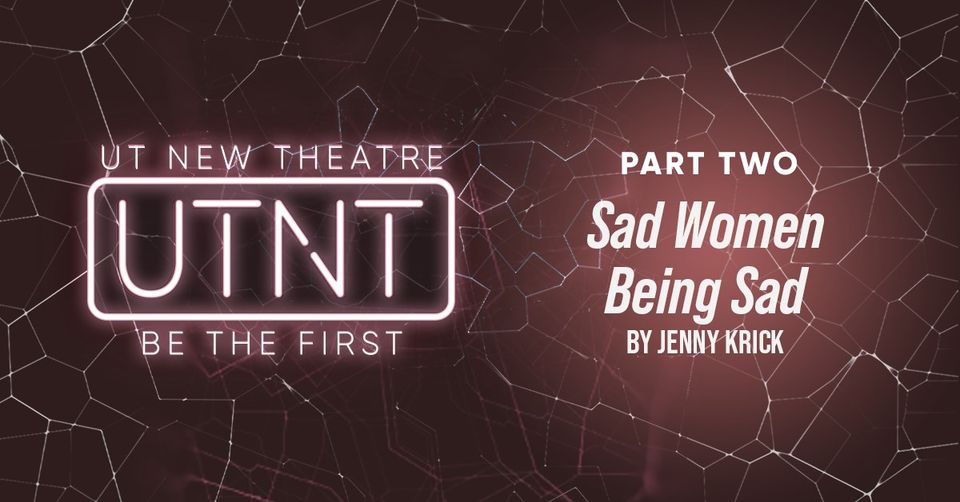 About University of Texas New Theatre (UTNT)
The annual selection and production of several works by students in the University of Texas playwriting program chaired by Steven Dietz. Curated by Liz Engelman and Steven Dietz Established in …
This company has: