Vive Les Arts Theatre, Killeen, Names Jami Salter as Executive Director, by Beau Kemp and Jacob Brooks Killeen Daily Herald, July 10, 2019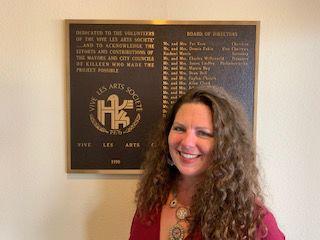 After nearly two years, Killeen's community theater group has an executive director focused solely on the local organization.
The board for Vive Les Arts Theatre voted unanimously Wednesday night to hire Jami Salter as VLA's newest executive director, which manages the day-to-day operations of the organization.
Michael Linnemann, the theater's board president, confirmed the vote to the Herald. "We are really excited to have a full-time, dedicated executive director. This is a new era for the theater," Linnemann said.
Salter, 45, has a been a theater teacher for the Killeen Independent School District for the past 15 years. She taught at Shoemaker High School last year, and was at Palo Alto Middle School for more than a decade.
"She graduated from Baylor with a theatre degree and has experience in costume and directing," said Eric Shephard, VLA's former executive director, who was working for both VLA and the Waco Civic Theatre. "She brings a lot of great experience. She was a drama teacher, so she's used to operating on a shoestring budget, she's used to dealing with parents and all backgrounds, and that perfectly qualifies her to work at a community theater."
Salter was born in Houston and grew up in Rockdale, about 65 miles southeast of Killeen. She has experience with both the Waco Civic Theatre and VLA, with which she has been involved in for years.
She designed costumes for several VLA performances, most recently "Rock of Ages" last fall. She also directed "Dixie Swim Club" at VLA in 2015.
Salter said it's difficult to leave her teaching job, but is excited about the opportunity at VLA.
Among her goals is to make the local community theater even better than it already is, she said, by increasing the overall quality of the productions and by making sure the community knows what VLA offers.
"This place is a jewel, and it needs to be shared with the community," she said.
Salter will manage a staff of three paid employees at the theatre, as well as about 400 volunteers, including actors, technicians, spotlight operators and others.
"It takes a village to make a show, and we have one," Salter said.
The past two years have been a time of transition at VLA, which nearly shut down in July 2017, when members of the board of directors voted to close after a production of "The Little Mermaid." The announcement triggered protests from supporters who said they were not consulted about the decision.
Eventually, the chairwoman of the board of directors scheduled a meeting of the general membership of the theater. That decision triggered the resignation of several members of the board, who released a letter saying they supported closing Vive Les Arts due to financial losses and declining community support.
The general membership voted 93-1 to keep the theater open in August 2017. Among the ideas suggested to help make the theater financially stable was sharing productions with the Waco Civic Theater.
The move also ushered in the re-entrance of Shephard to VLA, who had been the artistic director at Vive Les Arts from 1999 to 2012.
Shephard became the consulting executive director of Vive Les Arts in 2017 during the tumultuous period for the theater. He was the executive director of the Waco theater at the time, and has since then been serving in both roles. Now, Shephard will head back to Waco, and Salter will take the reins in Killeen. But the two want to make sure the transition is a smooth one.
"Eric and I have been working closely together," said Salter, who has been getting her feet wet at the theater for the past week.
And with an executive director working solely on Killeen's theater, Salter said she'll be able to focus on making positive steps for VLA.
"I'll be here all the time," she said.