2017-2018 Season and Auditions, TILT Performance Group, Austin
TILT Performance Group is pleased to announce our 2017-2018 Season of Shows!


Zombie Prom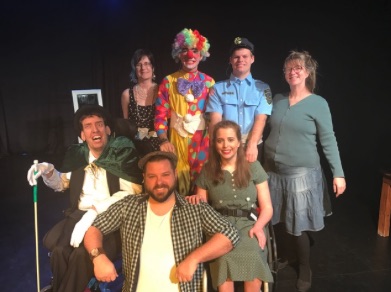 Book and Lyrics by John Dempsey. Based on a story by John Dempsey & Hugh Murphy. Music by Dana P. Rowe. Adapted by Marc Tumminelli
Just in time for Halloween, TILT presents this popular Off-Broadway girl-loves-ghoul rock and roll musical, set in the atomic 1950s. Let the ghoul times roll!
Bravo Theatre at Balance Dance Studios, October 20, 21, 22, 27, 28 and 29, 2017.

The Giver
Adapted by Eric Coble from the Newbery Award-winning book by Lois Lowry.
Twelve year-old Jonas is chosen for special training from The Giver: to receive and keep the memories of their futuristic community. But along the way, Jonas will learn truths about life—and the hypocrisy of his utopian world. Through this exciting, heart-warming adaptation, TILT audiences will discover Lois Lowry's acclaimed novel anew!
Bravo Theatre at Balance Dance Studios, January 12, 13, 14, 19, 20, and 21, 2018.

Back/Stage
An original production written and performed by members of TILT Performance Group.
What motivates actors to act? Why do performers become performers? How do productions leap gracefully from the page to the stage?
These questions and many more will be explored in TILT's latest original work, Back/Stage. At turns both comedic and poignant, TILT company members invite audience members behind the scenes for a journey into the creative process -- and what it means to take the spotlight.
Location to be determined.
​
Auditions for the season are July 23, 2017. Ask us about that.
Season Sponsorships are available and you get great benefits!
For more information, contact
tiltperformance@gmail.com
.