Review: When The Rain Stops Falling by Different Stages
by Michael Meigs
Andrew Bovell's When the Rain Stops Falling is an extraordinary piece of writing. Norman Blumensaadt's staging of it at the Vortex is an astonishing feat of theatre. This is a far journey into a mystery and into unknowing: there's a puzzle to be unravelled at the core of it, but the real puzzle is the arbitrary and capricious nature of our very existence.
Does that sound obscure? These interconnected stories of four generations span some 75 years, and they're told both out of chronological sequence and in overlapping time and space. You'll be spending time trying to make the connections. One hint, meant more as a help than as a spoiler: some of the characters are played by more than one of the actors.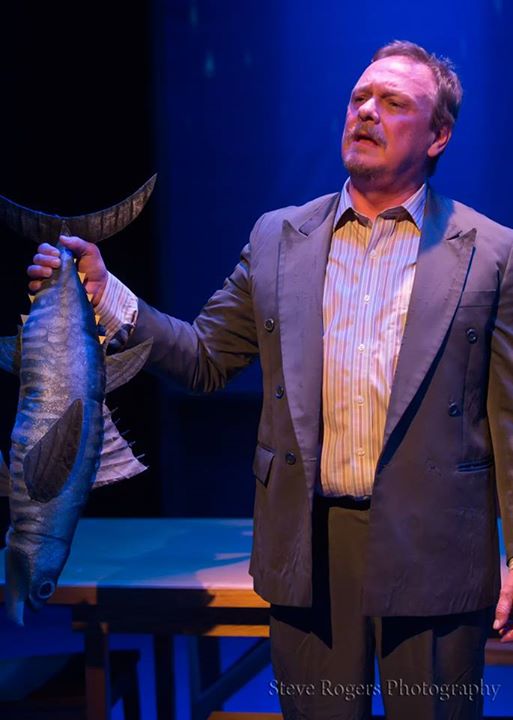 A family tree is provided with the program, but you'll find it of no help at all. The very fact that lives can be annotated thus is proof that genealogy is a reductio ad absurdum. For instance, how much do you know about your own great-grandfathers? In my case, absolutely nothing on one side and no more than a single disparaging comment on the other, passed down by oral tradition and sure to vanish once I shuffle off this mortal coil.
That's the sort of reflection that this intense, beautiful and confusing evening may inspire. Each life presented in the course of a performance uninterrupted by intermission is striking, vivid and achingly vulnerable. By gathering those lives at a long wooden table at the outset in a season of ceaseless rain and bringing them back together for cryptic epiphanies almost two hours later, the playwright, director and cast achieve something beyond mere storytelling.
The story starts in absurdity in the year 2039, set in a dystopic Australia where the rain never stops and hope seems to have been squeezed out of the world. Scurrying crowds with umbrellas, a man's bellow of despair, the miracle of a twenty-pound fish falling out of the sky: what's going on here? Rick Smith tells us but does not enlighten us, delivering a lengthy shaggy-dog story of a monologue in a believable Aussi accent. At moments the baffling turns of his story evoke barks of isolated laughter from audience members expecting stand-up comedy, but this character's in deadly earnest, a man baring his soul in confusion. Smith's tour de force is only the first medallion in an evening of astonishments, another of which is the fact that when he exits he won't be back onstage for at least another ninety minutes. Many other stories and surpriises have to be told before we see him again.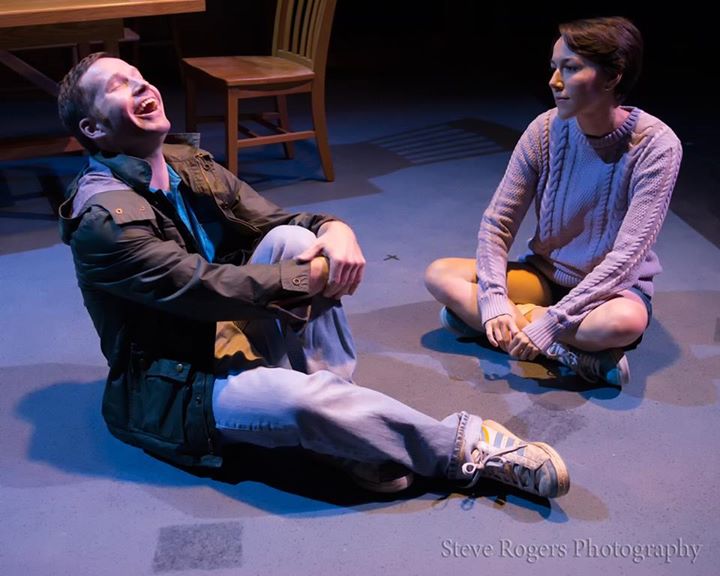 Playwright Bovell's inventive mind delivers a story that stretches from suburban England to the Austraian outback. It involves a father's disappearance and a son's search across half the world for him. There's a seduction, a love affair, an accident, a ghostly invitation to suicide, lives thrown together, adamant unforgiving positions taken, reconciliations and refusals, alienation, desperation, and the terrible inevitability of time's passing. There are startling moments when plot pieces click into place, suddenly countering expectations or elucidating mysteries.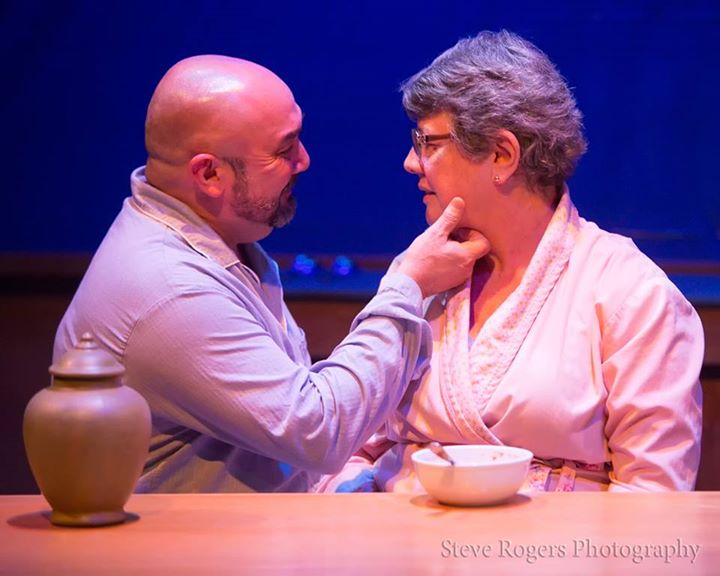 The cast is uniformly excellent in their ability to present these characters and make us care about them, an achievement all the more remarkable given that they're using accents that evoke variities of Australian and British English. Among the most moving moments later in the piece are scenes with Michael Costilla as sheep farmer Joe Ryan, a simple man who's carried a futile torch for his wife Gabrielle (Paula Ruth Gilbert) throughout 25 years of marriage. Costilla's depiction of deep-felt despair is curiously elevating, for it does break those barriers and achieve a harrowing catharsis. The power of these scenes sets them as counterparts to that opening monologue by Rick Smith.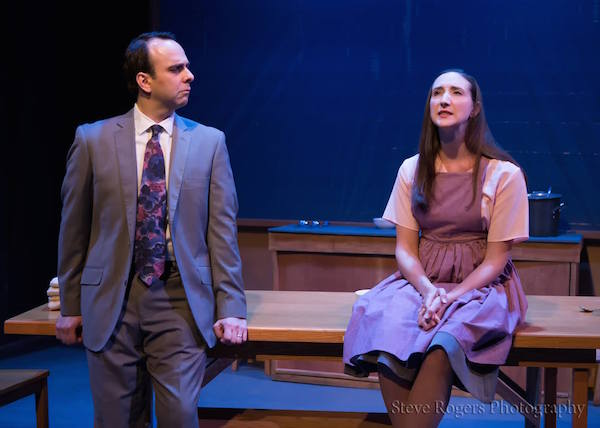 You'll have your own favorites in this cast. Mine were Taylor Flanagan as the young version of Gabrielle York, prickly and yet wistful, and Scot Friedman as Henry Law, the conflicted and eventually fugitive father. Despite modest differences in physical appearance Alexandra Russo and Katherine Schroeder are consistent and convincing in their depiction of Elizabeth, Henry's contained and ultimately deeply disappointed wife.
By the end of the evening you'll have invested so much in these stories that you'll understand exactly the complicated relationships among them. And the fallible humanity of each of them.
The production is visually gorgeous. Ann Marie Gordon's set is stark and simple, not much more than the long wooden table, chairs, and the sideboard behind it. Blumensaadt's blocking is strongly supported by Bill Peeler's evocative lighting design. Mood and message are amplified by Lowell Bartholomee's video design and projection.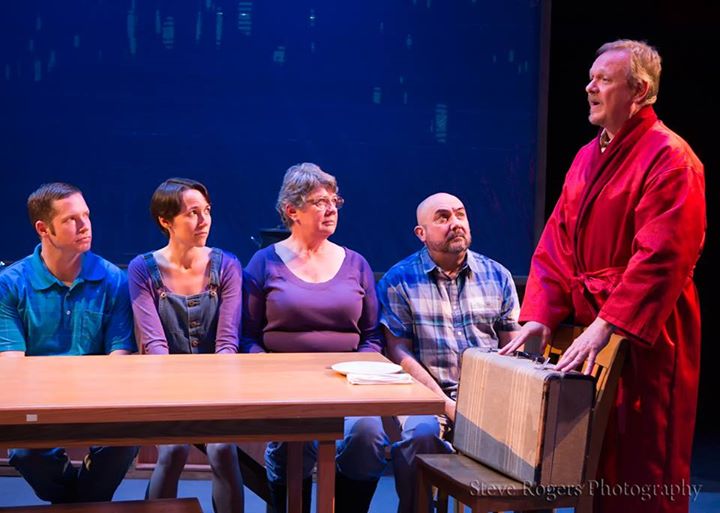 EXTRA
Click to view the program of When THe Rain Stops Falling by Different Stages
---
When The Rain Stops Falling
by Andrew Bovell
Different Stages
Thursdays-Sundays,
June 26 - July 18, 2015
Performances are Thursdays through Saturdays at 8:00 p.m. and Sundays at 7 p.m.
There is no performance on Saturday July 4, and added performance on Wednesday July 15.
Tickets are: $15 Thursdays and Wednesday July 15, $20, $25 and $30 Friday, Saturday and Sunday.
For tickets and information call 512-478-5282