Review: Vanya and Sonia and Masha and Spike by Zach Theatre
by David Glen Robinson
Zach Theatre Center goes for the gold this spring with Christopher Durang's Vanya and Sonia and Masha and Spike (VSMS), the 2013 Tony Award winner for Best Play. The Zach is producing the regional premiere of the play with a cast almost completely of Actors Equity Association members, directed by first-time Zach director Abe Reybold. Again Zach gives a work its due with undoubtedly the highest production values of any theatre in Austin.
The production is spectacular, one that should please all with exquisite theatre tastes, especially the upper level theatre supporters who have built Zach. It's no accident that the theatre is running a "Win a Mercedes" raffle for a number of weeks, in association with ongoing fundraising efforts.
With apologies to all Tony voters, however, the play is about medium for Durang. The playwright of Sister Mary Ignatius Explains It All For You, Beyond Therapy, Laughing Wild, Durang Durang, and Miss Witherspoon can call down the Wild and turn it loose to gnaw stages everywhere. With VSMS he has copy-pasted chunks out of more than one play by Chekhov (always a good, intellectually safe choice), streamlined the dialogue for modern sensibilities, emphasized Chekhovian laments on humanity, and effectively created for us a new feelgood play. But let us not cavil; may he enjoy his Tony forever.
The premise gives us an aging brother and sister living in their childhood home, their parents' spreading manse in Bucks County, Pennsylvania. Both parents were theatre professors of some renown at a university, so Vanya (Jaston Williams) and Sonia (Lauren Lane) were named after Chekhov characters. The theme of the difficulties of children with illustrious parents is implied here but remains undeveloped. The parents raised their children on literature, and the kids' dialogues are full of theatrical references and quotes, but alas, Vanya and Sonia languish bereft of any real life skills. Not so their baby sister Masha (Beth Broderick). She is in her 40s, a successful and rich star of movies and television. Masha returns for a weekend to rehash old family stuff with her new young boyfriend Spike (Michael Glavan), shallower than a dried-up cattle tank. Masha stares at him like a cow at that same cattle tank.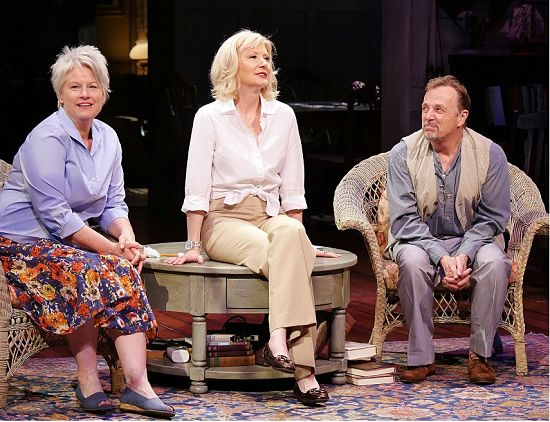 The play proceeds predictably to the end, with one peak of unshuttered brilliance late in the second act. The Equity cast did well with the comedic dialogue, but in the first weekend they fired many of their punch lines too drily for the upscale Zach crowd to appreciate. Dialogues were also plagued by--enough already!--repetitious trading of pain descriptions: "My life is over…..my life is nothing." Chekhov colored up and vivified his characters' anguish more than Durang does here. Some of the dialogues are unsubtle attempts to jerk laughs from the audience. Too dry and also unsubtle? Yes, one can see both in the same play.
Jaston Williams is a master of character. His Vanya is at once withdrawn, irascible, bitter, regretful, and struggling to resist his cynicism. Cynicism might build up in one in his late fifties living in his parents' house with his sister Sonia, merely in her mid-fifties. But Vanya might also show great kindnesses to all when pulled out of his shell. It is as though he had been waiting to be called to life his whole life long, but the call never came. When Vanya is pulled out farther than comfortable, perhaps provoked, he explodes in an amazing character rant about his personal road—no, make that highway--not taken. Williams delivers the oration in Vanya's odd character and voice for several minutes, returning in story to the 1950s to describe where it all started and where it turned away (Cliff Notes version: Disney is the Devil).(Click to see a video of the opening of the monologue, posted by the Zach Theatre at YouTube.)
Williams finished this life story to a sustained ovation, having swept the table and singlehandedly given full value for the ticket dollar. When you see Jaston Williams' name on the marquee, march right inside and buy a ticket.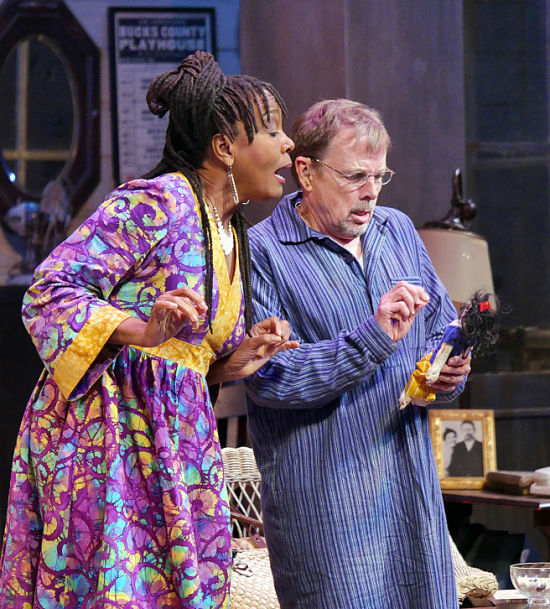 There were other notable performances. Carla Nickerson's portrayal of Cassandra the housekeeper conveyed the only echoes of Durang's trademark wild mystical humor, including voodoo dolls with multiple pin-pricks. Cassandra is set off from all the other characters by her bright, warm colors and flowing garments, some floor length. She takes her name seriously, and as in classical antiquity, so in VSMS. She prophesies unbidden, complete with dire warnings. Also as in antiquity, she is completely ignored. Of course, everything she declares comes true, to hilarious effect. Nickerson knew exactly what she was about with her Cassandra, and she is marvelous to watch.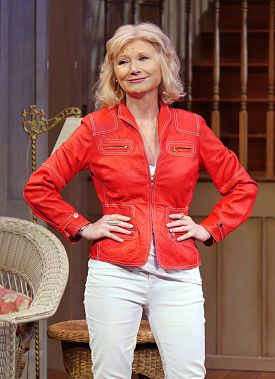 Beth Broderick is perfectly cast as Masha, the movie and TV star, and she brings her own career experiences to her character faithfully and subtly. The actor wears Masha comfortably.
Zach Theatre is a regional showcase readily capable of spectacular productions. As always, however, the play's the thing. Just as Zach has built its house on its own decisions and forward-looking vision, one would hope that it applies these qualities to the material presented, and avoid received wisdom.
And one might also wish that the high-end Zach subscriber who drives home from Zach in his or her Mercedes will be harboring disturbing thoughts that are nevertheless valued and that may point in new, creative directions. This has always been the effect of the best in theatre. Zach has worked hard to achieve the pinnacle of regional theatre. Now it has only to fulfill its own cultural mission, to the delight of all.
---
Vanya and Sonia and Masha and Spike
by Christopher Durang
Zach Theatre
Arrive early for pre-show musical entertainment by The Tim Curry - Will Dunlap Project in the Topfer Theatre's Main Lounge. Enjoy snacks and Happy Hour drink specials from our full bar.
Wednesday-Saturday: 6:15 p.m. to 7:15 p.m.
Sunday: 1:15 p.m. to 2:15 p.m.