Review: Tribes by Zach Theatre, January 27 - February 28, 2016
by Michael Meigs
Nina Raine's Tribes deals with language. Make that plural: languages. First and predominant at the opening is the sharp back-and-forth of a comfortably middle-class English family, a couple with three grown children, all living at home. Christopher the father is particularly abrasive and foul-mouthed. Wife Beth puts up with it, and two of the children are uncowed by their dad's bantering sneers. The other, Billy, is quiet most of the time, and the prominent hearing devices riding on the sides of his head signal the reason: He's almost completely deaf. Billy watches the others closely because he's lip reading. He volunteers something from time to time in a curiously flat but nevertheless distinct voice; not surprisingly, it's often a request for clarification.
They're all language-obsessed, although in different modulations. It's not clear what Christopher does for income, if anything, but he entertains himself with Chinese lessons via his laptop. Mom Beth is perpetually working at a novel. Older son Daniel is trying to finish a thesis project for which, in fact, he doesn't have a thesis. Daughter Ruth is an aspiring but unsuccessful singer of opera. And Billy -- well, Billy has just graduated from university and come home to continue trying to decipher his family and whatever it is they're saying to one another.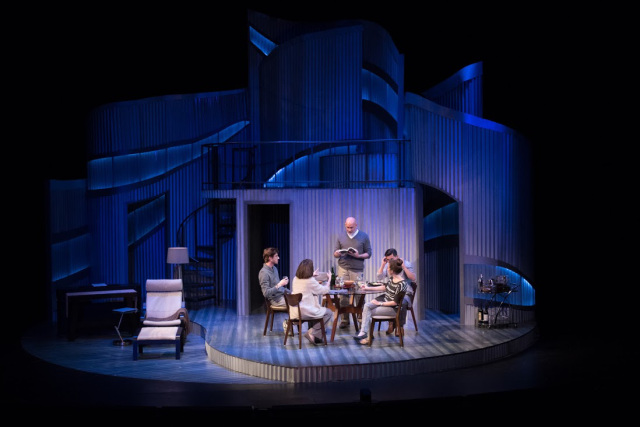 English first, then, and a particularly agressive variant of it; Billy's lip-reading, with little help from his family; and third -- no spoiler this, since it figures so prominently in the promotion -- is sign language, to which Billy is introduced by his new acquaintance Sylvia. A tidbit for you: British sign language used in the 2010 London premiere is quite different from American sign language, with only 31% of the gestures having identical meaning -- due to the fact that U.S. pioneer Thomas Gallaudet was refused access to the leading British institution but was gladly accepted in France. As a result, signers in the United States and France share some 60% of gestures.
Caustic and egotistical, Christopher exploited son Billy's untutored confusion at sign language to keep him away from the 'tribe' of the deaf who used it. Tribes uses Sylvia, the hearing daughter of deaf parents, to introduce Billy to the social and linguistic world of that tribe. She works for a charity involved with the deaf and, ironically, she is gradually and inevitably losing her hearing. Sylvia's the gateway for all, the fragile inhabitant of both worlds, or tribes, who connects and interprets both for the stage family and for the audience.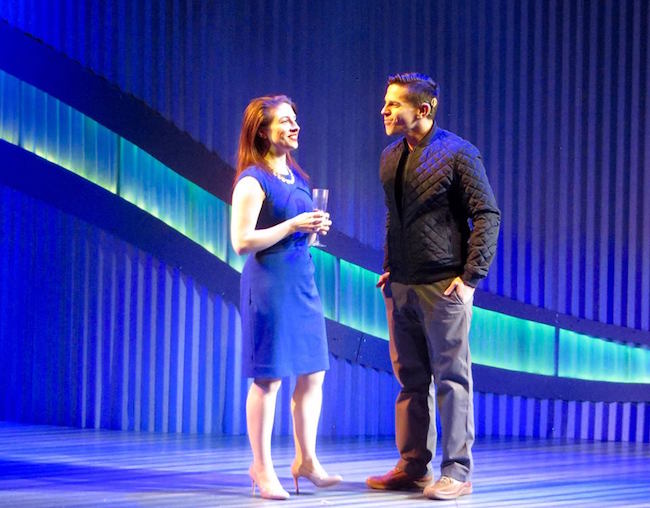 We see the first encounter between Billy and Sylvia and much of the first act is her entrance into his prickly family circle. She meets their probing interrogations with information for all of us: about the social hierarchies within the deaf community, about sign language and about her own background. She's accepted.

Each unhappy family is unhappy in its own way, Tolstoy comments about the Oblonskys in Anna Karenina, and the family-without-a-surname in Tribes corresponds to that exactly. As we're caught up in Billy's discoveries and his belated rebellion against the murk of half-understood spoken English, his brother Daniel declines into lethargy and largely untreated psychosis, hearing voices. His sister Ruth meets defeats in her ambition to establish a career as a singer. Unlike Billy with his new-found flame Sylvia, his siblings are sentimental failures, one abandoned and the other anguished at the prospect of spinsterhood.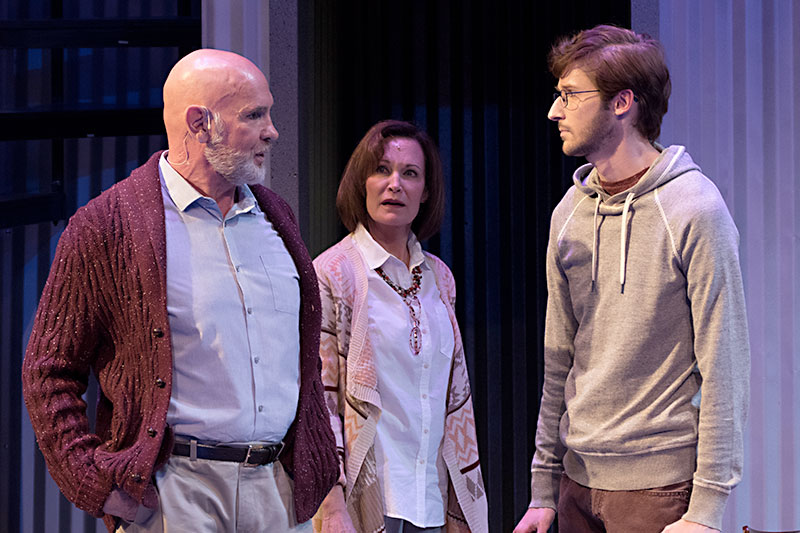 There's plenty to keep you alert in this busy information-filled plot, particularly since you'll need to concentrate to follow the rapid dialogue done in conventional mid-UK accents. Playwright Raine fills out these characters with vivid detail and attitude, and the cast does justice to them. Both Iris McQuillan-Grace as girlfriend Sylvia and Ava L'Amoureux as sister Ruth have appealing vulnerability. Mitch Pieggi comes back to the Zach after TV and film successes and is entirely at home with father Christopher's sardonic attitude and probing manner. ASL-qualified Stephen Drabicki is playing Billy for the fifth time, having featured in the 2014 Canadian premiere. As the protagonist in this confusing world and sudden conversion he calls forth our sympathy without begging for it, for his Billy is intent and overtly emotional throughout. Babs George as mom the frustrated novelist is given a disproportionate number of the laugh lines in this tense drama, and her persona's naively warm concern suggests why this family hasn't been torn apart by centrifugal forces.
Austin newcomer Aaron Johnson fully matches the experienced and mostly out-of-town competition. In Street Corner Arts' Skylight last December he tied together plot threads with brief first-scene and last-scene appearances, also as a troubled British youth; in Tribes Johnson as the troubled older brother Daniel calibrates and steers a role that starts in hassled annoyance and unhappiness and degrades gradually to distraction, anger and physical incapacity. With the fury inherited from his father Daniel keeps others and the audience at a quivering distance. This subtle performance makes deeply satisfying the moment of reconciliation that caps the plot of Tribes. Keep an eye on this actor, Austinites: he's scheduled to appear in The Explorer's Club at Austin Playhouse in April.

Dave Steakley picked a winner with this script and successfully courted a fine ensemble. Less successful and in fact entirely distracting was the epic set designed by Michelle Ney of Texas State University. The Zach Theatre has the artistic and technical resources to dazzle, and her design and their execution of it do exactly that. In the 425-seat Topfer Theatre it's a soaring circular Palace of Ozymandias that took four weeks to build, rendered in steel and gray corrugated walls, fully occupying the vast turntable built into the wide Kuykendal Stage. The circles of the design were inspired by the circular actions Ney perceived in the play, and the odd shapes seen in the high glowing widows and elsewhere are intended to evoke 'sound wave imagery, mazes, and wavy art installations.' The set is useful as a surface for projection of supertitles to give us the meanings of signed language, and there are a couple of moments -- particularly at the end of the first act -- when the revolving function reinforces the action. But in general it looms inanimate and almost threatening, a Close Encounters apparition, over a play concerned with intimate matters of heart, brain and expression.
Tribes is just getting started in regional theatres. There'll be an opportunity to see it at the San Antonio Playhouse in May. Their 62-seat Cellar Theatre will necessarily bring the audience closer and provide an entirely different visual experience.
EXTRAS
Click to view the Zach Theatre program for Tribes
Click to view Robert Faires' profile of Mitch Pieggi and his early career on Austin stages, Austin Chronicle, February 4, 2016
---
Tribes
by Nina Rain
Zach Theatre
Wednesdays-Sundays,
January 27 - February 28, 2016
Zach's Topfer Theatre
January 27 - February 28, 2016
Weds - Saturday at 7:30, Sundays at 2:30 p.m.
Performance Event Dates for Tribes
Thursday, January, 28 at 7:30 p.m. - Wilde Party
Wednesday, February 3 at 7:30 p.m. - Post Show Discussion, Signed and Open Caption Performance
Thursday, February 4 at 7:30 p.m. - Champagne Opening
Saturday, February 20 at 7:30 p.m. - Signed and Open Caption Performance