Review: The Sniper's Nest by Last Act Theatre Company
by Michael Meigs
The Corpus Christi friends who founded Last Act Theatre Company in mid-2011 have proven dab hands at locating 'found' theatre spaces in Austin, a history that in some ways is a counterweight to Elizabeth Cobbe's piece last week in the Austin Chronicle on vanishing theatre venues.
For Lisa Soland's two-actor contrafactual depiction of Lee Harvey Oswald's role in the assassination of President John F. Kennedy, they were even more creative. They located a windowless underground room accessible only via the basement bookstore Brave New Books, a small emporium specializing in conspiracy theory, radical economics, liberterian treatises and discussions of the failures of capitalism and American society. It's a fine and witty fit for a story that's told well and with dramatic power.
The Warren Commission found that Oswald, the former Marine who'd spent three years in the Soviet Union and was married to a Russian, acted alone in a killing that profoundly shocked the nation and may have -- who knows? -- changed the course of history. Libraries and bookstores are replete with alternate versions, and you can browse through several of them while waiting for the doors to open on LATCO's The Sniper's Nest. Almost every American then over the age of about 8 can deliver a personal testimony about learning of Kennedy's death and of the killing of Oswald by Jack Ruby.
But that was then, and this is now. Those events are other people's memories for the crew and cast of The Sniper's Nest.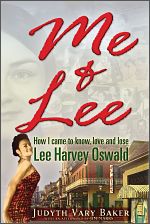 In 2012 playwright Lisa Soland picked an account from that mountain of writings about the assassination and turned it into this play, with permission and approval by the author, Judyth Vary Baker. Me and Lee, How I Came to Know, Love and Lose Lee Harvey Oswald offers the story of a chance encounter in New Orleans that sparked a romance between a young researcher and an intense, tormented man who recruited her into a conspiracy run by shadowy figures who aimed to kill Fidel Castro -- or, failing that, to kill Kennedy. The logic is skewed and the science is questionable, but the storyline is that of a dark, dangerous thriller of illicit romance and lost souls that we all know is going to end badly.
Soland's play was produced in December, 2012 at Maryville College, Tennessee, where Soland is an adjunct instructor, and it was scheduled to be produced on the Fringe Festival in Louisville at the Southeastern Theatre Conference when she contacted Austin Live Theatre. In mid-January of 2013 ALT posted her offer of the script to Central Texas theatre companies, with Soland's comment, "This is a true tale of espionage, still to this day, kept secret from the public for reasons much more sinister than just covering up an assassination of a president."
This staging directed by Elizabeth V. Newman is dark and powerful, entirely in keeping with the subject matter, and the two actors, both new to me, make the fable thrilling and convincing. Katy Wicker as the young researcher, disappointed in a loveless marriage, is a cupcake, hungry for attention and affection. Zac Thomas as Oswald is believable as a former Marine and alive with caged energy and male force. Think of James Dean or the young Brando; or, closer to home, he's like a younger Kenneth Wayne Bradley. His performance, alive and focused every instant, creates a mythic Lee Harvey Oswald far surpassing that of tawdry actuality.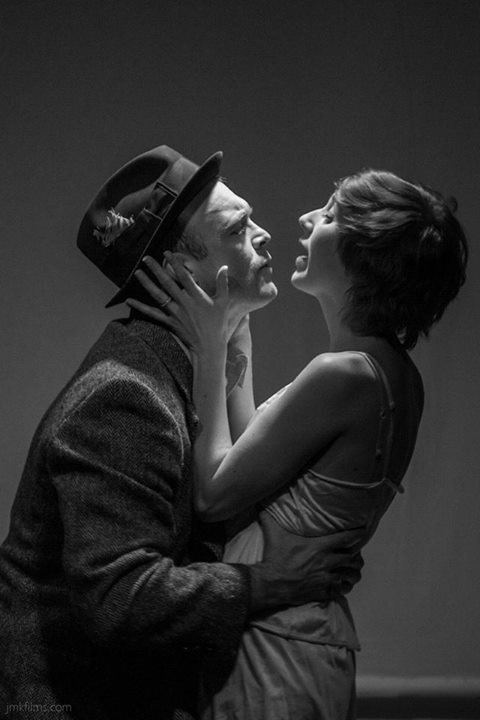 The developing but frustrated passion between these two is palpable. They struggle, they ache, they embrace and kiss with a fire that refuses to be quenched.
Director Newman stages it to keep the suspense high. The minimalist scenery in that confined space consists essentially of newspaper-covered building blocks that the actors reconfigure for each scene. Newman's sound design is superb. Scene changes are accompanied by period-faithful excerpts that are evocative but not intrusive. Lighting by Courtney DeGinder is equally well calibrated.
Final scenes are played in shadow and red filtered light: Wicker and Thomas standing stiffly before us, engaged in their last anguished telephone call and then Thomas alone, as Oswald in the Texas Book Depository. Author Baker and playwright Soland would have you perceive him as a dupe and a good guy who hoped to foil the plot. Back here in real life I don't believe that for an instant: but in the claustrophobic closing moments of this piece I did ride willingly with the logic of these two vividly imagined and depicted characters.
---
The Sniper's Nest
by Lisa Soland
Last Act Theater Company
January 31 - February 02, 2014
Thursday, January 30: 7pm
Friday, January 31: 2pm & 7pm
Saturday, February 1: 2pm & 7pm
Sunday, February 2: 7pm
The Sniper's Nest by Lisa Soland is staged as part of the FronteraFest Bring Your Own Venue (January 30 at 8 p.m., January 31 and February 1 at 2 p.m., February 2 at 7 p.m. -- tickets available here)