Review: The Servant of Two Masters by Penfold Theatre Company
by Michael Meigs
I always enjoy watching the handsome and talented Penfold Theatre folk. Not only onstage in their accomplished presentations, of which The Servant of Two Masters directed by Beth Burns is only the latest shining example, but also as with considerable skill they build their presence and reputation.
Austin attracts graduates of theatre programs the way that Nashville attracts banjo pickers, and with not much effort I could name you half a dozen groups of friends who are putting their work up in dusty rented venues throughout this town. Talent is not lacking, and there's plenty of courage and ingenuity.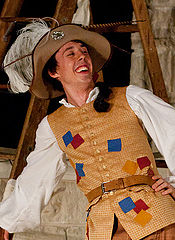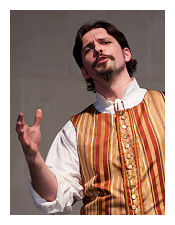 The Penfold team is grouped around funnyface Ryan Crowder, playing the leading rascal in this show, and Nathan Jerkins, who gives his self-assured ironic humor to the stock role of Brighella the innkeeper. In 2007 they founded the company with their Abilene Christian University classmate Sean Martin, at about the same time I arrived in Austin.
Penfold formed an early alliance with St. Ed's musical jack of all trades Dr. Michael McKelvey (director of their sparkling chamber musical theatre pieces The Last Five Years, John and Jen and I Love You Because). Company members' work with Austin Shakespeare and with recent arrival from California Beth Burns helped build networks including many of the liveliest and most dedicated theatre folk in Austin. They won B. Iden Payne awards.
And unlike most other young devotees of the theatre, they looked around for a promising home in the greater Austin area. Penfold made friends in Round Rock, the rapidly growing community just north of Austin, and has secured support from businesses, the municipality and potential arts patrons for their vision of a resident theatre company in that town.
Their summer shows at the Round Rock amphitheatre, open to all without charge, are splendid marketing devices, making Round Rock residents aware both of their talents and of their intentions to put down roots in that town. Last summer they put on the frantic crowd-pleaser The Complete Works of William Shakespeare (abridged) and through most of this month they've been performing this late classic of the Italian commedia dell'arte by Carlo Goldoni. In addition to the Penfold founders the cast of The Servant of Two Masters features lively character actors familiar to Austin audiences from many venues (for example, Robert Deike, Alejandro McDonald-Villarreal, Griçelda Silva, Andreá Smith and the recently arrived Toby Minor).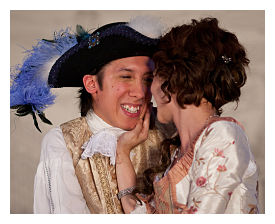 The story's a simple farce, very much in the tradition of this improvisatory art form. The old duffer Pantalone (Deike) has consented to marry off his daughter Clarice (Silva) to her love Silvio (McDonald-Villareal), since the gallant previously chosen has reportedly died in a duel in another town. Lo and behold, said gallant appears unexpectedly, accompanied by the servant Truffaldino (Crowder), asserting his claim to his promised bride -- but in fact, the claimant is Beatrice (Katie Blacksmith), sister of the deceased, disguised as her defunct brother. She has abandoned her home town to seek her beloved Florindo (Joseph Garlock), who was obliged to flee after his victory in the duel.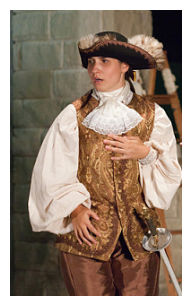 Beatrice struts and admonishes, demands the dowry and generally throws things into confusion. Her beloved Florindo comes to town and lodges in the same inn, kept by Brighella (Jerkins), but the two never cross paths. Truffaldino, in a moment of hunger and opportunism, agrees to enter the service of Florindo even though he's still employed by Beatrice.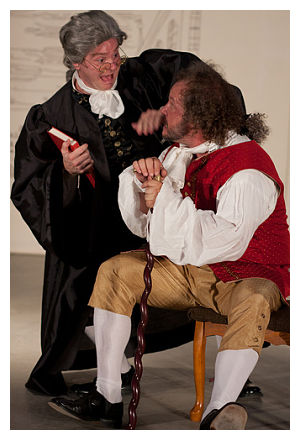 And so on, and so on -- disguises, confusions, expostulations, unexpected meetings, a serving woman (Smith) who turns servant Truffaldino's head, father to Silvio the cranky old judge Doctor Lombardi (Minor) who gets into outraged debates with old Pantalone. . . .
This is a zippy, funny, fast confection, with all the energy of improv and the grace of comic ballet. It's not a musical, although a rank of musicians provide incidental accompaniment. Words and gags fly like Frisbees.
Jennifer Davis's costume designs bring the epoch vividly into view. Director Burns has successfully encouraged her cast to act it big. Ryan Crowder is a living animation of flourishes, clowning, rubber-faced grimaces and mischief. Deike as old Pantalone has a vigorous wild-haired bumbling presence with a fine array of comic asides.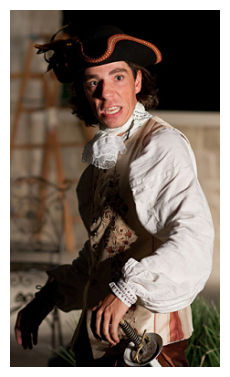 Katie Blacksmith as Beatrice, disguised as a man, is a thoughtful, troubled darling and Joseph Garlock as the admanant, abrupt Florindo has the frank, friendly menace of Iñigo Montoya, the character played by Mandy Patinkin in The Princess Bride.
The performance is done in the open air without individual amplification. The acoustics are rarely a problem, for these are buskers and brawlers who know how to project their voices.
Now for those of you who haven't visited the venue: the Round Rock Amphitheatre is no more than a concrete pergola in the yard behind the Round Rock municipality at 301 W. Baghdad Street. Since there is no seating, you'll have to bring picnic blankets and chairs or else improvise as we did with car mats. Penfold has enlisted pre-show entertainment starting at 7:30 p.m. (we got to appreciate the antics of Darren and his dogs of Circus Chickendog). Box dinners from the Round Rock Cafe are available for $6 and Penfold offers a handsome full-size glossy program for $3 that includes informative, gracefully written essays by Christina Gutierrez, dramaturg to Austin Shakespeare and other companies in the area.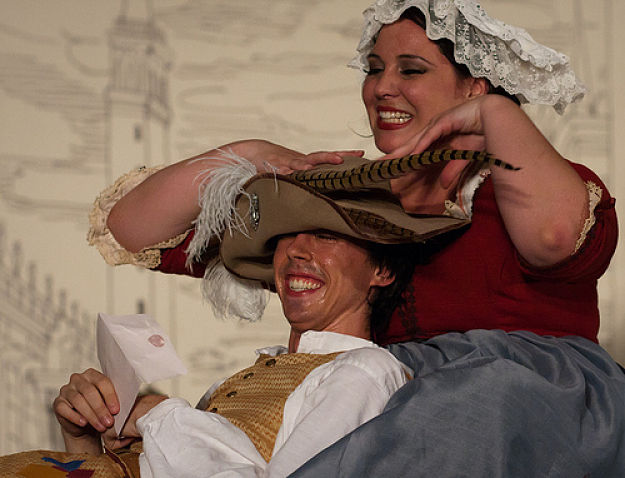 The final Round Rock performances take place this weekend, Thursday through Saturday with a farewell performance on Sunday. The company travels to Wimberley for two weekend stagings at the EmilyAnn amphitheatre, August 26 and 27. For the rest of their ambitious season they will co-produce Ibsen's Ghosts with Austin's Breaking String Theatre featuring Babs George in October at the Hyde Park Theatre, put on Joe Landry's "live radio" stage version of It's A Wonderful Life at Friar Tuck's Pantry in Round Rock for two weeks in December, and return to the chamber music theatre with The Pavilion by Craig Wright in April, again at the Hyde Park Theatre.
Review by Cate Blouke at the Statesman's Austin360 Seeing Things blog, August 8
Review by Elizabeth Cobbe for the Austin Chronicle, August 11
EXTRA
Click to view excerpts from the Penfold Theatre program for The Servant of Two Masters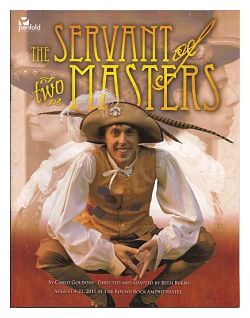 Hits as of 2015 03 01: 2052
---
The Servant of Two Masters
by Carlo Goldoni
Penfold Theatre Company
August 04 - August 21, 2011