Review: The Schooling of Bento Bonchev by Breaking String Theater
by Michael Meigs
A style begins to manifest itself in Graham Schmidt's staging of contemporary Russian drama, distinct from his graceful voyages through Chekhov. As in last year's Flying by Olga Mukhina, The Schooling of Bento Bonchev by Maxsym Kurochkin features an ensemble of attractive young persons. Schmidt and choreographer/fightmaster Sergio Alvarado move them smartly about Ia Ensterä's starkly functional set at a lively, balletic pace.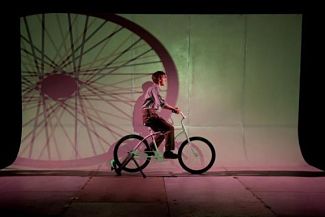 Props are minimal and suggestive -- for example, some bicycles are suggested solely by front wheels, cast members tote plastic chairs on stage and clap them down in unison on the stark white stage to establish a classroom. There's a circus-like flourish in the hand-offs of props and the changes of scenes.
Beyond the action at deep center stage the playing surface curves smoothly upward to establish a topographic feature used alternately as a rear wall and as a surface for projected images.
Design by Ensterä, the near kaleidoscopic movement and Steven Shirey's impressive lighting combine to provide a visual feast.


Kurochkin's piece is a satire, one that audaciously mocks the enigma of physical love and human attraction. He places his story in some future period when humankind has transcended the urge of hormones and the messy mechanics of procreation. The curious social structures of love in our antique times no longer serve for anything but academic inquiry.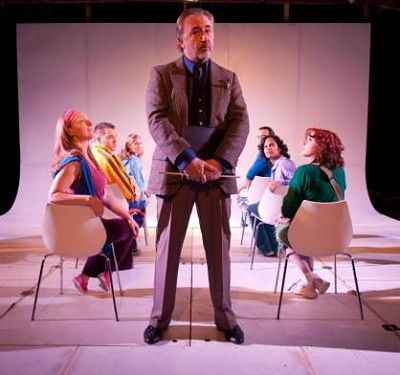 The concept could be Swiftian, but in Kurochkin's working it's closer to vignettes at an improv house. This contemporary Russian writer makes his principal figure a Bulgarian student studying the mythology of sex and romance at an unnamed American university. Such distancing and mockery probably would have made this piece safe to stage even under in the bad old days under Khrushchev. Bento contains an interesting dig in the revelation that sexual romance disappeared once it was abolished from advertising, but its principal theme is both more humble and more savage: the demonstration that males are self deceivers about sexual attraction.

Jesse Bertron as the titular protagonist Bento Bonchev is a blandly clueless graduate student. His mentor Professor Tirce expostulates that sexual practices of the ancients were entirely mythic but Tirce remains fascinated by them. He boasts of having located and watched a porn film ("entirely unbelievable!"). Tirce brings his student to meet a famous pair of aged lovers who have regularly appeared on television enacting rituals of conjugal affection. Bento is brusquely unbelieving.


Afflicted by his obsession, Tirce the melancholy drunk enlists Bento to replace him for three lectures. Bento warns that he'll pull no punches, and we get to hear excerpts as he attacks the myths of kissing and intercourse with a graphic relish that shocks the students.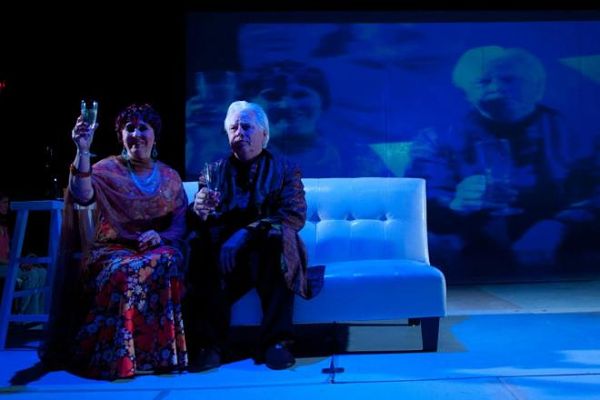 The actors in three senior roles anchor a piece that might otherwise simply have floated away. Joe Penrod as Tirce has a sombre self certainty in his public persona but a self-humiliating anguish in private. His monologue and eventual collapse are moving, although the impact is diminished when he then has to get up to clear the stage. Garry Peters as Frank the aging lover wears the gaiety of Liberace as a thin veneer over the grim desolation of Samuel Beckett. Chris Humphrey as his partner Emma quite literally dies by her own hand for lack of love.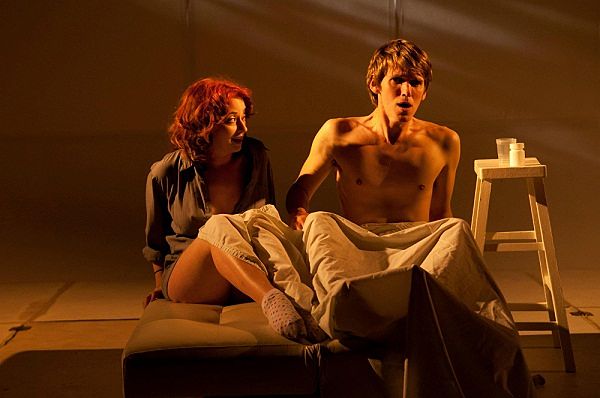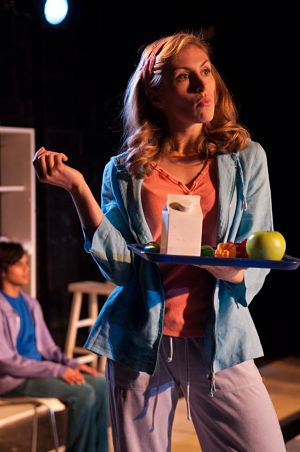 Bento remains serene in his convictions even though he's deftly trapped and captured by college student Sandy (Devyn Ray). After an evening of drinking, they wake up together; she drops out of school and appears a year later with a baby named "Bento" (no, he doesn't get the hint).
She's the only female student who resolutely sticks with Bento's lectures for years even after the resurgence of copulation. With her feminine wiles she enlists Bento, the expert on ancient love myths, as her coach for what becomes a spectacularly successful acting career. They age gracefully. . . with Bento still clueless, lounging in a Liberace-style dressing gown for their press interviews.
I found Kurochkin's piece an assemblage of trivialities, but I'm the first to suggest that my reaction might be because I'm closer to the disabused age and attitude of Frank the TV celebrity than to that of the trim and devoted young members of the cast. Sex and sexual attraction are pretty funny subjects, as Kurochkin emphasizes. I regret being out of town for Breaking String's New Russian Drama Festival, which featured a staged reading of Kurochkin's Vodka, Fucking and Television, in which a man seeks to come to terms with the embodiments of his vices.
In Bento the playwright is kinder to women than to men. Yes, there's a brainless Valley-speak student, Cecilia (Victoria Eisele) who's the downfall of Tirce; but Devyn Ray as Sandy, Bento's admirer, follower and eventual partner has selflessness and devotion. She has a big heart, too -- she's willing to humor Bento, keep him happy and appear to respect his convictions, all the time that he serves as an undeclared drone to give her cuddles and to perpetuate the race.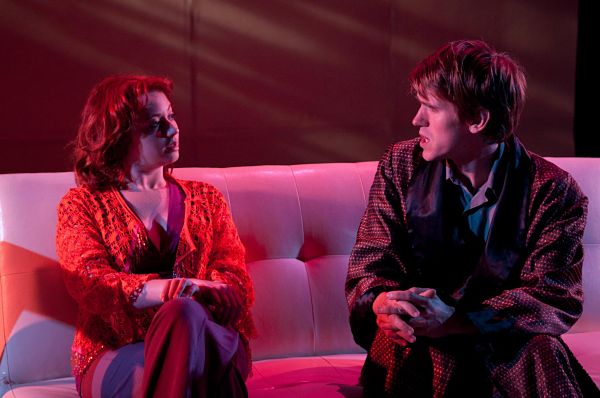 Review by Jillian Owens for the Austin Chronicle, March 15
Robert Faires mentions Bento in discussing assumptions and definitions, Austin Chronicle, March 22
Review by Ryan E. Johnson for examiner.com, March 29
EXTRA
Click to view the program sheet from Breaking String Theatre
---
The Schooling of Bento Bonchev
by Maxsym Kurochkin
Breaking String Theater
March 09 - March 31, 2012
Off Center
2211-A Hidalgo Street
near Robert Martinez and E. 7th Street, behind Joe's Bakery
Austin, TX, 78702