Review: The School for Scandal by Classic Theatre of San Antonio
by Kurt Gardner
When one thinks of a play written nearly 250 years ago, the last adjective to come to mind would be rambunctious, but that's clearly the best word to describe the hilarious production of Richard Brinsley Sheridan's 1777 comedy of manners The School for Scandal, now playing at the Classic Theatre.
You've never met a nastier group of backbiting gossip mongerers than this lot. As a matter of fact, one character is literally named Backbite — along with Sneerwell, Candour, and Surface. Everyone is busy getting into everyone else's business, feigning shock about the latest scandals while eagerly drinking them in.
Lady Sneerwell (Christi Eanes) welcomes visitors to dish in her tony parlor. Along with her cousin, Miss Verjuice (Holly Clifford), there are the brothers Charles (Michael Holley) and Joseph (Zach Lewis), who are perpetually on poverty's doorstep and rely upon the generosity of their Uncle Oliver (Joe De Mott) for support. They haven't seen their uncle in years, so when he arrives unannounced, he plays a game with them by impersonating different men to decide which is most deserving of his estate.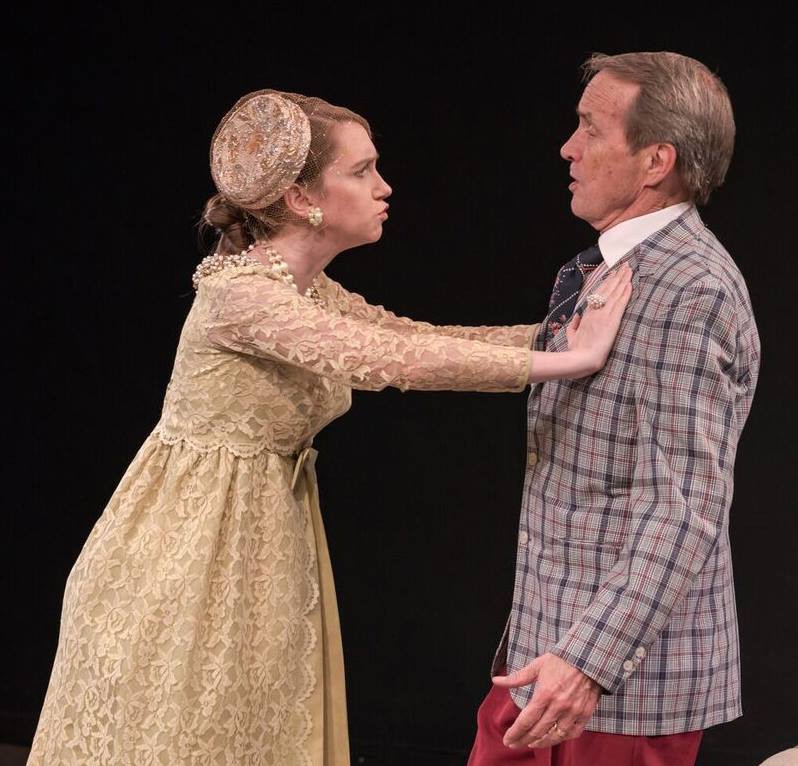 Then there's Sir Peter Teazle (John O'Neill), who bickers constantly with his much younger bride (Samantha Robison), whom he is convinced is having an affair with Charles. Only Sir Peter's young ward Maria (Bekka Broyles) seems appalled by everyone's bad behavior.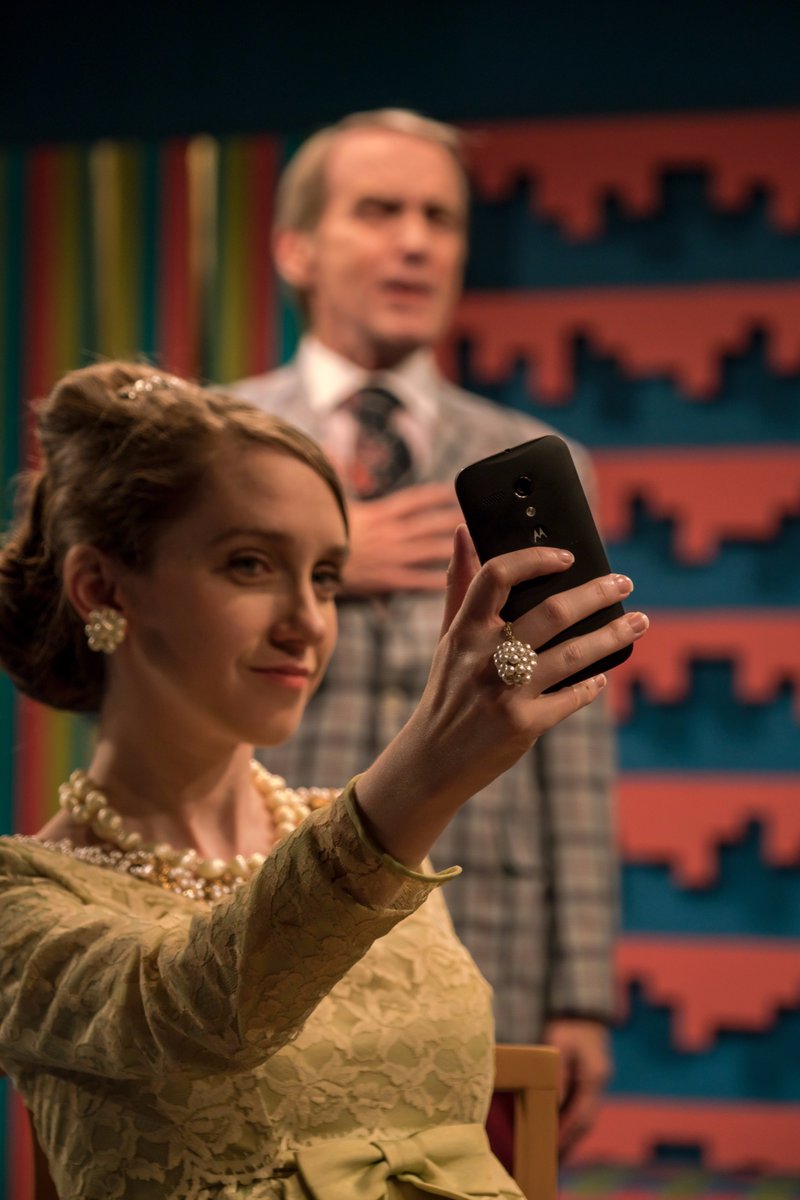 Director Diane Malone smartly gives the show a contemporary milieu, with everyone carrying cell phones and taking selfies. The costumes by Jodi Karjala and Terri Pena Ross also carry out this theme. Rather than representing any particular period, they seem to reflect the personality of the character wearing them.
The cast is clearly having a field day with the material. Holley and Lewis are a riot as the brothers, and Lewis literally works up a sweat with his high-energy performance. Eanes is an acid-tongued Lady Sneerwell, and Alexa McLatcher is larger-than-life as her equally gossip-hungry friend, Mrs. Candour. Also amusing are Richard Solis as Crabtree and Steven Starr as his nephew, Sir Benjamin Backbite, as they become embroiled in a frantic game of one-upsmanship. Clifford, De Mott, O'Neill, Robison and Broyles also fill their roles well.
The School for Scandal plays Fridays and Saturdays at 8:00 p.m. and Sundays at 3:00 p.m. through Nov. 27 at Classic Theatre, 1924 Fredericksburg Road. Tickets can be obtained online or by calling 210-589-8450.
Kurt Gardner's theatre reviews also appear at www.BlogCritics.com
---
The School for Scandal
by Richard Brinsley Sheridan
Classic Theatre of San Antonio
Fridays-Sundays,
November 04 - November 27, 2016
Fridays and Saturdays at 8 p.m. and Sundays at 3 p.m.
Shows are held at the The Classic Theatre located at 1924 Fredericksburg Rd. The theatre has handicap accessibility.
Tickets are available online now at www.classictheatre.org. If you have any more questions feel free to contact The Classic Theatre Box Office at (210) 589-8450.
Ticket prices are as follows:
General Admission: $25
Senior, Military, Educator or SATCO: $20
Student: $10
SPECIAL EVENTS
Opening Night- November 4, 2016. Please join us for a complimentary opening night champagne reception.
Community Conversations with Classic- November 20, 2016, following the 3:00p Sunday performance: How do modern-day scandals connect with this classic play? Join us and be a part of the discussion.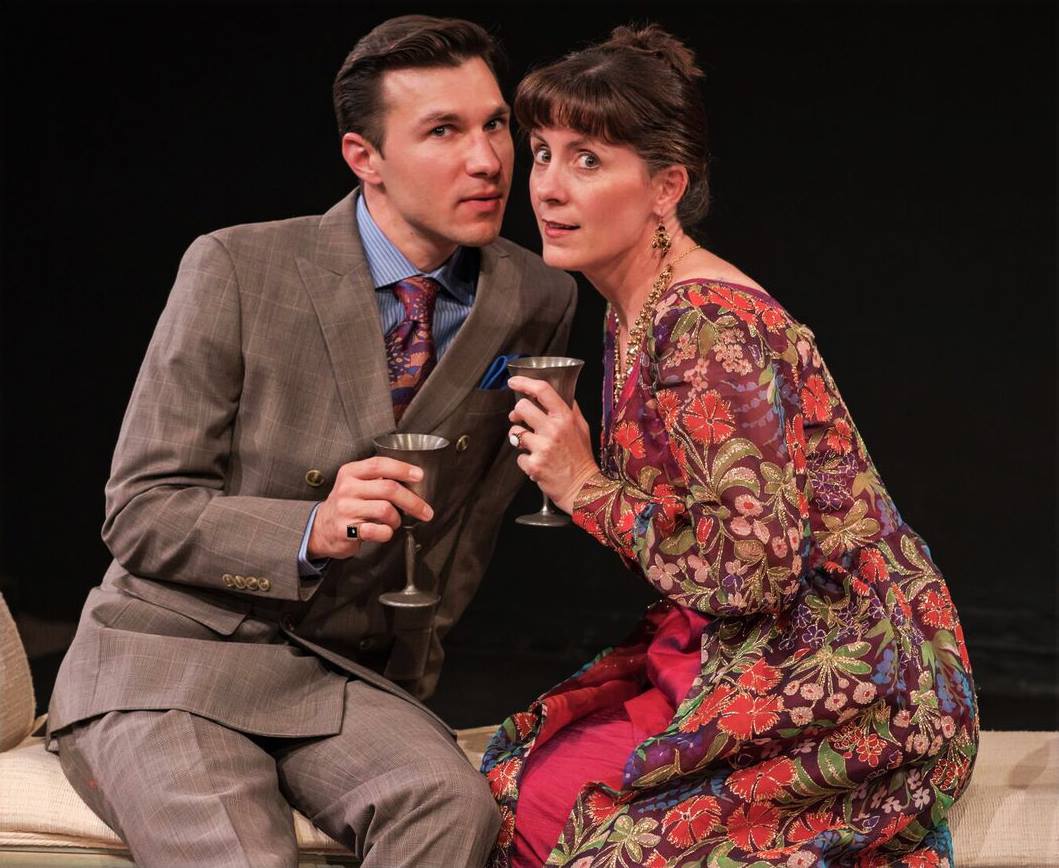 Fridays and Saturdays at 8 pm
Sundays at 3 pm