Review: The New Electric Ballroom by Renaissance Austin
by Michael Meigs
Enda Walsh's The New Electric Ballroom is an astonishing achievement, both for the Irishman's text and Renaissance Austin's staging of it. This is theatre deep and dark and harrowing, art that stands with the best of Beckett, and it's right here in Austin for two weekends more.
Plain powerful language delivers images of a fishing village in remote Ireland. Walsh's wild imagining of the absurd places us inside a dark cottage with three women. Two are in their sixties; the other's in her forties. A cake sits on the wooden table and the oldest of them stands over the stove, her back to us, monologuing in a snarl a long declaration that begins,
By their nature people are talkers. You can't deny that. You could but you'd be affirming what you're trying to argue against and what would the point of that be? No point. Just adding to the sea of words that already exist out there in your effort to say that people are not talkers. But people talk and no one in their right mind would challenge that. Unless you're one of those poor souls starved of vocal cords or that Willy Prendergast boy who used to live in town and only managed three words. One was 'yes,' one was 'no' and one was 'fish.' Yes yes yes. No no no. Fish fish fish. Fish yes yes. Fish no no. Yes no fish. No yes fish. Fish no fish. Fish yes fish. So even he talked.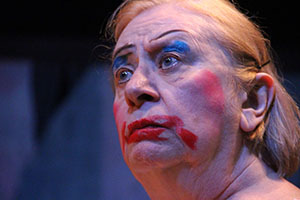 That's Breda, angry and menacing. And when Jennifer Underwood finally turns around we're suprised and appalled to see that her mouth is smeared with a wide brilliant goo of lipstick. Her glittering eyes and emphatic, articulate speech deny her clownish aspect. Breda's sister Clara, seated at the table, cries, "Look at my little feet!" Karen Jambon is gleeful and childish, impatient for her cake and tea, but we quickly see that she's terrified of her older sister.
Ada, the youngest woman, played by Lorella Loftus, sits between them, placating, prompting, patient, clearly with her own untold story. The women's intense efforts to recall and relate a story of anxiety and adolescent lust are interrupted by the appearance of a great lumpish man -- Patsy's carrying a tray with fish straight up from the port. Andy Brown prattles along with a sweet heedless voice that brings the harbor vividly into our imaginations as he's ignored by the three women.
From about this point, perhaps ten minutes into an hour and a half of blunt prose poetry suffused with emotion, we understand that the playwright is exploding the narrative convention of theatre. Spiky exchanges between these characters punctuate lengthy monologues obsessed with hurts, failures and fears. There's a central story here but time moves somehow in lunatic circles. Though they sit awaiting their tea, the older women have locked themselves away in this dark place and this dark narrative. Patsy appears at the door at least three times, craving a little respect, always bringing his fish. Ada and Breda push and prompt one another to resume accounts that have clearly taken fixed and mythic form. Eventually Clara fishes a paper from a bowl, rises, goes to the stove and recites the entirety of Breda's opening speech.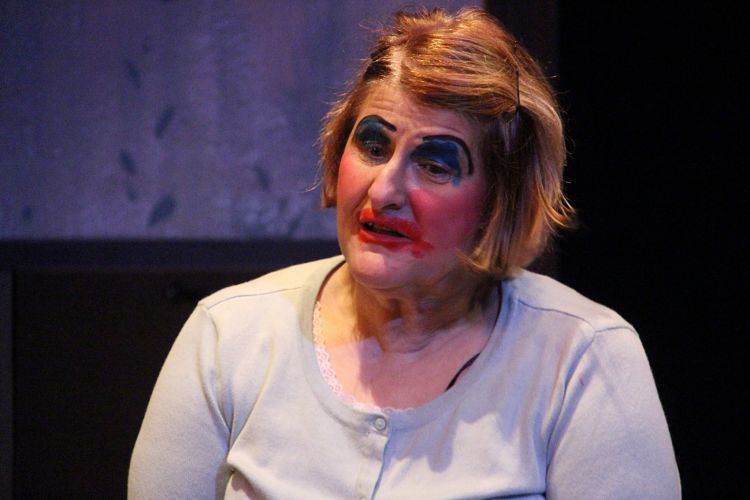 The sisters will eventually complete the story of the New Electric Ballroom from almost half a century before, when they bicycled ten miles through a hot summer night to seek love from some man other than the fish-stinking villagers of their everyday. The youngest woman, Ada, dwells on her daily drudgery as a bookkeeper in the cannery, turning fish into figures. And Patsy, chased away repeatedly, persistently turns up again and again with yet more plates of fish. He recounts delirious dreams of melting landscapes, loneliness and mocking talking seagulls that follow him and demand, "What is the purpose of you, Patsy? What is the purpose of you?"
We're in their heads, and it's a frightening place to be. When the women eventually allow Patsy the grace of entering, scrubbing him clean, the past will become present and love will struggle against the dark of this claustrophobic cottage.
Breda, as always, will have the last word. And not at the end; she delivers it during a lengthy scolding of Patsy before the turn of the plot:
Stamped by story, aren't we, Patsy?! So what chance any man or woman against the idle word? The idle word?! Sure, there's no such thing as the idle word. Branded, marked and scarred by talk. Boxed by words, Patsy. [. . .] What chance for the broken-hearted and the fishmonger to keep clean when people have the making of us? No mystery, no surprise. . .
Underwood and Jambon give a terrible urgency to this text and concept. Fiercely intimidating, Jennifer Underwood applies Walsh's words like fileting knives. Karen Jambon reacts with the confusion and exuberance of a child uncertain if she's about to be whipped or rewarded. With her enormous eyes and guileless expression Lorella Loftus seems to struggle for understanding and escape from her self-imprisonment. Andy Brown makes Patsy the man-child both a vividly appealing character and a symbol for humankind, condemned to be set into a world not of its own making.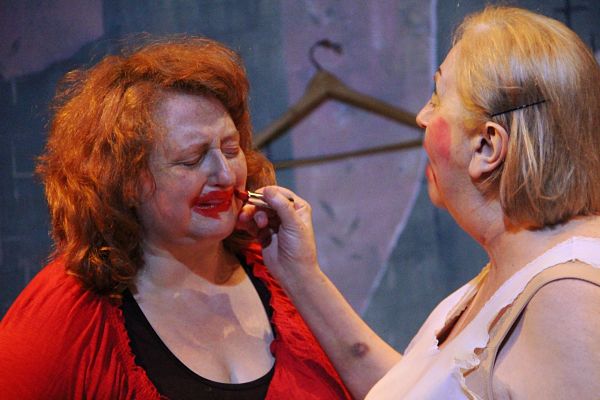 In a town full of earnest young theatre artists with graceful limbs director Kevin Yancey and the quartet of this cast unflinchingly depict the burdens of ageing and corporality. Each of the women will strip to her shift to take on costumes and roles of the story; application of garish make-up turns them in turn into nearly non-human spectres. Brown as Patsy will have the fish smell scrubbed away from his hesitant and clumsy shape. Barefoot but wrapped in a crude tuxedo costume, he will astonish with a transformation and a revelation. Surely this, too, has happened before in the deranged space and time of the cottage? Which of us is not in fact a condemned clown when we eventually come around to a confused summing up?
The New Electric Ballroom does indeed electrify and it leaves you in a daze. This is epic performance on intimate scale. You walk away off balance, exhilarated and thoroughly intimidated at the same time.
EXTRA
Click to view the program for Renaissance Austin's The New Electric Ballroom
Note: Available at the Vortex box office is a paperback edition of Edna Walsh's twinned scripts The Walworth Farce and The New Electric Ballroom (TCG group, 2009). Price is $15.
---
The New Electric Ballroom
by Edna Walsh
Renaissance Austin
Thursdays-Sundays,
May 22 - June 06, 2015
Thursdays - Sundays at 8 p.m.
Tickets: $30-$10: $30 Priority Seating, $20 General Admission, $10 Artist/Student/Senior
www.vortexrep.org or 512-478-5282
Limited seating. Advance Reservations Recommended.
2-for-1 admission Thursday and Sunday with donation of 2 cans for SafePlace
Radical Rush offers limited free tickets each performance in the spirit of sustainability, accessibility, and the gift economy. Radical Rush tickets released at 7pm each night--first come first serve! In-person only.