Review: The Little Mermaid, Disney by Georgetown Palace Theatre
by Justin M. West
CTXLT note: Many of the roles in The Little Mermaid are double cast. The photos below are of the actors who appeared at the performance reviewed.
I left Georgetown, Texas in a huff about fifteen years ago as a pissed off teenager ready to take on the world, vowing never again to return to that shithole. Clearly I failed, as I found myself coasting into town on fumes this past Tuesday night, irked at the sight of the place but at least victorious in having avoided stopping anywhere in WilCo along the way. This unfortunately left me with some time to kill, so I sat and endured sober karaoke at some nameless, boring pizza place on the square and scribbled in my notebook, writing what you're reading now and hoping like hell no one recognized me.
Since I have nothing but contempt for the bland, culturally homogenous town and county in which it resides, The Georgetown Palace Theatre might seem to be at a disadvantage when one of its shows is under my review. On the contrary, I attend each and every show I see with an open mind. In the case of The Little Mermaid on Tuesday night, despite some foreknowledge of an aggressive production schedule and some wire work that might not have finished cooking, I was moderately hopeful.
After some time, I can conclude that this modest two-act adaptation of the Disney classic was not altogether bad, but it wasn't particularly good, either. Elements of the show were enjoyable - one scene in particular got a belly laugh from yours truly - but overall the word that comes most immediately to mind is "unfortunate." With a large cast of such varied talent - acting, singing, ballroom dancing and acrobatics - it's unfortunate that such a sophomoric play emerged. It's unfortunate that this play's boldest technical challenge ended up being its biggest failure, and it's unfortunate that aspect soured every other aspect of the production. It's unfortunate that more care and attention weren't given to the actual staging of the show. And most of all it's unfortunate that the Palace continues to present these hastily constructed and decidedly bland productions.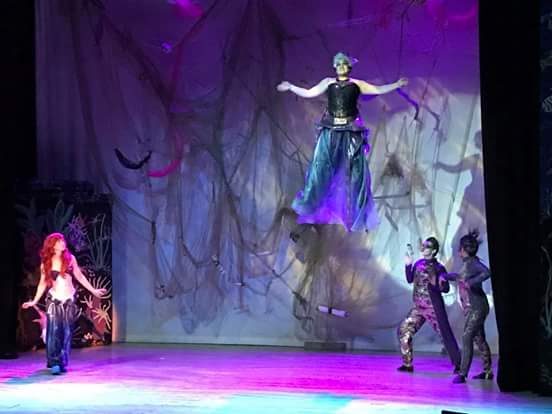 First and foremost, a musical will only ever be as good as its music. You cannot assemble a cast of singers, no matter how talented, and expect them to be anything close to their best with the horrific MIDI soundtrack sported by this show. Not even the eardrums of the audience's numerous, well seasoned life veterans have lost enough acuity to make such accompaniment palatable. The poor quality of the music and its oft-missed cues made it difficult to take this show seriously from the outset.
Compounding the musical inadequacy was the overall poor nature of the audio itself, with microphone quality changing radically depending on which actor was talking. This was especially unfortunate (there's that word again) for Madison Andrews-Moreno, who as Flounder had one of the best singing voices in the show but was stuck with the absolute shittiest microphone. Dialog between many of the actors sounded muffled, quiet, and often unintelligible.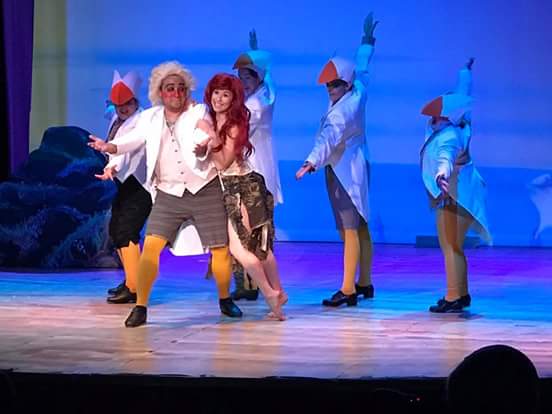 I noted before the start of the show how small the theatre and its stage felt compared to what I'd remembered. Funny how places shrink as we get older. I wondered what they would do to keep the stage from feeling cramped. Ironic, then, was the fact that most often the stage felt so very, very empty. The first act mostly featured a single, lonely Set Piece with an uninteresting backdrop looming behind it. Scene changes saw the backdrop raised or lowered, or maybe a net thrown in front of it as The Set Piece noisily shoved to the other side of the stage. There was no link at all between set and setting during the first act.
The actors often looked totally lost in the emptiness of the stage, unsure about their movements and uncomfortable even when they knew what they were doing. This was hard to ignore, and it just felt... awkward. Actors cannot be expected to fill a proscenium by singing over bland music and waving their hands about or executing decidedly pedestrian choreography. When people see the word "Disney," they expect production value. While no one expects The Palace to be putting on a Broadway-level production, there's simply no excuse for the utter lack of attention to staging here, or the overall low production quality.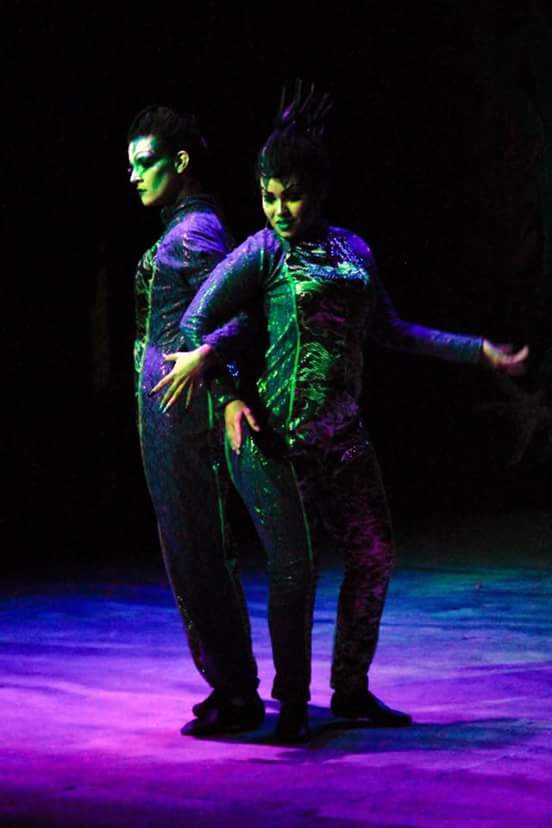 There were some standout performances, particularly among the supporting cast and ensemble. Andrews-Moreno brought an animated energy to her role as Flounder, shining in moments where her mic worked well enough to do her exceptional voice justice.
Emily Villarreal and Emily Perzan (Flotsam and Jetsam) slithered about the stage in devious, tantalizing harmony, and they were the most fun and fully-realized characters in the show despite their painfully infrequent appearances. The ensemble was fantastic, particularly in a second-act singing gag worthy of a gut laugh.
Jacob Maspero was plucked right out of a Disney film in his subtly brilliant turn as Grimsby. Peter Wilde as Chef Louis in the play's best scene stole the entire show and reminded me there were kids in the audience as I began to squeal just like they did.
But where the supporting cast and ensemble did shine, much of the rest of the cast failed to excite. Hannah LeBrun hit all the right notes as Ariel, but her performance for the entirety of the first act was hindered both by the wires to which she was attached and her efforts thereupon to keep from sailing past her mark.
Creighton Moench as Prince Eric was solid but forgettable. Emily Taylor as Ursula lacked the presence and intensity demanded of her character, and appeared constrained and uncomfortable on the wire. Tim Keating as Triton was completely out of place and poorly cast, looking and sounding more like he should have been wearing a sandwich board and espousing the benefits of cannabis than ruling an underwater kingdom. Was that trident made of tin foil? I can't comment much on the performance of Christopher Barfield as Scuttle, as he made the odd choice to speak in a halting, shrill falsetto and I understood only about every third word.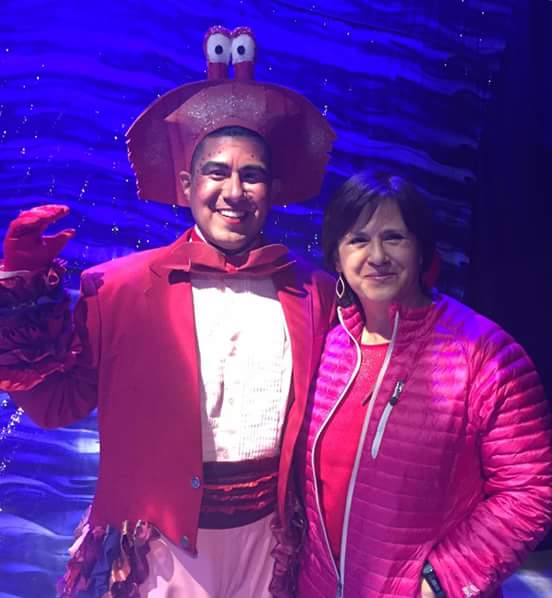 I wondered why Jason Lucio (Sebastian) spent the entire show imitating a doctor who's just scrubbed in, holding his "claws" up in the air and barely moving. Even during what should have been the show's highlight song, "Under the Sea," he did little but stand in a spotlight and hurl lines at the audience. And I still can't figure out what the hell was up with his costume. Was he some kind of deranged mariachi? We know we aren't in New York, but this was the best they could do?
But, for all the shortcomings on display, nothing was more disappointing and consistently cringeworthy than the wire work. The use of wires during this show to create the "illusion" of floating in water was so badly done as to be embarrassing for the cast, and awkward for the audience. Instead of occasional use for effect, half the damn cast gets hoisted around on highly visible wires for the entirety of the first act, often grasping or kicking desperately at The Set Piece so they don't end up swinging back and forth like jackasses. I was reminded of the Stonehenge scene from This is Spinal Tap. That made me laugh and then immediately feel guilty. I felt bad for the actors on stage doing their absolute best to overcome a stage effect that was overused, clearly under-practiced, and that should have been done away with entirely.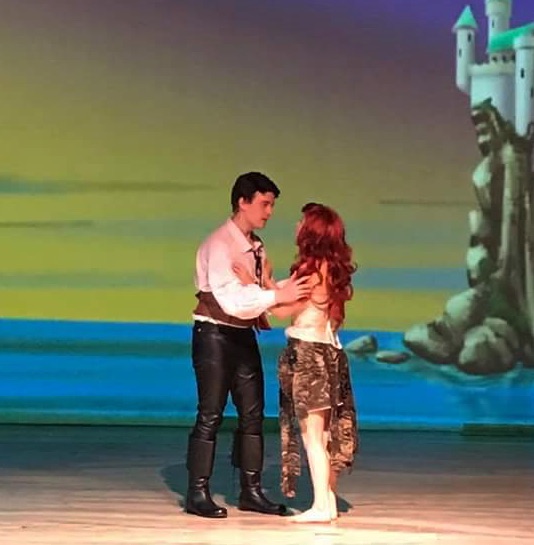 It's no coincidence that the second act, when the wires disappeared for the most part, was leaps and bounds above the first in quality. The actors gave much more confident and practiced performances. LeBrun as Ariel was at her best in playful opposite of Moench, whose second-act Prince Eric actually had something to sing about (and a fine singer he is). To that end, the singing was better, even to the point of making me forget about the poor accompaniment.
Even the sets, though still a simple and grainy image projected onto a screen, felt more dynamic and engaging. Simply put, everything in the show flowed and felt better during the second act and without being saddled with a technical element that didn't work. If only more time had been spent on choreography, set design, and testing out the best performances from the actors, this would have been a much better show.
Unfortunately, a commitment was clearly made to extensive use of a very complicated technical element that subsequently completely failed to work, so the lack of preparation afforded to everything else was very apparent.
As is ever the case, I left the Palace feeling let down, licking my wounds and hoping that the next show in this historic theatre will live up to its potential. Though I suppose I felt better than those who paid $30 a ticket for this show.
---
The Little Mermaid, Disney
Georgetown Palace Theatre
November 18 - January 15, 2016
Disney's The Little Mermaid at the Palace begins on Friday, November 18, 2016, and run on various dates/times through Sunday, January 15, 2017. Friday and Saturday shows are at 7:30 p.m.; Sunday shows are at 2:00 p.m. One Saturday matinee (Thanksgiving weekend) has been added to the schedule: November 26 at 2:00 p.m. Weeknight shows (7:30 p.m.) are scheduled Monday through Friday, December 19 through 23 and December 26 through 30, 2016. The first two weekends of January 2017 (Jan. 6-8 and Jan. 13-15) are fully scheduled, as well. See our website for specific dates and seating availability.
Ticket prices for the 2016-2017 Season are $30 Adults, $28 Seniors (55+), $28 Students and Active Military, and $14 Children (13 & younger). *$1 Ticketing Fee will be added per ticket at checkout. Group rates are available for 20 or more.
The Palace seats about 295, with reserved seating paid for in the ticket price. The Palace office in the lobby of the theatre is open Monday through Friday from 10:00 a.m. until 4:00 p.m. (except for some holiday dates). Purchase tickets and select seating online at www.georgetownpalace.com or by calling 512-869-7469. (Please call ahead regarding special needs seating.) Visa, Master Card, Discover, and American Express are accepted.
The Historic Palace Theatre is located at 810 South Austin Avenue in downtown Georgetown and is part of the most beautiful town qquare in Texas!