Review: The Glass Menagerie by Tex-Arts
by Michael Meigs
The Glass Menagerie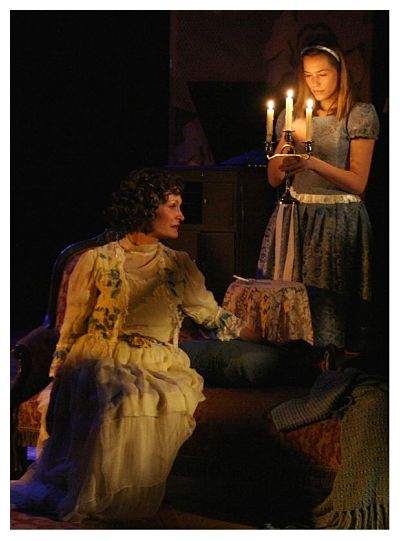 is a memory play, narrator Tom Wingfield tells us in his opening soliloquy. Director Michael Costello and the gifted actors in this cast treat it as just that, a dream-like sequence of deeply felt events taking place in the shadowed, intimate space of Tex-Arts' Kam and James Morris Theatre out in Lakeway.


For those who don't know or have forgotten this American classic: it's the late 1930s. A mother and her two grown children live in a rented apartment in St. Louis, barely getting by. The son Tom pays the bills with the wages from his menial job in a warehouse; his handicapped younger sister Laura, turning ever inward, has dropped out of secretarial school and devotes herself to her collection of glass animals, the glass menagerie of the title. Their father disappeared long ago -- a telephone man "in love with long distances." Their mother Amanda Wingfield, a faded southern belle, is searching for some way to secure the family's uncertain future.


This 1944 two-act play was Tennessee Williams' first stage success. It has lived over the many years since then because Williams captured with his simple story and quiet imagery the fragility of hope and the enduring call of memory.
It's common to take the story as a rough autobiographical cipher for Williams' own escape from his origins. After all, his given name was "Tom," the same as the young narrator who yearns to write; and when he was young, his family moved from Mississippi to St. Louis. Williams' mother has been described as a "borderline hysteric" and Williams' sister Rose was handicapped by mental illness.

The dramatist transmuted those elements with the philosopher's stone of his craft, so it's far too simple to assert that Tom is Tennessee Williams. I initially made that mistake, supposing that Jude Hickey should have produced some semblance of a Mississippi accent instead of his more familiar middle American pronunciation.

But Tom Wingfield is a St. Louis creature, a warehouse worker in the gateway to the Midwest, and he will escape that stifling existence by joining the merchant marine. He is not omniscient in this story, either, even though he summarizes and comments on the events. Tom is, in fact, absent from the stage during much of the action, including particularly throughout the long, delicate scene between his sister Laura and gentleman caller Jim O'Connor. Tom can be played as bitter and self-seeking, but Hickey instead makes him frustrated, gentle and valiant.


This play really belongs to the women. In later plays Tennessee Williams created some women characters who were powerful but grotesque, but director Michael Costello of Texas State and leading actress Babs George did not take that road. Amanda Wingfield is indeed fretful and bound by her memories of the elegance of her Mississippi coastal upbringing of plantations and cotillions, but even in that rustling absurdity she is keenly sensitive to both her children. Babs George is haunting in this role, as lustrous, elegant and outdated as a hurricane lamp. George herself is graceful, unlined and unbent, appearing almost too young to be their mother. Even assailed by uncertainties and by care, she has the carriage, contained excitement and attractiveness of the much younger self of her memories.


Jessie Tilton gives us a Laura who has fled from the world. In the immediacy of the Morris Theatre, almost within touching distance of the audience, she shows with gesture and facial expression Laura's careful struggle to formulate her thoughts and respond to Amanda's motherly concern.


Tom's drunken late night return from the movies -- or whatever real escape he was hiding by that term -- is wonderfully comic, full of physical business as the ebullient Tom sprawls across the chaise longue and Laura tries to help him and contain his outbursts.


The second act brings James David Hart as the smooth, self-serving Jim O'Connor, arriving for dinner. As they arrive, Tom confides to O'Connor that he has used money for the electricity bill to pay his first dues for the seamen's union. O'Connor rises to the occasion of his unexpected initiation as the "gentleman caller" -- a caller both on the breathlessly excited mother, Amanda, and subsequently, by candlelight after the electricity goes out, a caller sitting on the floor with the petrified sister, Laura.


O'Connor is everything that Tom is not: optimistic despite temporary disappointment, outgoing and completely at ease in company -- perhaps because of those public speaking courses that he's taking. James David Hart makes the gentleman caller fundamentally a decent man, despite his preening self-esteem. This is a relatively lengthy scene, with the added unspoken comic element that Amanda and Tom are hiding back in the kitchen, perhaps in the dark. Hart builds it subtly, establishing rapport, carrying the conversation almost solo, and weaving a well-intended spell over the frightened young woman who has worshiped him.


Tex-Arts' The Glass Menagerie is the most accomplished and moving production I've seen in Austin so far this season. This production is well worth the 30-minute drive from downtown Austin and a ticket price that at $35 - $50 enables the company to pay Actor's Equity rates for the best talent.


The folks out in Lakeway are fortunate indeed. Tex-Arts, established in 2007, is a thriving teaching and producing institution, with the highest professional standards and ambitions. Perhaps they might someday consider arranging a secondary run somewhere in central Austin for a production of this quality.


I, for one, would be very happy to have the opportunity to see it again and to share it with friends in Austin.
Review by Barry Pineo for the Austin Chronicle, March 4
EXTRA
Click to view program for The Glass Menagerie at Tex-Arts, Lakeway
Hits as of 2015 03 01: 3198
---
The Glass Menagerie
by Tennessee Williams
Tex-Arts
February 26 - March 14, 2010