Review: The Elephant Man by Emily Ann Theatre
by Michael Meigs
Director Bridget Farias and the EmilyAnn Theatre crew in Wimberley are running The Elephant Man Fridays, Saturdays and Sundays for four weekends in January and February, an intrepid undertaking for a community-based arts group in a town with a population of only about 4,000.

More impressive than their raw courage in taking on a tough script and slow-motion tragedy is the fact that they carry it out with grace and depth. The company creates a protected time and space in which we can muse about arbitrary fate, human connection and our responsibility for one another.

Audiences may be familiar with the story, based on historical fact as recorded by Dr. Frederick Treves, the physician who took in the disfigured young Joseph Carey Merrick. Writing many years after the events, Treves recalled his patient as "John Merrick," the name used by Bernard Pomerance for the Tony-nominated play in 1979. David Lynch made the movie in 1980 with Anthony Hopkins as Treves, John Hurt as Merrick, John Gielgud as chief physician Carr Gomm and Ann Bancroft as the actress Madge Kendal.

I haven't seen that version, though, and I encourage you simply to ignore it. Farias has assembled a capable and convincing cast for this quiet morality play, and they make the story their own.

Carl Galante as Treves and Patrick Byers as Merrick establish the key link and relationship in the story. Galante, playing the physician and man of science, is a protector and ultimately a father figure of conflicted emotions. Byers as the patiently suffering, attentive and sweet-tempered Merrick becomes a mirror to his visitors, once they learn to look past his disfigurement.
The script and company make an unspoken pact of imagination with the audience, through the enactment of a lecture by Dr. Treves. Standing before a projected photograph of the real Joseph Merrick while the physician comments upon the deformities, the alert and normal-looking Byers transforms progressively in grimace, stance and gesture, twisting before our eyes into a representation of Merrick. This stage device underscores a key theme: that however afflicted and handicapped, the "Elephant Man" carries within him the soul and emotion of a gifted human being.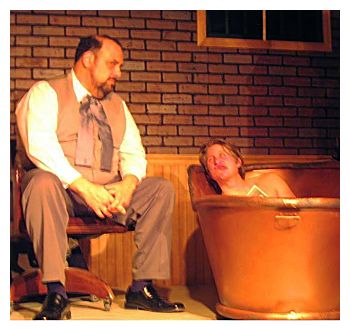 The plot recaps in relatively straightforward fashion the events of Merrick's life: exhibition in England as a freak, then departure to Belgium when the British authorities closed down such shows. D. Heath Thompson is the Dickensian entrepreneur Ross who exploits Merrick, cheats him, abandons him and at the end will beg charity from him.
Back in England, Merrick is taken into custody after a near-riot at a railway station caused by his appearance. The police notify Treves. At London Hospital Merrick becomes a refugee, protected by science, and later a favorite of royalty and the London smart set, before dying of natural causes at the age of 27.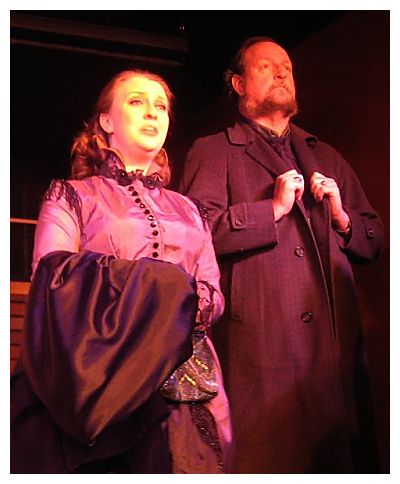 Faced with teaching Merrick and with setting boundaries for him both in the institution and in society, Carl Galante as Treves strives visibly with his own conscience. He's earnest and well meaning, yet troubled. Meeting him in this effort are two vividly etched supporting roles: Ed Boyle as chief physician Dr. Carr Gomm, both warden and benefactor, and Dana Naughton as Madge Kendal, the actress more vivid than life who is keenly attuned to Merrick's emotional and sexual frustrations.

The Elephant Man is a ninety-minute piece in a single act. The stage is relatively shallow and confined in the EmilyAnn's newly configured indoor acting space. The hall is long and narrow, more appropriate perhaps for a film than for live theatre. The company works the awkward space well, however, and one rapidly becomes absorbed in the story.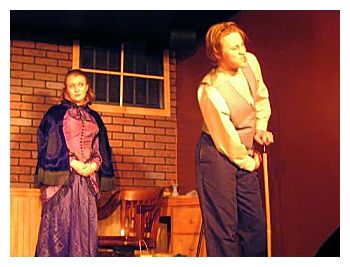 Both Merrick and Dr. Treves long to escape. In a sense, the confinement of the playing space emphasizes the confinement of the characters -- not only that of Merrick in his lamed body and hospital refuge but also those constraints placed upon others by their social roles and their institutions. In a spooky turn toward the end, we become witnesses of a dream in which Merrick is whole and Treves is the crippled one. Either could have dreamed it.

Carl Galante and Patrick Byers endow this piece with seriousness and resonance. Although there's no bio of Byers in the program, I discovered that I had seen him onstage before in ACC's Bacchae, where he was one-third of the triune god Dionysus. He was impressive in that ensemble role; here, with concentration and conviction, he is impressive on his own.
EXTRA
Click to view extracts from program for The Elephant Man, EmilyAnn Theatre, Wimberley Texas
Hits as of 2015 03 01: 3608
---
The Elephant Man
by Bernard Pomerance
Emily Ann Theatre
January 22 - February 14, 2010