Review: The Boys Next Door by City Theatre Company
by Michael Meigs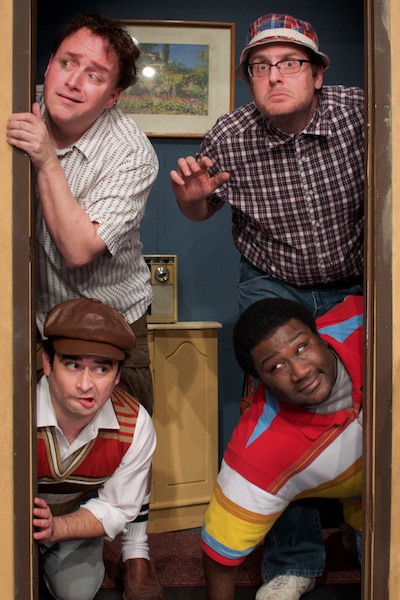 Tom Griffith's 1986 comedy The Boys Next Door is a classic -- a light classic, granted, somewhat more like the fare featured at Houston's KUHA than that at Austin's generally more brainy KMFA. This adroitly scripted tale of a group home for four variously mentally handicapped men is a staple of community theatres (3500 productions so far and counting) but unlike other similarly popular works of light stage comedy, it hasn't been turned into a motion picture. The subject is just too delicate, and its early history was contemporaneous with the 1986-1990 gestation of the Americans with Disabilities Act. A playwright probably couldn't get away with such fun today.
That's too bad, because Griffith's script is a gentlly affectionate portrait of the four principals, narrated to the audience by a step-out-of-the-action male social worker as chorus. Jack, played by Chance McKee, provides context and commentary. His own problems, a divorce and the desire to find a different job, especially one that's not eternally the same, contrast to those of the boys next door most evidently because his are dynamic and presumably transitory. His wards Arnold, Lucien, Norman and Barry are fixed immutably in their neuroses or child-like understandings of the world.
The Boys Next Door nicely fits Andy Berkovsky's approach to programming City Theatre's eleven-play season. It's a comedy, well known and liked, a staple of the amateur stage likely to attract theatre goers. The house was full on the second Saturday of its four-week run. And, just as important, it provides roles tailor-made for some of Austin's most experienced and admired stage funnymen.
Directors Carl and Lacy Gonzalez deftly match those actors to their characters. D. Heath Thompson's intensity suits the obsessive-compulsive Arnold; the stolid deadpan of McArthur Moore, an African-American Buster Keaton without the wrinkles, endows Lucien's five-year-old understanding with poignant reluctance. R. Michael Clinkscales' volume and boisterous physicality emphasize Norman's continual rediscovery of the world about him, and fast-talking beetle-browed Tony Salinas as the schizophrenic Barry moves in a heart-rending arc from guileless self-convinced con man to apprehensive mess to manchild in some shrouded unreachable place within his mind.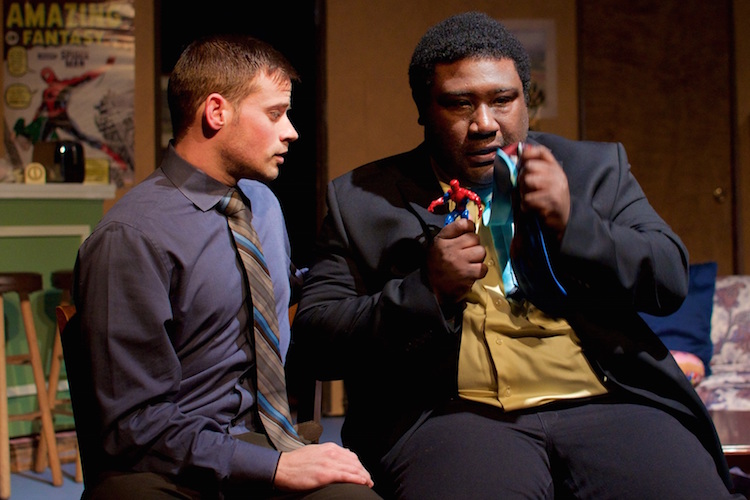 They're strongly supported by the secondary playeres. TeJuana Johnson and Austin Vaught interact as straight woman and straight man and momentary characters, while Beth Watkin as Sheila, Norman's potential love interest, is a sweet and uncomprehending delight. Gruff Don Owen as Barry's father is abrupt and distantly angry for many reasons, few of which have anything to do with his schizophrenic son.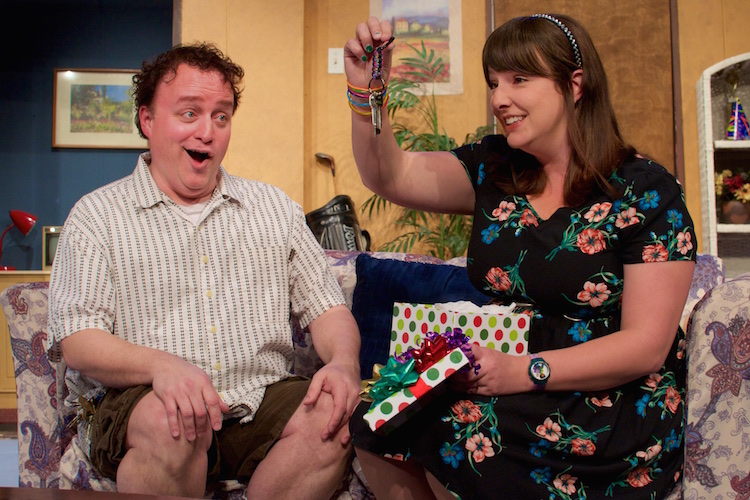 Griffith's play works because we're given the opportunity to identify with each of the disadvantaged and share if only for a moment in their perspectives. Who hasn't been overwhelmed by demands and details like Arnold or humiliated by inadequacy like Lucien? Struggled against his own social clumsiness like Norman or tried to escape stress through fantasy like Barry? The Boys Next Door gives us an opportunity for compassion. For just a moment and in the agreeable company of the rest of the audience and McKee as narrator we feel we're provided a thought experiment like that proposed by American philosopher John Rawls: We're allowed to pierce our 'veil of ignorance' about the internal and emotional lives of these characters and encouraged to reach reflective equilibrium about society's responsibility for them and treatment of them.
Like Jack the chorus and narrator, we have the privilege of withdrawing from their world and concentrating on our own concerns. Jack does so, despite the pangs and confusion of the boys' party celebrating the new job for which he's leaving. And we in the audience leave the City Theatre to regain our own preoccupations, somewhat lightened and enlightened by the chuckles of our evening with them.
EXTRA
Click to view the program for CIty Theatre's production of The Boys Next Door
---
The Boys Next Door
by Tom Griffin
City Theatre Company
Thursdays-Sundays,
January 15 - February 07, 2016
Thursdays - Saturdays 8:00 p.m. Sundays 3:00 p.m.


Box office opens one hour prior show time.
Seating begins twenty minutes before curtain.

Group discounts (10+) available for all shows.

The City Theatre Seating Policy
*We ask that you do not save seats for other patrons.
*No late seating.
*All General and Guaranteed Reserved Seats not purchased or
claimed five minutes before curtain will be released.