Review: STRIKE: I Am The Machine Gunner AND Martial Arts by Breaking String Theater
by David Glen Robinson
The third annual New Russian Drama Festival in Austin, organized and hosted by Breaking String Theatre Company and its artistic director, Graham Schmidt, offered a full weekend of theatre to Austin, with impressive guests, panel discussions, staged readings, a musical program and full stage presentations of two world-class one-act plays by the preeminent contemporary playwright Yury Klavdiev. My first and last impressions are that Austin is fortunate indeed simply to have access to such theatrical and artistic enrichment in the course a single weekend.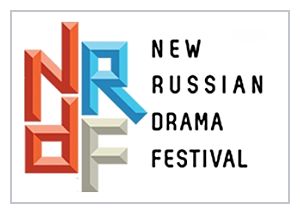 The core of the festival is the full staging of the Klavdiev works I Am the Machine Gunner and Martial Arts. They are well-matched and exemplary of new Russian drama. At one of the talkback sessions, an audience member asked translator John Freedman what characterized contemporary Russian drama. Freedman's an intellectual, an observer, and a practitioner who could have offered a long-winded literary exposition, but his initial response was terse and to the point: "Violence." Since the fall of the U.S.S.R. Russian playwrights have focused not on politics but on the dark side of capitalism and its new avenues for crime. Panel discussants detailed diametrically opposed political views of producing playwrights, usually by categorizing them as pro or con on President Putin's policies.
I am the Machine Gunner led the evening's program. Actor Joey Hood performed it as a solo, although the later panel discussion informed us that elsewhere it had been staged for two actors and even nine actors. In Austin it was Hood alone, shifting throughout the forty-minute performance between two characters: a contemporary street criminal and his grandfather, a combat veteran of World War II. I Am the Machine Gunner was more than just overwhelming.
Translator Freedman told us that among contemporary Russian playwrights, Klavdiev is foremost for taking an "in your face" approach. Blood, death and the f-word filled the air, nowhere more climactically than when Hood stood far downstage center and opened the mind of the machine gunner in a delirium of killing the leaves on the trees, shooting down the moon, filling the blue sky with black bullet holes and finally, finally ending the pain by destroying the earth.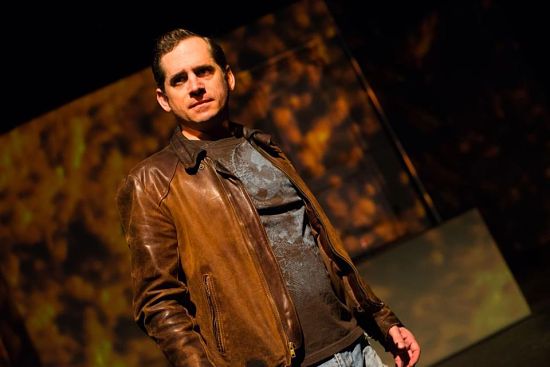 Joey Hood is usually justly credited for his oratorical power. It's on display in I Am the Machine Gunner, but his physical work here was particularly riveting. Movement, energy, posture, and shapes created on the spare set were fundamental in establishing and differentiating these related characters. Here we are reaping the benefits of Mr. Hood's dance training and performances.
For my money the second Klavdiev one-act Martial Arts was the more enjoyable play. It was still violent from beginning to end, but it gave a better sense of modern Russia and its society than I Am the Machine Gunner (not counting the street battles of the first piece). Martial Arts focuses on a ten-year-old boy and the new neighbor girl from upstairs as crime explodes in the boy's family. My anthropologist's eye-camera shutters went click-click throughout the play. Its richness was in its child's-eye view of loss, squalor and massive drug crime in the wasteland of a modern industrial Russian city.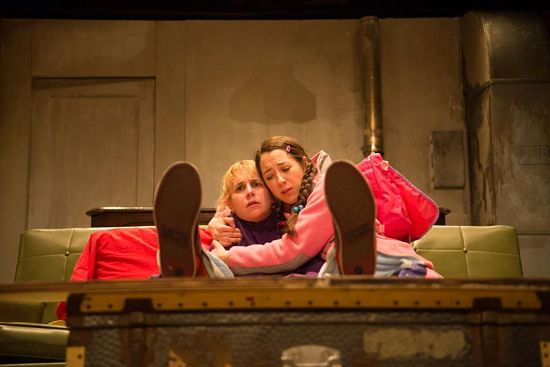 Translator Dave White explained to us that the play's many layers resulted from Klavdiev's basic approach to playwriting. He said that it's like putting together the compound "badass." Put two strong concepts together and see how they play. Or fight. Martial Arts is like a vivid sketch of the Russian drug culture meeting Pulp Fiction with a few mephitic whiffs of Lovecraft's Cthulhu mythos. Or like Roald Dahl meets the French Connection on the set of Where the Wild Things Are. Or it could be like…well, you get the picture, make up your own simile.
Several characters were onstage only briefly before they died, but Klavdiev's writing is such that all had authentic character life and were never one-dimensional, a risk in stories with action-adventure elements. This is also a tribute to the actors and their performances. The design fields contributed to the show's quality as well. Ia Ensterä's set for both of the plays is exceptional even by her high standards. It appears as a looming collection of blank walls for I Am the Machine Gunner, and at the intermission the stage crew kicked loose the stops and revolved the whole enormous construction 180 degrees to reveal a multilevel interior. The night I attended the show, the set drew applause as it began to do its thing. Thereafter, aided and abetted by Klavdiev and the cast, the set gave us surprise after surprise, and no, you will not figure it all out after I have cued your anticipation here. Here set was character, but one with enough subtlety not to upstage its human colleagues.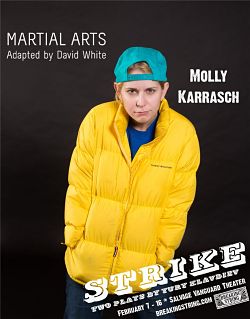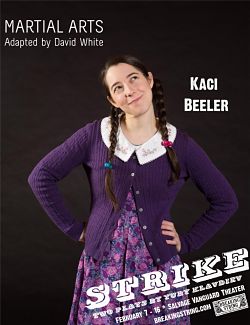 Molly Karrasch, Bob Jones and Kaci Beeler played the child characters. The bright children's costume pieces gave their scenes an animé feel, but neither actors nor their characters became cartoonlike. Michelle Keffer put in an exceptionally strong and varied performance portraying three characters. Kudos go to all the actors, who put in hard physical labor in the violent scenes that were virtually non-stop in Martial Arts.
The necessarily spare and sketchy quality of festivals got in the way of the art in only a few places. A lot of the resources went into Enstera's set, to good effect. In I Am the Machine Gunner, Hood's shifts between the modern and WWII characters were signaled only by lighting changes. The first ten minutes of the play were sometimes confusing, as Hood did not change costume pieces or make vocal changes between the characters – Klavdiev's message, after all, was that grandfather and grandson were both at war as young men. Once we understood this, we learned to mentally snap to the grid. The lighting changes went from cool and bright for the modern sections to warm lighting sets with occasional video flames in the WWII segments. This useful consistency in lighting broke down later. We weren't quite sure which agonized soul was screaming "fuck," until further narrative tied us back into the storyline.
Another festival tradition is the haphazardly edited program, which at least in this case was full of information and only a few lulus. Someone had thrown the thing together in haste, trying to modify the file for this past November's play. Joey Hood's character name was listed as "Vodka. " (Really? I'm confused. So who played Tequila?). It seemed as if none of the artists' bios had been proofread.
A note that could go back to the playwright: when you play with hard-edged realism, your internal logic has to be harder edged. Hood's modern character in I Am the Machine Gunner described a friend named Denis who received an eye injury that didn't heal, and who later "went blind." Later, Hood, still as the modern street criminal, described the desperate gun battle in which Denis, fighting fiercely, was killed. Could a one-eyed or fully blind character get close enough to such a battle to participate? Not likely.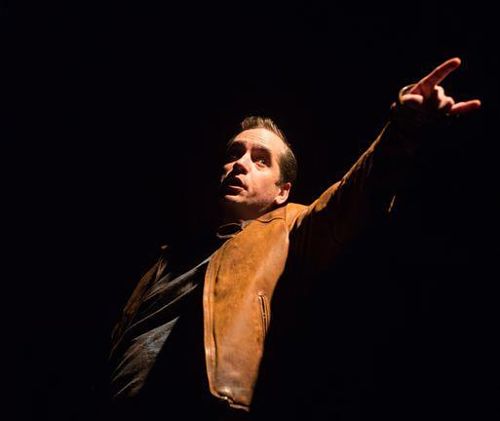 The use of obscene language in the translation of these plays invites comment. Last year a NRDF panelist gave the audience a brief introduction into the inventiveness of Russian obscenity. This year, I Am the Machine Gunner uses powerful but simple imagery to put us into its two worlds and sets these powerful word pictures in a stream of obscenities that sounds crude and shocking to the American ear. Such coarse speech established the slang of combat vets, but to this listener the obscenities became overdone and repetitive, eventually contributing little. Using the f-word in describing soldiers with their lungs burning out adds nothing to the shocking horror of that imagery, and the play was full of such images.
On the other hand, Martial Arts began with children on the street challenging one another awkwardly with obscene phrases, as though practicing grown-up talk they were just learning. They expressed their concerns for buying or otherwise procuring cigarettes as obscenely as possible, in phrases that had little meaning to them. These issues and language conveyed their innocence as they moved toward their victimization in gruesome drug crimes. This gave the play some irony and a peculiar delicacy, something like flowers growing out of an ash heap. The images persist in the mind with that delicacy. That achievement in suggesting these odd subtleties in English from the Russian original does credit to the translators, led in this case by Dave White.
The New Russian Drama Festival, Mark III, offered an abundance of theatrical art and education to Austin audiences, through the conduit of Breaking String Theater Company and producing artistic director Graham Schmidt. I've seen other recent Austin-produced plays that have failed in their gimmickry yet have garnered rave reviews in the conventional media. The NRDF gave us a large step up in quality, with plays of international significance produced with the inventiveness and abundant creative resources that characterize Breaking String Theater.
Schmidt does us all a favor by focusing on new Russian drama. The NDRF gives us North Americans and Central Texans a stereoscopic view of the excitement over there. Playwrights now writing in Russian and staging their works in that land continue the tradition of powerful Russian literature and will no doubt keep their generation in the front rank of world letters.
EXTRAS
Click to read the Austin Llive Theatre review by Brian Paul Scipione, February 16
Click to read translator John Freedman's account for the Moscow Times, with a link to his video interview of Robert Faires, February 11
Click to view Robert Moncrieff's video interviews during rehearsals
Click to view Robert Moncrieff's promotional video
Click to go to the Breaking String website
Click to view the program for Strike: Two One-Act Plays by Yury Klavdiev
Hits as of 2015 03 01: 1082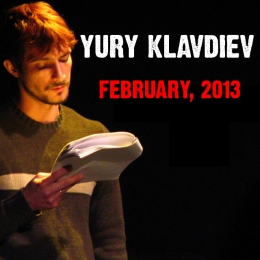 ---
STRIKE: I Am The Machine Gunner AND Martial Arts
by Yuri Klavdiev
Breaking String Theater
February 06 - February 16, 2013
Off Center
2211-A Hidalgo Street
near Robert Martinez and E. 7th Street, behind Joe's Bakery
Austin, TX, 78702