Review: Sophisticated Ladies, the Duke Ellington musical by Zach Theatre
by David Glen Robinson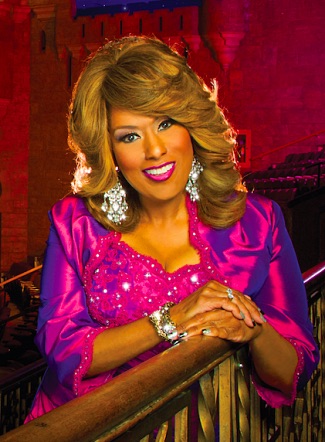 Zach Theatre's production of Duke Ellington's Sophisticated Ladies in the Topfer Theatre is spectacular. The Topfer is gaining a reputation for high-tech productions that dazzle large audiences. Sophisticated Ladies bodes well to enhance that reputation and with its production values to grant some sophistication to its design aestheticsl, although some more work remains to be done.
This evening is a song cycle of Duke Ellington's songs and music, tied in non-narrative fashion to Ellington's rise to fame at Harlem's Cotton Club. The concept is credited to Donald McKayle. The show was originally produced on Broadway with musical and vocal arrangements by Lloyd Mayers and Malcolm Dodds under the musical direction of Mercer Ellington, Duke's son. Zach Theatre's Dave Steakley produces, Abe Reybold directs and Allen Robertson provides musical direction

Reybold's notes in the program insist that a musical show can be only as good as its talent, and talent, thy name is Jennifer Holliday, brought to Austin for this production. The multiple Grammy- and Tony-award-winning star of Sophisticated Ladies is all by herself the guarantor of the success of the show. The basics of singing mean so much to a performer's success, and Holliday never drops pitch slightly at the end of long phrases or notes as do most performance singers. Her commitment to every note was gratefully applauded throughout, especially late in an arduous program as she sang one torch song after another. Not since Jaston Williams' rant as Vanya in Vanya and Sonia and Masha and Spike has there been such show-stopping applause at the Topfer as the ovation after Holliday's "I Got It Bad and That Ain't Good." She finished her evening with "Something to Live For" and the audience didn't want her to leave.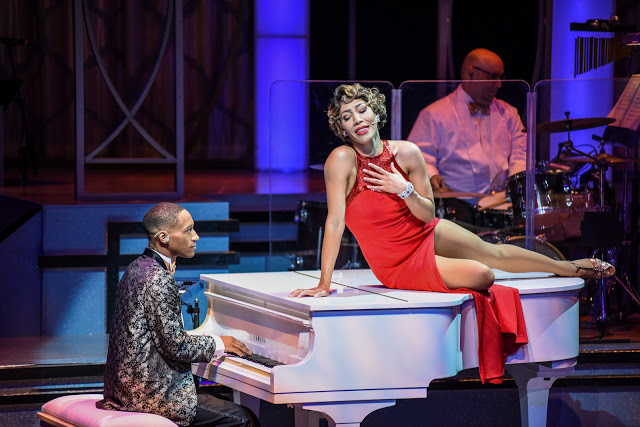 The rest of the cast, designers, and crew demonstrate their considerable talents. Supporting singers held up their end of the bargain. Band leader Brian Whitted slowed the pace dramatically with his intimate solo "Everything But You." Kenny Williams shone in "Solitude" and "I'm Just a Lucky So-And-So" and J.P. Qualters gave us a strong and memorable rendition of "Caravan." Chanel Haynes Schwartz took it to the house on "Take The 'A' Train."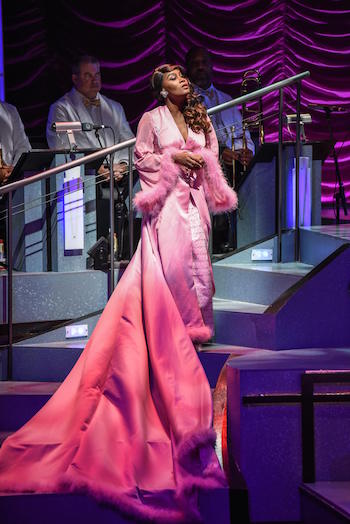 Design and tech are clearly up to advanced 21st century standards. The set showed us a multi-tiered Cotton Club with lit music boxes for the ten-member band and a white Yamaha baby grand piano stage center that dominated with its huge stage presence. Lighting sets and fly-ins were complex and ever-changing, but its overall aesthetic never strayed from upper-class elegance. Lots more could be added, but suffice it to say that once the ebony and the gold are established, the lavender, ochre, pink, scarlet, and purple take care of themselves.
Costume design did not quite harmonize with set design. Many times in regional theatre the designers work inrelative isolation during pre-production, and results may appear discordant in performance. Here it looked as though costumers for the principals and costumers for the ensemble had shopped in different boutiques. Principals were adorned with gorgeous gowns and tuxedos, heavily Art-Deco-inflected and precisely period-correct. We were transported when any of the lead singers descended the steps of the Cotton Club. The exquisite taste of the costumes in "Take The 'A' Train" was mind-boggling.
Not so the ensemble characters' costumes. When the dancing ensemble populated the Cotton Club ballroom in white gowns and white tuxes, they created memorable high points in the show. Some of the other production numbers matched the overall set and lighting. But when the dance ensemble portrayed other scenarios—bobby soxers, caravaners, etc—things fell off to a degree. There was an overfondness for themed primary colors worthier of sports teams than of evocative stage shows. The non-whirling dervishes in "Caravan" were simply a mistake. Rumi would not be serene. Part of this may be laid off to the otherwise bountiful and inventive choreography of Dominique Kelley.
Austin dance talent was well on display, led by Matthew Shields. A tap master and teacher with credits from Austin's Tapestry Dance Company and companies, festivals, and tours in Canada and Europe, he gave tap demonstrations that allowed singers to catch their breath. His "air taps" were especially crowd-pleasing: he would hold the tap pattern briefly in the air slightly above the floor, laying down silent (non-)taps before resuming his audible step routine.
Duke Ellington is familiar to us as a jazz and big-band composer of lasting fame. Ellington dismissed such categorization, however, preferring simply to see his artistic homeland as American music in the largest sense. Ellington's prolific working career spanned six decades. Most of his life was lived under the burdens of Jim Crow, yet his lyrics, melodies, and arrangements speak to the common human experiences of love, loss, heartbreak, joy, and faith. Altogether, Ellington's life work may be the most beautiful example of why the caged bird sings, and Duke Ellington's Sophisticated Ladies may be the most exemplary stage experience of his music.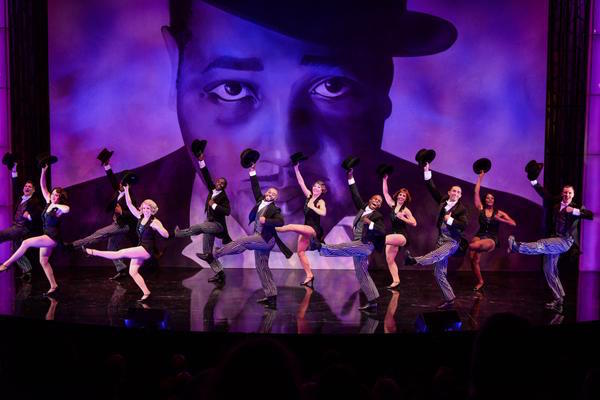 The show runs until August 23, 2015 at Zach's Topfer Theatre, but don't wait to see it later. See Sophisticated Ladies early in its run; you may want to go back a second time.
---
Sophisticated Ladies, the Duke Ellington musical
by Donald McKayle
Zach Theatre
July 15 - August 23, 2015
Tuesdays or Wednesdays through Saturdays at 7:30 p.m., Sundays at 2:30 p.m.
Special events in celebration of Sophisticated Ladies include:
• Press Night: Saturday, July 18, 2015. Please RSVP to llovell@zachtheatre.org
• GLBT Wilde Party Night: Thursday, July 16, 2015
• Champagne Opening Night: Thursday, July 23, 2015
• Z Lounge: Pre-show musical entertainment in the Topfer Theatre's Main Lounge.
Tickets start at $25 and are available online at www.zachtheatre.org, by phone at 512-476-0541 ext. 1, or in person at the ZACH Theatre Box Office, in the Topfer Theatre, 202 South Lamar Blvd. (corner of Riverside Drive and South Lamar Blvd.) Monday through Saturday, 12 noon – 7 p.m.
ZACH Theatre is wheelchair accessible. Discounts are available for groups of 8 or more.
Student Rush Tickets are $18 one hour before show time (with valid ID).