Review: Silence! by Doctuh Mistuh Productions
by David Glen Robinson
Oh, no! It's the musical of Silence of the Lambs! I hope they don't hurt it! Oh, please, the thing is bulletproof and cries out for a stinging parody about cannibalistic, human skin-wearing serial torture-murderers and the daffy FBI agents who chase them. Silence! The Musical has actually been around since 2005, with its music and lyrics written by Jon and Al Kaplan, and book by Hunter Bell. But now, with ISIS rampaging through the Middle East and undoing the foreign policies of two administrations, Doctuh Mistuh Productions has produced the show as a huge horror movie parody for Austin and loaded it with start-to-finish bellylaughs. As an anodyne for all the real-world dreadfulness out there, it works like gangbusters.
As might be gathered from this, Silence! The Musical was simply not about exquisite music, virtuoso singing, and sharp Broadway dancing. The cast, therefore, met all the standards expected of it in these areas. Huck Huckaby as Hannibal Lecter, with his distinguished looks and perfect 20th century radio voice, did not seem to fit any image of the movie Hannibal Lecter, played by Anthony Hopkins. But Huckaby won over the audience and kept it firmly in his corner with his rendition of "If I Could Smell Her Cunt." So as the parody Hannibal Lecter, Huckaby was perfect. Of course, the accompanying duet Broadway dancing featured several face-to-groin shapes, for all the hearing-impaired in the audience.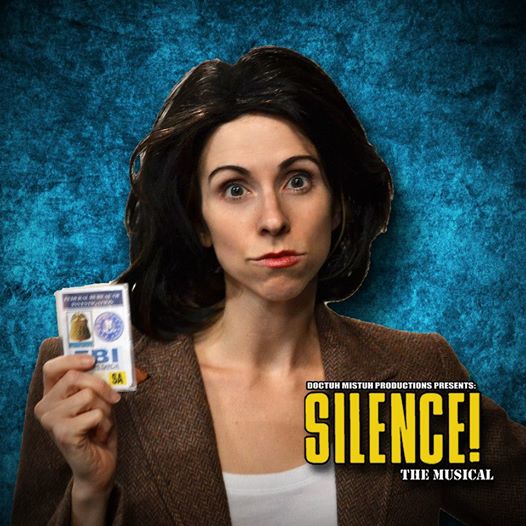 Amy Downing played Agent Clarice Starling, the character played by Jodie Foster in the movie. Downing is an amazing comedic actor, whose physicality melds perfectly with her monologues and singing. She is a marvel to watch. She borrowed from Foster only her Starling character accent and somewhat explosive lisp, picked up by the entire ensemble in singing "It's Agent Shtarling."
Tyler Jones led the rest of the standout cast as Dr. Chilton and other characters. Jones is adding dance skills to his already impressive repertoire. Madison Piner received the choreographic credit for the show. David Ponton as Buffalo Bill was just as icky-yucky as the character in the movie and sings better. His "I'd Fuck Me" is a show-stopper.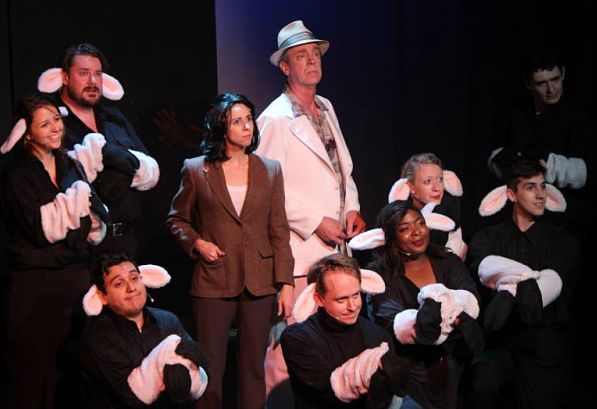 The set was a spare, open space. Mobile upstage panels pivoted to reveal mini-sets and allow character entrances. Sometimes actors brought on their own set furniture. This style of exposed-artifice stageplay, immensely popular among small production companies, doesn't always work, but Doctuh Mistuh avoided the pitfalls of ill-timing and overlong set changes between scenes.
After all this transgressive, free play on stage, one realizes that Silence! The Musical is surprisingly true to The Silence of the Lambs. A preshow video of excerpts from the movie refreshed all our memories of the film, and only later do we realize that the video was a boast of the stageplay's accuracy.
Doctuh Mistuh Productions enhances its reputation for boldness and dancing beyond the edge with Silence! The Musical. Perhaps the core brilliance of Doctuh Mistuh and artistic director Michael McKelvey, at least in this production, lies in their knowing exactly how bawdiness plays smoothly into comedy for the best disruptive, belt-loosening laughs in town this or any weekend. Forget all your troubles, forget all your cares, come see Silence! The Musical. The show is recommended for just about everyone of a certain age (make that 13+).
---
Silence!
by Kaplans and Bell
Doctuh Mistuh Productions
Wednesday, July 2nd at 8pm
Saturday, July 5th at Midnight
Wednesday, July 9th at 8pm
Tickets are only $13.00 by purchasing your tickets with the code "hannibal" at
BrownPaperTickets
.