Review: She Loves Me by Mary Moody Northen Theatre
by Michael Meigs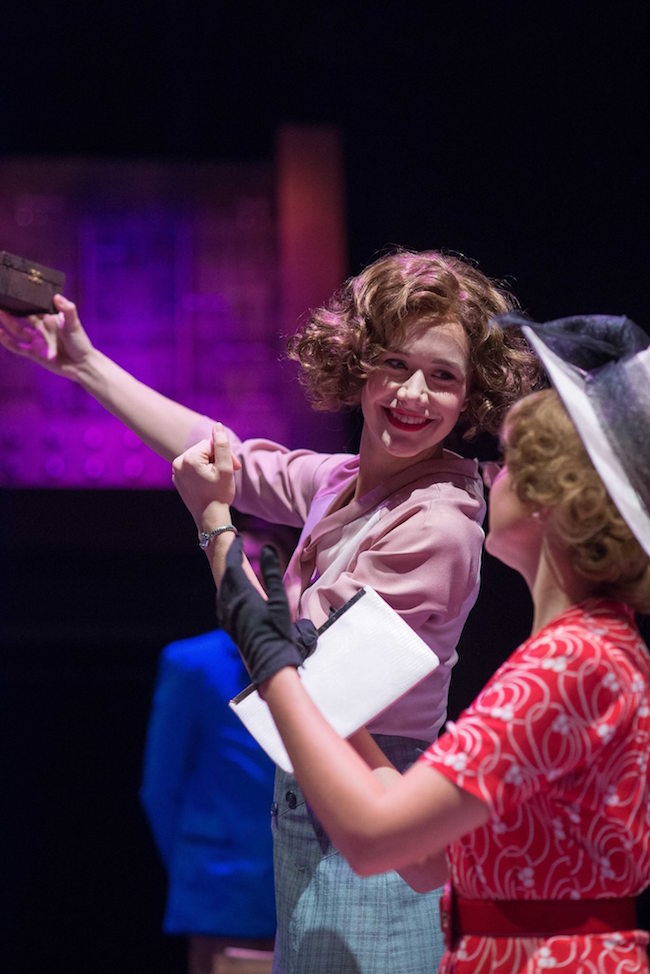 There's a sweetness to She Loves Me, compounded of shop dust, wistfulness and perfume. Miklós László wrote this romantic comedy in 1937, shortly before abandoning his native Budapest for America. His gently humorous character-based tale about shop clerks seeking romance lent itself nicely to the 1941 MGM film The Little Shop Around the Corner with Jimmy Stewart and Margaret Sullavan, recycled in 1949 for the Judy Garland and Van Johnson musical In The Good Old Summertime. This 1963 stage musical by Masteroff, Bock and Harnick, successful but not particularly acclaimed, was revived on Broadway in 1993.
It's a fine fit for the Mary Moody Northen Theatre at St. Edward's University, offering the lilt and hope of happy-ending sentiment with the comfortable and almost small-town reassurance of urban life before World War II. The setting could really be anywhere in Europe or most of the United States. Mr. Maraczek's perfume shop with its profusion of attentive clerks exists in a calm middle-class dream where ambitious and agreeable young folk can aspire to a smiling career in sales while exploring their own affairs of the heart.
Unmarried store manager Georg Novack (Matt Buzonas) and new shopgirl hire Amalia Balasch (Cheyenne Barton) correspond with anonymous pen-friends; plucky shopgirl-cashier Ilona (Maureen Fenniger) has a flirtation, perhaps an affair, going with fellow shop clerk Steven Kodaly (Kenneth Hurley). In the middle is the stodgy and worried married clerk Ladislov (Jarret King). The age range is anchored by messenger boy Arpad (Hollis McNutt) and august proprietor Mr. Maraczek (Ev Lunning, Jr.).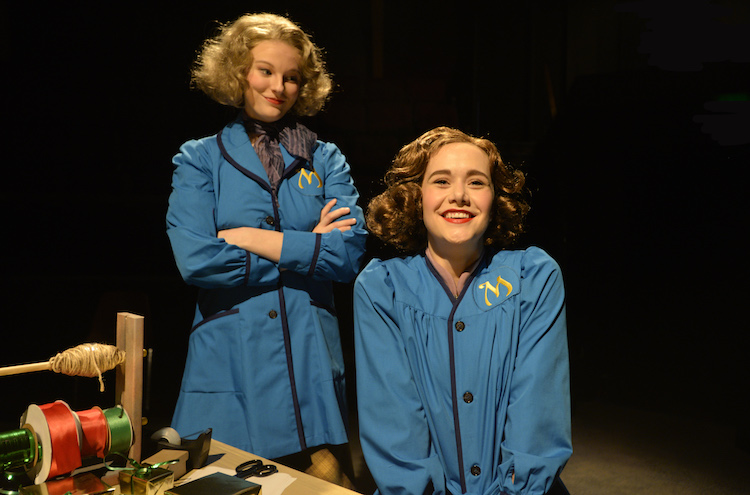 The mischievous joke, evident from very early in the action, is that Novack and Balasch don't know that they're corresponding with one another. The fact that they're regular antagonists at work, as Laszlo assures Arpad the messenger boy, must be proof that they must like each other very much! The delayed reveal gives you a clue as to the dreamy nature of sentimental pen-friend correspondence. If the letter writers had detailed even the slightest concrete details or real emotions of their everyday lives, the jig would have been up. We're willing to play along with that plot device, however, because with every gush of unfounded sentiment and every shopfloor duel between the two, our expectations rise for what we know will be the eventual dénouement.
She Loves Me is a canny choice for the special parameters of the drama program at St. Ed's. For decades, each of the four mainstage productions has brought in Actor's Equity professionals to work with the undergraduates. Contact with professional actors provides valuable information and career counseling for young persons with the glow of footlights in their eyes, and the Austin theatre-going public certainly benefits (I know folks who stopped going to the Zach Theatre when ticket prices rose with the opening of its gorgeous Topfer Theatre and took subscription tickets at St. Ed's Mary Moody Northen Theatre instead).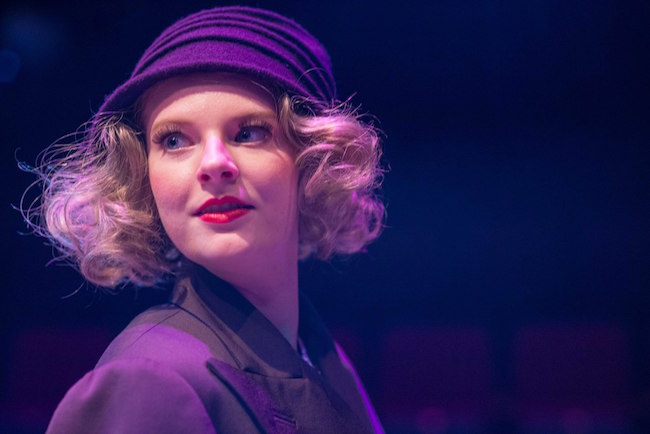 Loading three pros into a production can have an unfortunate 'crowding-out' effect in small-cast works and could even, ironically, raise issues of equity between the aspirng talented and the members of Equity. Not so in She Loves Me. Our attention is mostly upon the unattached. The romantic leads are exactly of the age to be done by confident undergraduates Buzonas and Barton. Maureen Fenninger, also a senior (alas!), is perfectly suited for the slightly zany role of the similarly romantic Ilona, a character who's credulous, frustrated and determined with a hungry heart of gold. Fenninger, Hurley as the smarmy seducer Kodaly, and McNutt as the gosh gee-whiz errand boy all have plenty of stage time and fine musical opportunities to perform.
Equity members anchor the corners of the lively action. King's a foil to protagonist Novack (Buzonas), the picture of a family man protecting his job; Ev Lunning has old-world elegance as he admires the bachelor freedom of his employees (with a number to do so: 'In Days Gone by'). Tall and bustling with servile tension, Scott Shipman has a single extended scene in the questionable nighttime cafe where the 'dear friends' are scheduled to rendez-vous. Shipman's comedy is subtle, particularly as the maître d' does his best to keep the place respectable despite its distinctly louche clientele. Choreography by Danny Hermann and Rocker Verastique makes sure that Shipman has his hands full.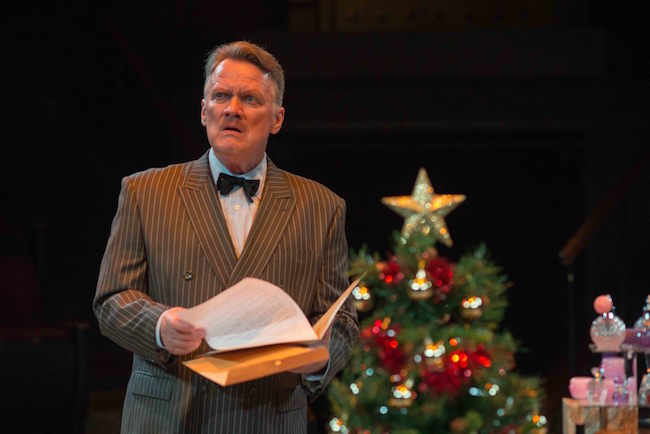 Despite the relatively small size of the playing area, actors wear body microphones, so that at times one might be momentarily disconcerted to hear their voices projected from the northern upper reaches of the theatre. The amplification is necessary -- not only because they are singing to folks sitting all about them but also because the orchestra in an upper corner conducted by Peter Stopschinski is dominated by a keyboard that seems to be turned up full.
Director Nick Mayo faces and mostly bests some challenges. Mr. Maraczek's shop is defined by an array of tables with merchandise that seems to be piled precariously, and the cafe scene fills up with bit players who are disciplined but do represent diversions from the business as Georg conceals from Amalia his sudden realization that they've been writing to one another. Those of us on the south side of the stage spent an unusually long time staring at the back of Barton's head in that scene and also in the Act II visit of Georg to her apartment (which prompted Barton's charming delivery of 'Vanilla Ice Cream').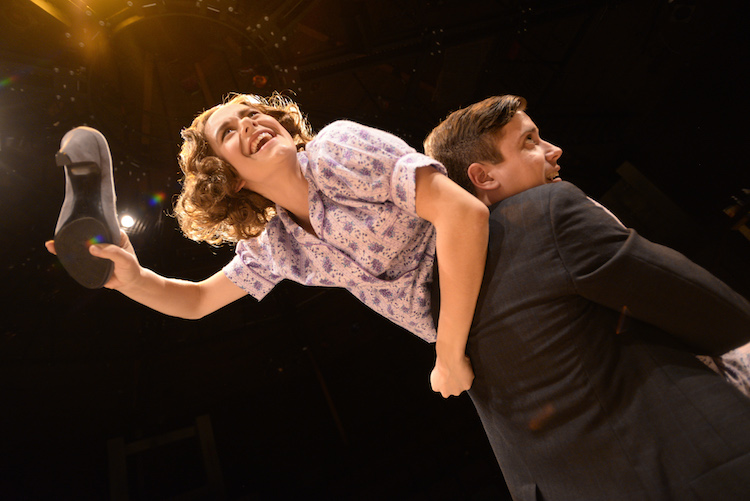 The choreographed madness of Christmas shopping that winds up Act II helps remind us of the mutual support and professionalism of the clerking team at Maraczek's. The playwright sends young Arpad and shop proprietor Maraczak out on the town and launches daffy Ilona off to oblige her new beau the optometrist to propose. The stage clears and gives us, at long last, well overdue and much awaited, that moment when Amalia and Georg blossom in the knowledge that they really have been in love all this time, despite the distractions and inconveniences of mere reality.
EXTRA
Click to view the program for She Loves Me at the Mary Moody Northen Theatre
---
She Loves Me
by Joe Maseteroff, Sheldon Harnick, Jerry Bock
Mary Moody Northen Theatre
Wednesdays-Sundays,
April 07 - April 17, 2016
All performances are at 7:30 p.m. Thursday – Saturday and 2 p.m. Sunday.Added performance 7:30 p.m. April 13 (Wednesday)
Mary Moody Northen Theatre is located at the St. Edward's University Campus along Campus drive. For a campus map, go to http://www.stedwards.edu/map/maincampus.
Tickets
Single tickets for each production go on sale three weeks prior to opening and may be purchased through the MMNT box office or the website. Box Office hours are 1 -5 p.m. Monday- Friday when classes are in session and one hour prior to curtain. Group rates for 10 people or more are available. Information: 512-448-8484.
Mary Moody Northen Theatre, St. Edward's University, 3001 S. Congress Ave.,Austin, TX 78704


TICKETS: $27 Adult ($22 Students, Seniors, St. Edward's community)
Box Office: 512-448-8484
Online: www.stedwards.edu/theatre
Student discount nights April 8 and April 13: $10 with Student ID