Review: Sealed for Freshness by Temple Civic Theatre
by Michael Meigs
Temple Civic Theattre has just completed a well-attended two-week run of Doug Stone's Sealed for Freshness, billed as A 1960s Tupperware Party Gone Terriby Wrong. Five women took us back half a century into Stone's imaginary version of suburban domesticity when Jack and Jackie were in the White House and Camelot was in full flower. Natasha Tolleson's costume coordination helps maintain that illusion (bravo, for example, for that sack dress frumpily worn by Jennifer Eck as grumpy Sinclair Benevente), while hair and make-up do the same (Sarah Ashley Hustus wore her hair in in an eye-catching Peggy Sue, combed back flat from the forehead and teased high behind that plastic hairband).

The plot is formulaic, gathering a gossipy bunch of neighbors to meet Diane, the new and highly successful Tupperware rep who's just moved in down the block. The only male in the piece is Richard, husband of Bonnie the hostess, and after some early unpleasantness he slams out of the house for his bowlling night before any of the women arrive. We settle down to spend the evening with an assortment of women characters carefully chosen by the playwright to serve as combustible stereotypes: Bonnie the hostess (Anna Burrell), feeling unloved and unappreciated after twenty years of marriage; sociable Jean (Alexandra Von LaMotte) , affluent but worried that her husband is probably having an affair; cute bimbo Tracy Ann (Hustus), slow as molasses but just as sweet; Tupperware queen Diane (Debbie Cable Brown), deeply involved in her sales pitches but a husbandless emotional wreck; and the acerbic detonator for the evening's events, Jean's sister Sinclair (Eck), hugely pregnant with her fifth child, a dedicated boozer and smoker glowering resentment at the world and everyone in it.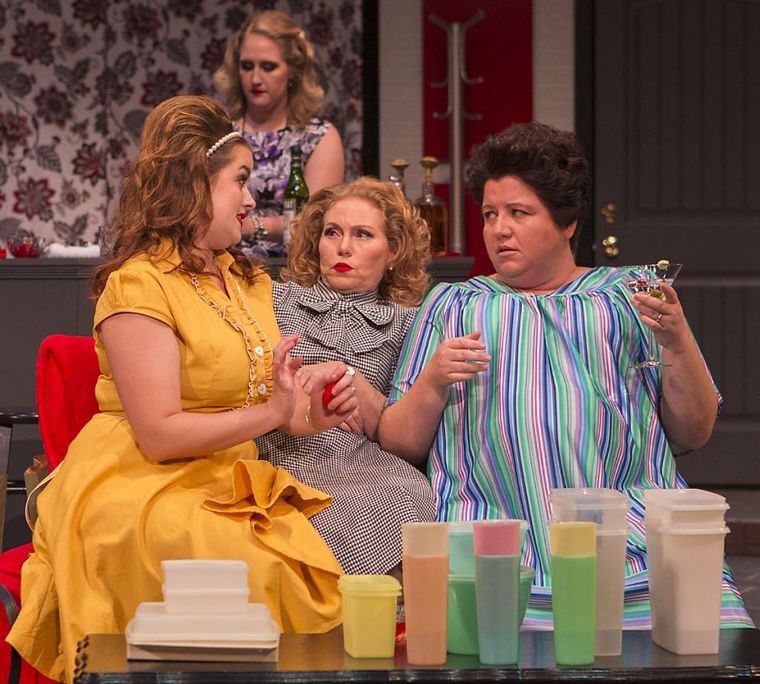 Playwright Stone gleefully explodes the conventional picture of suburban tranquility. His plot device is the women's decision, contrary to Tupperware party ruies but by unanimous vote, to serve alcohol while regional rep Diane and aspiring rep Jean present Tupperware items. The ladies use patter, silly hats and mottos that sound absurd to today's ears but seen pretty close to the sorts of jingles and TV ads that Madison Avenue used to excite consumers about the product.
The audience's laughter responds in part to the silly shallowness of such simple commercalism. Just as funnybone-tickling is the notion that these actors are pretending to be our mothers and grandmothers in their middle and young age. Don't we find it agreeable, after all, to think that they would gossip and swill and smoke when they got together with one another, living quite differently from those sanitized characters of Leave It to Beaver and Father Knows Best?
Playwright trio Jones, Hope and Wooten have churned out similarly contrived scripts, generally making fun of small-town Southerners. Stone's script is just as dismissive as those hick comedies, but he pours a sharp taste of venom into these Tupperware cups. Sinclair the provoker comes across as genuinely bitter, and for every mocking bit of funny business she delivers there's another that is breathtakingly offensive. Over the course of the evening each woman except Tracy Ann the serenely oblivious trophy wife is brought to reveal her secret misery. All are related directly or indirectly to men. Though Stone excludes masculine presence except at opening and close, his piece falls far short on the Bechdel test.
Stone's theme is that before the consciousness raising of 1970's feminism and later, women were deprived and self-deprived of self-worth and opportunity.
But those are reflections for the drive home afterwards. Director Natasha Tolleson assembled a lively, credible cast who brought these characters vividly to life and kept the audience alternately laughing and captivated throughout the evening. The playing area at the Temple Civic Theatre is a wide and very deep stage arranged in thrust configuration without proscenium. It's a challenging space into which director Tolleson nifitily set her imaginative blocking.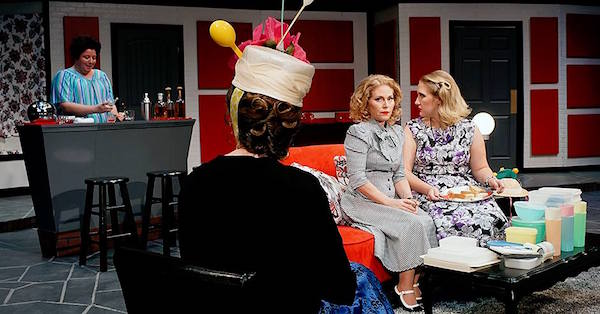 Jennifer Eck's character the contrarian Sinclair dominates the gathering, and Eck grabs opportunities to do so. Her physical comedy bits are hits, and her deadpan demeanor is particularly effective with her crudest lines. The fact that she's the cynic and the truth teller gives her a complexity from the first that the other women characters are left to struggle for. We in our own hygiene-conscious day are pleasantly scandalized to find her indifferent to the effects of booze and tobacco on her unborn child.
Anna Burrell as Bonnie the hostess shows touching vulnerability. The final duet scene in which she reprimands her husband for his cruel thoughtlessness is a satisfying athough not entirely believable instance of the worm turning; we're happy to cheer for her. Chris Wohleb as husband Richard plays both his roles, opening lout and closing penitent, with believable bafflement.
Liquor is offered as the excuse for loosening tongues and impulsive behavior, leading to a highly comic scene in which the women decide to burn their bras as a declaration of . . . well, of something not exactly explained or discussed. Director and cast were careful and precise with dialogue and blocking, but drinking in this production wasn't plotted out believably. For example, Bonnie stands behind the bar late in the action and tosses down two tumblers of vodka, intended certainly to explain her assertive attitude toward her husband when he returns to find what looks like a lesbian pillowfight going on. Burrell's strong in the scene but shows little indication of drunkenness -- no slurring, no pauses, no groping to formulate her thoughts. All the women have been belting down cocktails, but only regional Tupperware rep Diane seems to have started to crawl into the bottle.
Temple Civic Theatre has filled its corridors with autographed show posters, and the program for Sealed for Freshness carries the announcement of six main-stage productions for its 50th season in 2016-2017. That's reason for hearty congratulation, and the theatre plans to present solid classics and musicals to mark it, along with its youth theatre program.
EXTRA
Click to view Temple Civic Theatre's program for Sealed for Freshness
---
Sealed for Freshness
by Doug Stone
Temple Civic Theatre
Thursdays-Sundays,
May 13 - May 22, 2016
Tickets are $20 for adults and seniors, $12 for students. This show contains adult language and subject matter. Tickets are available online 24 hours a day at the online box office. Contact information is available there.
The box office, staffed by a live person, is opens Tuesday-Friday from 9:30 a.m. to 1:30 p.m., and one hour before each performance.